A credible insider boosted his holdings in buy-recommended Hugoton Royalty Trust (NYSE:HGT) to 700,000 units from 500,000 units during the week ended January 3. The insider, Mr. Bob R. Simpson, is the driving force at the helm of buy-recommended XTO Energy (XTO), the creator of HGT and the operator of HGT's properties.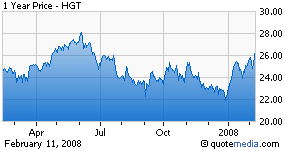 We take that as welcome confirmation of our analysis of the neglected value in HGT. A turnaround in distributions tied to natural gas price may be about to unfold in early 2008 judging from the trend in the industry index and futures prices, subject to the time delay to cash distribution. Most of our volume and cost estimates extend the trend of recent monthly results. The price of HGT stock is also influenced by long-term natural gas price that after a stable period may be poised to resume an uptrend.
Originally published on January 11, 2008.