After many tries by a number of competitors, the world of online auctions dominated by a previously insurmountable eBay (NASDAQ:EBAY) finally appears to be moving to the next level with new competition backed by none other than maverick entrepreneur, Mark Cuban.
Late last year, Cuban announced the launch of RadicalBuy, an online seller with a twist- it uses a community of peer assisted sellers to promote and move merchandise and receive a commission from the seller for their services. [RadicalBuy is a wholly owned subsidiary of ImmediaTek (OTCPK:IMKI).] Sellers can determine what, if any commissions they would like to pay to other users who market and sell their items for them. In theory, the higher the commission one is willing to pay the more motivated a fellow user may be to help find a buyer for the referral fee. Ultimately, the market will decide what the appropriate referral commission is as more buyers and sellers come together, but what it does it adds an element that strives to encourage a strong marketplace for a sellers goods as opposed to being the low price venue that eBay has seemingly become. Strong prices will command higher quality goods from more customer focused sellers.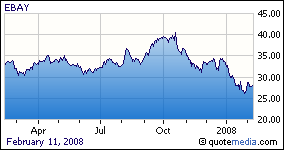 Unlike eBay, there is also no upfront fee for listing a product and RadicalBuys only takes a fee if the sale is successful. This is a welcome notion to the legion of eBay sellers feeling particularly gouged by the internet giant who charges not only a listing fee, but also a final value fee and a la carte charges depending on how, when and where you want your item to show up on its site. RadicalBuy includes for free many of the items for which eBay charges. It is also payment processing neutral allowing users to choose amongst a number of online payment options other than the eBay owned Paypal service.
In addition, unlike many of the newcomers to the internet auction space that simply don't have the foot traffic in the user base needed for many online sellers to move large amounts of merchandise, RadicalBuy has launched as an application within the Facebook community, allowing Cuban and RadicalBuy to immediately tap into more than 64 million users worldwide in a community that welcomes new and different ways to come together online. Not only do auctions show up in the RadicalBuy application, but also in the Facebook Marketplace where users can easily search based on their individual networks or globally. Ultimately, RadicalBuy could launch their own destination site on the foundation laid thought Facebook or continue to expand distribution through other social networking sites such as MySpace, Bebo, Friendster and the ever expanding list of startups in the space.
Finally, perhaps the biggest difference between it and eBay is that RadicalBuy has a customer support team made up of real human beings to assist first time buyers and sellers, unlike eBay that largely handles customer support through FAQ's and auto generated responses. I personally experienced this myself this weekend after running into a minor bug trying to list an item, and received assistance via email from 2 separate support people within 10 minutes of my initial email. Once this minor glitch was immediately solved, I listed my item and consequentially it sold within a day at a price more than double that I had previously unsuccessfully tried to obtain on eBay earlier in the week. These results may not be indicative of all likely outcomes on RadicalBuy, but it definitely has me coming back for more.
RadicalBuy is still a new service and has yet to experience the level of volume of eBay so I am sure there will be many glitches along the way and eventually the service will have to become more automated to handle the traffic. However, the new service is off to a phenomenal first start and should not only able to take share from industry behemoth eBay, but also the explosive growth of the social networking phenomenon worldwide.
More than anything what separates RadicalBuy from the long list of eBay also-rans is it clearly has a team in place who know how to build and grow quality products and are not afraid of trying radical new approaches to build customer satisfaction and loyalty.
Disclosure: None