Forest products giant Weyerhaeuser (NYSE:WY) fell almost 4% Friday after reporting weak earnings, driven by a large decline in the Wood Products segment. This is the stock I referenced recently when explaining why I see Sherwin-Williams (NYSE:SHW) as a laggard for the next several quarters – and for the same reason I don't like SHW right now, I've become interested in WY.
More than a quarter of Weyerhaeuser's revenues are tied to wood products – things like lumber and plywood - and with the steep reduction in housing starts, demand has fallen sharply across the board in that segment.
Although Weyerhaeuser is not a pure housing play, its stock has tracked with the Homebuilders ETF (NYSEARCA:XHB), as the one-year chart below shows:
This has culminated in overall disappointing results for WY shareholders. Since the start of 2005, WY has been down slightly: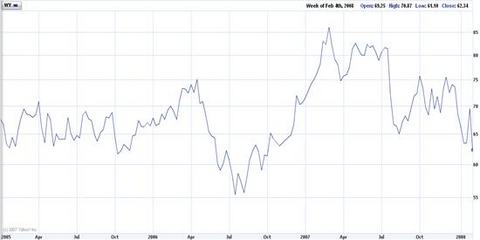 The only segment of Weyerhaeuser to post year-over-year revenue growth in the last quarter was the containerboard, packaging, and recycling segment. For comparability purposes, note that the fine paper division was sold early in 2007: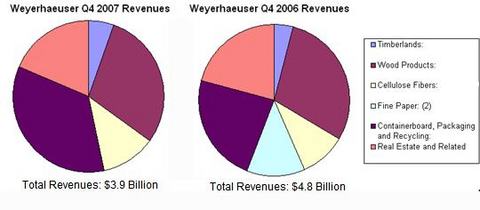 The divesture of the fine paper business, the potential sale of the commercial construction division, and other internal moves have raised questions about whether or not Weyerhaeuser is positioning itself to become a tax-advantaged timberland REIT in the mold of Plum Creek (NYSE:PCL) or Rayonier (NYSE:RYN).
Still, the overall slow pace of restructuring has weighed on shares because the market hates uncertainty. Just how far down has this stock been sold? In this sum-of-parts valuation, I'll detail just that.
Before examining the core timberlands business, consider the more peripheral operations:
- Westwood Shipping Lines, Weyerhaeuser's marine transport business. This includes four ships, with an average capacity of 28,000 tons per ship for total carrying capacity of 112,000 tons for the fleet.
Consider bulk shipper DryShips (NASDAQ:DRYS), with an enterprise value of $3.47 billion, and a fleet capacity of 3.2 million deadweight tons. This implies a value of $1,075/shipping ton, or that Weyerhaeuser could monetize its shipping assets for about $120 million.
A note on these calculations: I am by no means an expert on shipping metrics, and Westwood/Weyerhaeuser apparently does not disclose those figures. My calculations stem from an example on the Westwood website saying each cargo hold can carry 20 million newspapers, equivalent to 2,800 tons, with each ship (again, four in the fleet) having ten cargo holds. If I'm incorrectly applying this, please let me know.
- Cellulose Fibers have applications in paper, consumer health products, and construction. Excluding charges, I estimate this segment to have pre-tax operating profitability of $220 million on a normalized basis. One wild card here is the potential for studying the use of these plant fibers in replacing corn-based ethanol as a fuel, but seeing as to how difficult to value that is, I'm excluding it for purposes of this valuation.
As a proxy, consider the results of International Paper's (NYSE:IP) pulp operations, part of the Printing Papers segment of that company. Average operating margins for the segment of 7.8% is exactly in-line with IP's consolidated operating margin, so assigning earnings from this segment the multiple given to IP as a whole (15.75x, on an enterprise basis) means Weyerhaeuser's Cellulose Fibers division is worth upwards of $2.25 billion on its own, using a 35% tax rate. Consider that IP's breakout of segment assets implies a trailing ROA for Printing Papers of 6.8%, when the company's ROA as a whole is 4.5%, and one could conceive of a premium here for that added return– although I'll lean conservative, because this also seems to require higher CapEx.
- Containerboard, Packaging, and Recycling [CBPR]. For this, we'll turn again to International Paper, where average operating margins on Industrial and Consumer Packaging comes in just under 7%. This compares to Weyerhaeuser's similar division, which turns just over 5% normalized operating margins. Average ROA in IP's two packaging divisions is 7.1% - well above average, and combined capital spending seems to be reasonably close to in-place assets as a percentage of total assets. As this was the only part of Weyerhaeuser's business to show year-over-year sales growth in 2007, there could be some intangible value in having a business that isn't as leveraged to economic cyclicality, particularly in housing. But assuming a deal goes through on a 20x earnings multiple with a 35% tax rate (2007 pre-tax earnings were $380 million), that yields a $5 billion deal.
Looking at it another way, for IP, depreciation as a percentage of packaging sales runs about 5.6%. If Weyerhaeuser is approximately the same, that means close to $290 million annually in depreciation expense – so adding that to the original pre-tax earnings means a multiple of just under 7.5x EBITDA… which seems reasonable.
And for the last segment – who doesn't love Real Estate? Real Estate has been a drag, although the company does have a relatively good position, all things considered. To do a ballpark valuation – not that this would be realized immediately in a spin-off, given present market conditions and sentiment toward homebuilders – Weyerhaeuser targets upscale homes, like Toll (NYSE:TOL). TOL has a ten-year average price-to-sales is 0.86x… which brings into question the appropriate sales denominator to use. I'm going to take the average of 2006 and 2007 sales ($2.85 billion) and call it reasonable, as this puts national housing starts for that period around 1.5 million, or marginally below the long-run demand.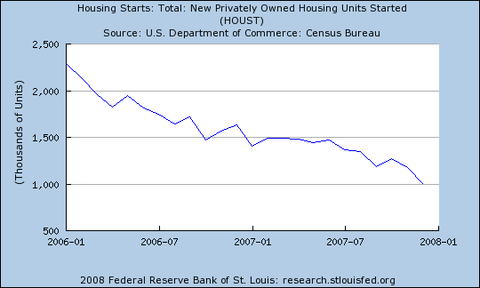 Now, with that average sales figure, applying the 0.86x P/S given to TOL yields a value of $2.45 billion for Weyerhaeuser's Real Estate division.
For those of you scoring at home, the present sum-of-parts is $120 million from shipping, $2.25 billion from fibers, $5 billion from CBPR, and $2.45 billion from Real Estate – a total of $9.8 billion, or just under half of Weyerhaeuser's present $20.76 billion enterprise value.
The missing asset? Weyerhaeuser's timberlands. In the future, I'll run through a few scenarios to value those, along with the economic outlook for the company.
Disclosure: None