We have long admired the Southern Company (NYSE:SO) because not only is it the most valuable privately owned utility company that trades on the major U.S. Exchanges by market cap, but because of its strong operational performance, which has resulted in strong capital appreciation, dividend yields and steady dividend growth to shareholders. Southern Company is a core holding for income-oriented investors such as retirees as well as investors looking for a high-quality company that offers lower systematic risk relative to the S&P 500. With a 4.25% dividend yield, it is one of our favorite utilities. However, as much as we like the Southern Company, we like Wisconsin Energy (NYSE:WEC) better and in our professional opinion, we believe that Wisconsin Energy offers superior return prospects for investors, particularly due to the fact that WEC is a smaller company and not constrained by the law of large numbers. In our analysis report, we will compare, analyze and evaluate these companies.
Southern Company: Southern Company is the industry leader in the US utilities industry. Southern Company was formed as a holding company in 1945 in response to the dissolution of Commonwealth & Southern Corporation. Southern Company's key subsidiaries are the Alabama Power Company, the Georgia Power Company, the Gulf Power Company (serves Northwest Florida along the Gulf of Mexico) and the Mississippi Power Company. Other Southern Company subsidiaries include the following:
Southern Power, which constructs, acquires, owns, and manages generation assets, including renewable energy projects, and sells electricity at market-based rates in the wholesale market.
SouthernLINC Wireless, which provides wireless communications services to Southern Company and external customers.
Southern Nuclear, which operates Southern Company's nuclear power plants.
Since 2000, Southern Company shareholders have benefited from the above-average population growth in Georgia and Florida relative to the rest of the US, from the low cost of debt financing due to the easy money policies of the Federal Reserve since 2001, from the dividend tax cut in 2003 that reduced dividend tax rates from a maximum of 35% to a maximum of 15% and the increased interest by retirees and other dividend seeking investors. An investment in Southern Company on December 31, 1999, would have generated a total return of 495% as of June 6th, 2012, easily outpacing the S&P 500 and the S&P 500 Utilities sector (NYSEARCA:XLU) during this time period.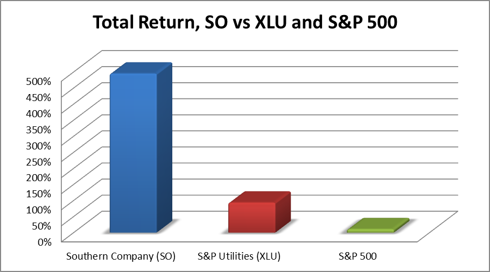 Source: Morningstar Direct (December 1999-June 6, 2012)
Wisconsin Energy Corporation: Wisconsin Energy Corporation traces its roots back to the Milwaukee Electric Railway and Light Company, which was formed in 1896 to provide electric, steam and interurban rail service. The company changed its name to Wisconsin Electric in 1938 and purchased Wisconsin Gas & Electric and Wisconsin Michigan Power Company from the North American Company. In 1987, Wisconsin Electric restructured by establishing Wisconsin Energy as a holding company for Wisconsin Electric, Wispark, Wisvest and Witech. In 2000, WEC acquired WICOR, which was the holding company of Wisconsin Gas. This merger created the largest electric and natural gas utility in Wisconsin. Also in 2000, WEC announced its 10-year growth strategy. Under WEC's Power the Future Program, WEC invested $7B in the following capital investments:
$3B to build 5 new power plants with a total capacity of 2,800 megawatts
$1.3B to upgrade existing power plants
$2.7B in WEC's utility distribution system
Wisconsin Energy's utility and non-utility business segments as follows:
We Energies, which is its electricity and natural gas utility energy segment serving customers in the Milwaukee Metropolitan area and the Upper Peninsula of Michigan.
We Power, which designs, builds and owns electric generating facilities.
Wispark LLC and Bostco LLC, which develops and owns Wisconsin area real estate properties. Wispark and Bostco currently own $85M in real estate holdings as of FY 2011.
In 2003, Wisconsin Energy hired Gale Klappa and two other senior leaders away from Southern Company. Since hiring Klappa, Frederick Kuester and Allen Leverett from Southern, WEC's stock has outperformed Southern Company, the S&P 500 and the S&P Utilities Sector.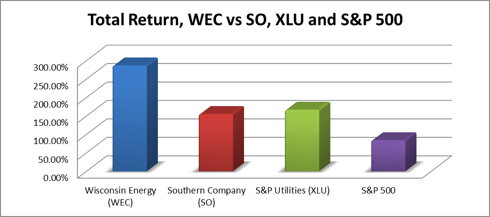 Source: Morningstar Direct (December 1999-June 6, 2012)
We can see that both WEC and Southern are high performing utility companies relative to the overall utility industry. Both companies utilize a similar percentage of coal with regard to power generation in 2011 (52% for SO and 54% for WEC). The remainder of WEC's power generation proportion differs from SO because WEC had sold a number of its previously owned power-generation facilities in order to raise capital for the Power-The-Future program. WEC is expected to purchase 40% of its power generation supply in 2012. In 2011, WEC had a lower average cost of purchased power and cost of coal-generated power than Southern Company.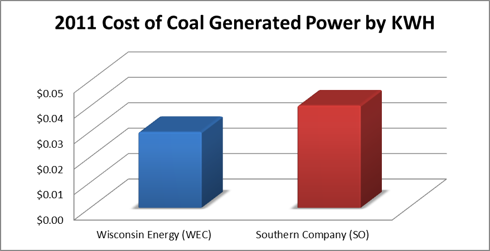 Sources: 2011 10-K's from WEC and Southern Company
Other reasons why we prefer Wisconsin Energy versus Southern Company:
We believe that Wisconsin will improve its population growth over the next 10 years. Wisconsin generated a 6.5% total population growth from 2000-2010 and we believe it will improve from 2010-2020, as the Wisconsin Economy improves.
We believe that the budget reforms sponsored and signed into law by Scott Walker will enable Wisconsin to put a lid on its indebtedness and enable the state to begin making it more attractive to business operations, which will increase demand for utility services from WEC. We already see that Wisconsin's unemployment rate of 7% is below the 8.2% national average.
Four of WEC's senior executive leaders come from Southern Company and we believe that when Klappa and Kuester retire in 2016, that WEC will be able to attract top-tier utility leadership to replace them. We believe that with Kuester and Leverett switching leadership positions that Leverett is going to eventually succeed Klappa.
Though Wisconsin Energy's dividend yield of 3.17% is lower than the 4.25% yield from Southern, we like the fact that WEC has grown its dividend faster than Southern since 2000.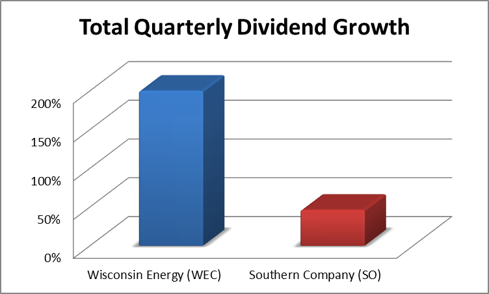 Source: Morningstar Direct (2000-2012)
We also like the fact that Wisconsin Energy is looking to increase its dividend payout ratio to 60%, which is still less than the 76% payout ratio of Southern Company.
In conclusion, we believe that if one is looking for a high-quality utility to invest in, you can't go wrong investing in the Southern Company, the unquestioned, undisputed King of the Utility Mountain, or investing in Wisconsin Energy, which was always a well-respected Midwest utility, but has made a great leap forward in improving its operating and financial performance under former Southern Company Chief Financial Officer Gale Klappa and other Southern Company Alumni. The six factors we identified is why we hold Wisconsin Energy and why we'd recommend it to anyone interested in the utility sector, especially in lieu of Southern Company. In our opinion, we think of Wisconsin Energy as the Northern Central Division of Southern Company, since its corporate CEO (Klappa), corporate CFO (Kuester) and energy generation business CEO (Leverett) are all Southern alumni.
Disclosure: I am long WEC.
Additional disclosure: Saibus Research has not received compensation directly or indirectly for expressing the recommendation in this report. Under no circumstances must this report be considered an offer to buy, sell, subscribe for or trade securities or other instruments.