There has been much talk among analysts about the risks of inflation due to the Fed's implementation of Quantitative Easing. At this point, however, as the US economy appears dangerously close to stalling, all signs indicate that - while we are not in deflation now - we are certainly trending a lot closer to deflation then inflation. Let us consider some of the indications of this trend in charts. First, the 10 year yield has trended steadily downwards, a sure sign that investors are not worried about inflation: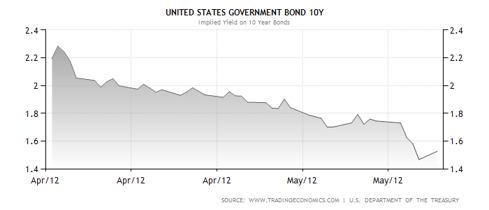 Second, both crude oil and copper have seen sharp downdrafts recently. In my mind, of all the commodities, copper and oil are the single two best indicators of economic activity and the overall health of the global economy: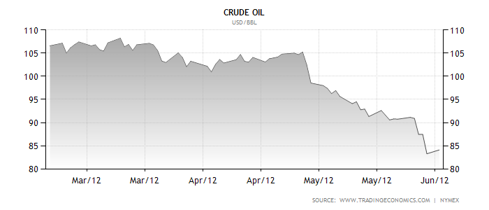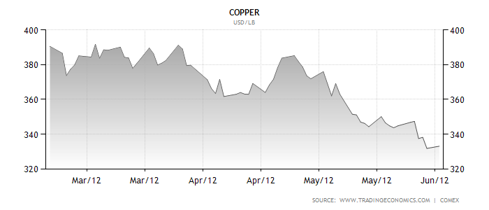 Third, the US economy continues to face a large output gap. An "output gap" essentially is the difference between what an economy could produce if it were performing at its maximum efficiency, and a substantial output gap indicates that there are lots of unemployed and underutilized workers and that factories and machinery are also not being employed to their full potential. I believe this output gap means that inflation will remain a secondary concern for some time as it is difficult to imagine inflation taking off with so much slack in the economy: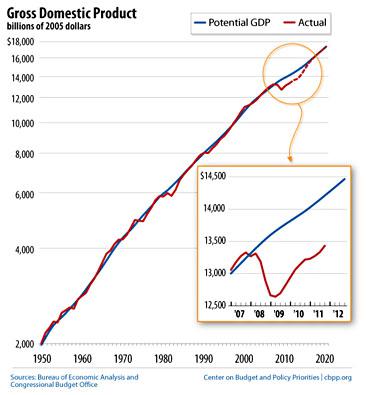 Finally, US retail sales growth dropped sharply last month, which along with the terrible jobs report from Monday indicates that consumers may well be putting their wallets back in their pockets: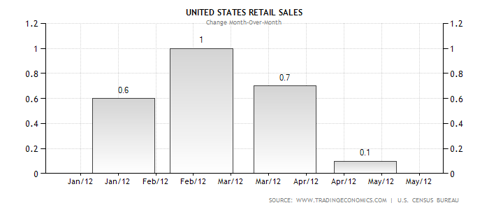 While it is possible that QE3 - which I do think the Fed will implement - may provide a temporary sugar boost to the economy and the stock market, I still think we continue to be in a low-growth environment. How to invest in this type of economy? I tend to favor analysts like Gary Shillings and David Rosenberg, who focus on capital preservation as well as returns, as they seem to understand that in a deleveraging environment it is better to err on the side of caution. A post on the Pragmatic Capitalism blog outlined Rosenberg's basic precepts guiding his current investment strategy:
1. Focus on Safe Yield - Corporate bonds
2. Equities - Dividend growth and yield, preferred shares
3. Focus on companies with low debt/equity ratios and high liquid asset ratios. The balance sheet is more important than usual.
4. Hard assets that provide an income stream - oil and gas royalties, REITs.
5. Focus on sectors or companies with low fixed costs, high variable cost, high barriers to entry, high level of demand inelasticity.
6. Alternative assets - that are not reliant on rising equity markets and where volatility can be used to advantage.
7. Precious Metals - hedge against reflationary policies aimed at defusing deflationary risks.
Here are some of the basic ways to play some of Rosenberg's themes:
Corporate Bonds: iBoxx $ Investment Grade Corporate Bond Fund (LQD). It currently has a 30 day SEC yield of 3.47% and a 12 month trailing yield of 4.17$. The average duration is 12 years, and 70% of the bonds it holds are rated A3 or above.
High Dividend Stocks: Vanguard High Dividend Yield Index Fund; ETF Shares (VYM). VYM also yields 3.47%, and its top holdings include large blue chip corporates such as Exxon-Mobil, GE, Microsoft, Chevron and Johnson & Johnson.
Oil and Gas Royalties: For this sector, MLPs are a good option. One I would favor is the ETRACS Alerian MLP Infrastructure ETN (MLPI) which tracks the performance of the Alerian MLP Infrastructure Index. One strong point in its favor in my opinion is that as an ETN, all dividends are rolled back into the total value of the ETN, so it is ideal if you do not want to pay yearly taxes. Just as important, because it is an ETN you do not have to worry about the extra hassle of filing K-1 forms with your taxes.
Precious Metals: Given that additional QE is surely on the table globally, holding a small amount of precious metals as a hedge against this makes good sense. The natural fit here is the SPDR Gold Trust (GLD).
Disclosure: I have no positions in any stocks mentioned, and no plans to initiate any positions within the next 72 hours.