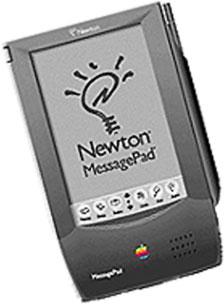 In hindsight, it's often easy to spot that exact time when the inflection point was reached. In real time it's just not possible, just as it's often very difficult to even identify the factors that tipped it all over.
It is, however, possible to look back in time and discover just when I lost all common sense. That was today, when I decided to write another article on Apple (NASDAQ:AAPL) after having to field comments related to previous articles and the legitimacy of my birth.
But this time, it's different? How many times have you tried delusion as the motivating principle? It's almost like believing that stock price can only go up while you are an owner of shares.
Those that are Apple shareholders, and sadly, I am not at the moment, might take the flip side and say that those who are truly delusional are the ones waiting for Apple to have a meaningful price dip so that they can purchase shares.
Equally delusional are those on a roller coaster who believe there will be a steeper drop after the first or that the fall can't possibly be as fast as the ascent to the top.
Many years ago, I was an avid Apple user, having converted from MS-DOS and the visionary-free PC world. I loved the Mac and used it in an environment that was emphatically PC. My hospital's IT Department told me I should expect no help from them in setting up a network for our department, but said so with a wink and a nod. As it turned out, the executive offices were actually all on a Macintosh network, detached from hospital wide 1987 era primordial system.
Fast forward just a few years and now in another hospital set with the task of computerizing another department. This time the IT department really meant it when they said they wouldn't support Macintosh, or SCSI accessories. Or any software. Or anything.
Yes, there was a time when computers really didn't exist. And when they finally did exist for the wealthy masses or the early adopters, Apple Computer was cool coming right out of the gate.
After dumping out large hordes of mimeo paper, solvent and White-Out, I made room for and went with PC's and eventually evolved toward their Mac OS knock-off, Windows.
I know that the courts didn't agree with that assessment, but how could anyone think otherwise?
Since then, however, I hadn't not taken part in Apple's resurgence, led by the late Steve Jobs. At least not in their product offerings, but I've very much enjoyed their stock and options over the past few years, although I don't currently hold shares, being one among the delusional awaiting a new entry point.
I did, however, have a first generation iPod, inherited from one of my kids, at that point that a white iPod was no longer cool. Since no one reads what I write, I can tell you with some impunity that my iPod was filled with bootleg tunes, that go back to Napster days. Filled with a wide range of songs, from various "One Hit Wonders", to Springsteen in concert, to 1970's Hungarian Rock and Roll to Shlomo Carlebach.
But as Apple had innovated, I really stayed on the sidelines. No Apple TV, no Apple Newton, no Apple Air. Not even iPhone or iPad, although I have had lust in my heart for those products. For now, I'll just live vicariously and listen to my kids rave about their "eco-system."
The phenomena of the iPod, iPhone and iPad are truly monumental and revived a moribund Apple for the garbage heap of technology companies that had their hey-days in the '80's. But then came the inflection point. It started with the announcement of the iCloud, a year ago.
Normally, Apple's stock price responds favorably to new product announcements. Not always immediately, but once the buzz starts, it takes on a life of its own and the stock reacts. As good as the anticipation always has been, the reality actually always seemed to exceed expectations. How many things in life can make the same claim?
But the iCloud announcement was entirely different. It was presided over by an ever more gaunt Steve Jobs, who barely four months later would have left center stage far too early. Jobs was always as much center stage as his products, especially in the latter days when his every appearance was considered a gift.
But the buzz just wasn't there and hasn't ever really developed.
Even at the time of the announcement "the cloud" already seemed so commoditized. There's no sleek design components. There just wasn't anything cool about it and the Apple spin didn't change that which really has no form, shape and potential for aesthetic design.
Beyond that, it was a step backward into an exclusive and restrictive neighborhood. You want to send non-Apple stuff into the cloud? It'll cost you.
Please don't get me wrong, I really admired Steve Jobs, although I still harbor some distaste for the way the initial news of his chronic illness was handled a few years ago when he took his first leave. As the creative visionary power behind Apple, the sadness of seeing him onstage in his apparently spiraling condition was compounded by seeing him associated with a new offering that seems to personify "lameness".
He may as well have worn a white mock turtleneck for this event. Still, if you compared the impact of Steve Jobs versus Bill Gates (when he assumed the role of "Chief Creative Officer), it's no contest.
My overall take on Apple products is that they are no longer cool once people like my wife become adopters.There's something off-putting about seeing a middle-aged power walker bopping to their iPod's collection of Thompson Twins tunes.
Amazingly, that same woman asked me just a few days ago to explain "The Cloud."
Those are the kind of signs that usually tell you it's time to find another new phenomenon, just like when seeing Gold on the cover of TIME Magazine. That and the fact that both The Simpsons and South Park have treated Apple with a harshness typically reserved for Microsoft (NASDAQ:MSFT) may indicate that the wall is seeking Apple out.
In a strange way, Apple may have become its own worst enemy by so consistently delivering on every single level. By so doing, it has also kept building that wall higher and higher, partially keeping competitors at bay, but also making it increasingly difficult to live up to expectations.
Of course, Apple's shares have hit a wall of late. The kiss of death seemed to come when James Altucher, a very talented and funny guy, who seems to delight in inciting and provoking, recently said that Apple was poised to become the first $2 Trillion company.
That prediction was forgotten as shortly after predicted that the Dow would soon reach 20,000. I don't think he specified the units of measurement, though, so he may have been right on that one. I would never discount any of his opinions.
However, from its recent historic high of $644, Apple has underperformed the S&P 500, which has been having its own wall with which to contend.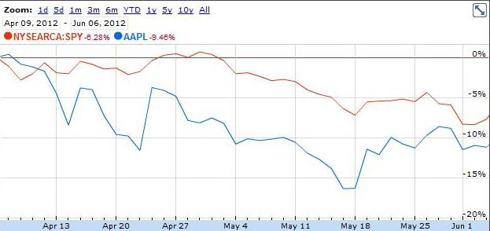 Apple's recent share price troubles were also reflected in today's market activity. Despite a nice move upward, Apple's 1.6% gain more than lagged the 2.3% of the S&P 500, just as it has lagged the index ever since reaching its high water mark 2 months ago.
You may be able to see that water mark on the wall, but it doesn't have to become an investor's personal wall.
I received a text message yesterday from a subscriber who asked for my advice regarding his existing Apple shares. He was looking for a way to overcome the wall that his Apple shares had hit.
Unfortunately Steve Jobs was unable to overcome his personal wall, but subsequent product introductions did do his legacy justice. But justice is the minimally acceptable level of performance when you are Apple.
In the meantime, I'm likely to get my fill of cloud from Wal-Mart (NYSE:WMT).
First the company and then the shares. How predictable.
He had actually already had experience selling covered calls before on those shares before he began his subscription and had already profited from having done so. His need to download an open source office suite to use my spreadsheets was reflective of his commitment to the Apple product line, but clearly that didn't extend to his shares, as his commitment was toward realizing profits from his investments.
Not to intone Altucher again, but at the height of the gold's price climb to $1800 he very accurately pointed out "it's just a rock." Although he may not agree in extending the analogy to Apple, it is, after all, just a stock.
In this case, the subscriber indicated that his shares had a cost basis of $573 after having generated a premium of $24 by virtue of having sold $625 May 2012 contracts in March 2012.
As part of my assessment I tried to determine his temperament and expectations. Based upon his previous foray, he believed that the an 8% return over 2 months was sufficient, taking into consideration capital gains on the shares and the option premium. Although I think that's a good rate of return, others may not believe so, especially if they've been on the receiving end of Apple's climb from $300, at the time of the iCloud announcement.
However, he now considered his cost basis to be $573, barely a dollar above today's closing price and wanted to know what steps he might take with his shares.
To me, the very thought that the option premium was considered as a reduction of the cost basis was as if he had already set up a wall for himself, one that was designed to limit his profit. From my perspective, his cost basis was still $597. The previous option premium was income in my eyes.
He could have sold $575 June 2012 calls for a premium of $8.05 or the $580 calls for $6.25, in addition to many other permutations. But if assigned, his overall ROI would have been reduced to 1.7% over 3 months, well below the two month 8% return that he had previously found appealing.
However to achieve that same 1% weekly return at his original purchase price, he would have to go out into the August 2012 contracts. That would be a bit risky, as Apple reports earnings in July.
Instead, I recommended the June 2012 $595 call, with its scant $2.12 premium, yet adding to his ROI and limiting the chances of assignment.
Just two short weeks ago I received a little bit of criticism for deigning to suggest that selling a covered call was a siren call to the world that I was proclaiming myself as a market timer. Of course that position ignores the fact that the mere purchase or sale of any stock is an expression of market timing. You certainly don't set out to buy or sell at the wrong time.
In that particular case the suggestion to sell a weekly $565 Apple call when shares were at $562 would have provided a premium in excess of $6. As it would turn out, after Friday's 280 point dive in the Dow, Apple outdid the market and dropped $17 (3%) and the shares were subsequently not assigned.
Dumb luck, no doubt, but that extra $6 just helped to lower the wall and the opportunity to lower it even further is just the mere click of an order submission button away. All that needs to be done is to select the strike price that makes you happy and the time frame at which you would like to renew that happiness.
The lower that wall becomes, the less of a hurdle the wall is to Apple, the company, as it needs to satisfy the needs of its share holders, who shouldn't care whether their profits come from shares, albeit unrealized, or from having sold options and pocketed real profits.
Disclosure: I have no positions in any stocks mentioned, and no plans to initiate any positions within the next 72 hours.