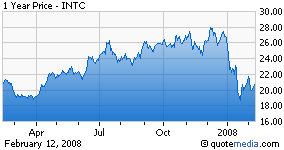 Intel (NASDAQ:INTC) has confirmed that their offices in Munich were raided by EU antitrust investigators. The EU officials also "carried out unannounced inspections at the premises of a manufacturer of central processing units and a number of personal computer retailers," said Jonathan Todd, a Commission spokesman, according to Reuters.
I know antitrust is a serious business…but, the humor potential here is enormous. Did they have guns drawn? Were they armed…with USB drives? And when the mighty antitrust forces of the EU raided the PC retailers, did they in fact find that they were as suspected selling…Intel-powered PCs?
Intel Tuesday is up 17 cents at $20.85; Advanced Micro Devices (NASDAQ:AMD), the obvious beneficiary on any restriction on Intel, is up 24 cents, or 3.8%, at $6.52.