The Coca-Cola Company (NYSE:KO) is one of the most popular companies in the world. The beverage giant offers a wide selection of drinks, ranging from carbonated energy drinks to flavored waters. The company has several well-known brands in its portfolio, such as Diet Coke, Fanta, Sprite, and the world famous Coca-Cola brand.
The Atlanta-headquartered Coca-Cola has a history of more than 125 years. Initially, the company was formed as a pharmaceutical enterprise. With the growth of commercial bottling industry and soda fountains, Coca-Cola has established itself as a global beverage company. Thanks to strong partnerships with local producers, Coca-Cola has presence in almost every country in the world. It has posted an annualized earnings growth of 11.3% in the last 5 years, and the stock returned near 100% since its dip in 2009.
As of the time of writing, Coca-Cola stock was trading at $73 with a 52-week range of $63 - $78. It has a market cap of $165.7 billion. Trailing twelve month [ttm] P/E ratio is 19.5, and forward P/E ratio is 16.4. P/B, P/S, and P/CF ratios stand at 5.1, 3.6, and 17.9, respectively. Operating margin is 22%, and net profit margin is 18.5%. The company has some debt issues. Debt/equity ratio is 0.5. Coca-Cola is a nifty dividend payer. Based on the latest dividend of $0.51, the projected yield is 2.8%.
Coca-Cola has a 3-star rating from Morningstar. Out of 4 analysts covering the company, 2 have buy, and 2 have hold ratings. Wall Street has diverse opinions on Coca-Cola's future. For this year, top-line growth estimate is 27.9%, whereas the bottom-line growth estimate is 6%. Average five-year annualized growth forecast estimate is 8.4%. This seems like a reasonable estimate, given the company's past 5-year growth record of 11.3%.
What is the fair value of Coca-Cola given the forecast estimates? We can estimate Coca-Cola's fair value using our discounted earnings plus equity model as follows:
Discounted Earnings Plus Equity Model
This model is primarily used for estimating the returns from long-term projects. It is also frequently used to price fair-valued IPOs. The methodology is based on discounting the present value of the future earnings to the current period:
V = E0 + E1 /(1+r) + E2 /(1+r)2 + E3/(1+r)3 + E4/(1+r)4 + E5/(1+r)5 + Disposal Value
V = E0 + E0 (1+g)/(1+r) + E0(1+g)2/(1+r)2 + … + E0(1+g)5/(1+r)5 + E0(1+g)5/[r(1+r)5]
The earnings after the last period act as a perpetuity that creates regular earnings:
Disposal Value = D = E0(1+g)5/[r(1+r)5] = E5 / r
While this formula might look scary for many of us, it easily calculates the fair value of a stock. All we need is the current-period earnings, earnings growth estimate, and the discount rate. To be as objective as possible, I use Morningstar data for my growth estimates. You can set these parameters as you wish, according to your own diligence.
Valuation
Historically, the average return of the DJI has been around 11% (including dividends). Therefore, I will use 11% as my discount rate. In order to smooth the results, I will also take the average of ttm EPS along with the mean EPS estimate for the next year.
E0 = EPS = ($3.77 + $4.46) / 2 = $4.12
Wall Street holds diversified opinions on the company's future. While analysts tend to impose subjective opinions on their estimates, the average analyst estimate is a good starting point. Average five-year growth forecast is 8.4%. Book value per share is $14.54. The rest is as follows:
Fair Value Estimator

V (t=0)

E0

$4.12

V (t=1)

E0 (1+g)/(1+r)

$4.02

V (t=2)

E0((1+g)/(1+r))2

$3.92

V (t=3)

E0((1+g)/(1+r))3

$3.83

V (t=4)

E0((1+g)/(1+r))4

$3.74

V (t=5)

E0((1+g)/(1+r))5

$3.66

Disposal Value

E0(1+g)5/[r(1+r)5]

$33.23

Book Value

BV

$14.54

Fair Value Range

Lower Boundary

$56.52

Upper Boundary

$71.06

Minimum Potential

-23%

Maximum Potential

-3.5%
(You can download FED+ Fair Value Estimator, here.)
I decided to add the book value per share so that we can distinguish between a low-debt and debt-loaded company. The lower boundary does not include the book value. According to my 5-year discounted-earnings-plus-book-value model, the fair-value range for Coca-Cola is between $56.5 and $71 per share. At the current valuation, Coca-Cola is overvalued.
Click to enlarge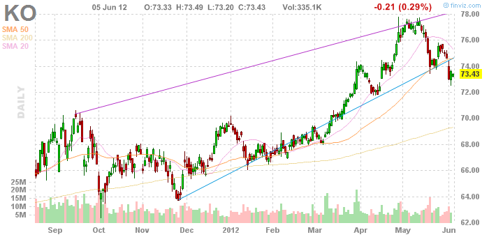 (Source: Finviz)
Summary
Looking at the graph above, one can see that the Coca-Cola stock is forming something like a head-and-shoulder formation. The stock made it to all-time high of $78, but could not stay there long, and retreated back to below $75. Recently, New York City Mayor, Michael Bloomberg, expressed his intention to ban large-sized sugary drinks. While the proposed move would not have much direct effect on the soda-producers profits, it could trigger actions from other states, which might propose similar or even more restrictive legislation.
Coca-Cola is a great company, but its stock is obviously over-priced at the current valuation. The company has to grow by at least 16% annually to justify its current price. McDonald's (NYSE:MCD), which has been a long-time flier, is trading at a trailing P/E ratio of 16. Compared Coca-Cola, even McDonald's (which I believe is expensive) looks cheaper.
Coca-Cola has a great moat in the retail beverage business. It is one of the best companies in the consumer-oriented service industries. There is also an aggressive growth factor. However, it is trading at significantly higher ratios than the industry average. Its closest competitor, Pepsi (NYSE:PEP), has relatively more attractive ratios. Pepsi's P/E ratio of 16.7, P/B ratio of 4.7, and P/S ratio of 1.6 are all lower than that of Coca-Cola's valuation ratios. At the current prices, Pepsi also offers a slightly higher yield of 3.1%. Another competitor, Dr. Pepper Snapple (NYSE:DPS), offers a yield of 3.2%, and is priced with a low P/E ratio of 15.
I think Coca-Cola has one of the top management teams in the business world. As the company reported double-digit earnings growth, shareholders enjoyed double-digit returns. However, after returning more than 16% in the last year alone, the stock is primed for a correction. This year will probably be a mediocre one for the shareholders. The stock needs a rest to re-gain its momentum. The recent sell-off is a strong warning signal to bulls. I think the correction has just begun, and there are volatile days ahead for the shareholders. Therefore, I recommend investors to avoid Coca-Cola until the stock falls within a fair valuation range. A price below $70 could offer a better entry point.
Disclosure: I have no positions in any stocks mentioned, and no plans to initiate any positions within the next 72 hours.