In preparation for the week ahead (starting June 11, 2012), I would like to look at oversold equities (RSI below 40) for possible earnings plays. The list for the current week's oversold stocks reporting earnings can be found here.
June 14th
Kroger Co. (NYSE:KR): The second largest publicly traded grocery chain in the US behind Whole Foods Market Inc. (WFM) is trading at $21.86 per share, down almost 9% YTD. The market is pricing in some bad news, with the stock below all the major moving averages and trading at 8.75x forward earnings. While there may be some downside left, the 2.1% dividend is ample. My opinion is to avoid the stock until management can provide a clearer picture for the rest of the year.
Pier 1 Imports, Inc. (NYSE:PIR): I have a unique history with the home furnishing store that trades $15.46 per share, up 11% YTD. A forward earnings multiple of 12 means PIR remains attractive given EPS has grown at 34% per year for the past 5 years. Competitors Williams-Sonoma Inc. (NYSE:WSM) and Bed Bath & Beyond Inc. (NASDAQ:BBBY) are trading at higher multiples with EPS growth that is much less impressive over the same time frame. Buying PIR represents good value if you believe housing won't deteriorate in the second half of the year.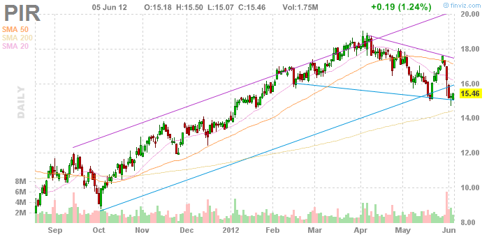 Smithfield Foods Inc. (NYSE:SFD): The pork and gourmet foods maker trades at $19.16 per share and is down 21% YTD. With a forward earnings multiple of 7x, the market is pricing in sad times for the meat industry. Will The Coca-Cola Company (NYSE:KO) crusade my NYC mayor soon morph into a crusade against the other white meat? This too shall pass and I believe buying SFD at these prices positions one portfolio for profits in the future.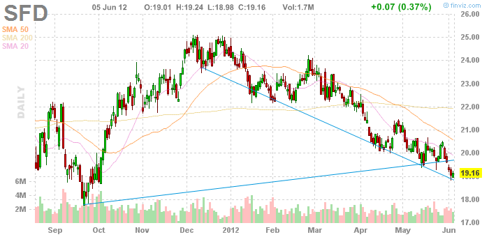 Disclosure: I have no positions in any stocks mentioned, and no plans to initiate any positions within the next 72 hours.