Extreme Networks (NASDAQ:EXTR) isn't a networking giant. Instead, the company quietly focuses on four core vertical markets: Higher education, government, health care and hospitality. Think about that for a minute. At a time when everybody is concerned about an IT spending slowdown, three of Extreme's four target markets are somewhat insulated from economic turbulence.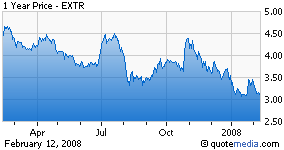 Missing from Extreme's primary target list is the financial services sector. Over the short-term, that's a good thing. The sub-prime mortgage meltdown has rocked financial giants like Bank of America (NYSE:BAC), Citigroup (NYSE:C) and Merrill Lynch (MER). Many pundits now expect Wall Street to cut its IT investments this year, and industry watchers such as Forrester Research have cut their overall IT spending estimates for 2008. The upshot: IT spending is expected to grow this year, but not as rapidly as earlier projections had indicated.
Meanwhile, Extreme has been undergoing a quiet evolution. Former Sun Microsystems Inc. (JAVA) executive Mark Canepa was named CEO of the company in August 2006, and has since delivered four consecutive quarters of revenue growth. Extreme isn't setting the world on fire, but revenues did grow 7 percent to $92.5 million in the most recent quarter, and profits topped $4.1 million.
I'm not suggesting that Extreme can — or will — bruise sales at Cisco Systems (NASDAQ:CSCO). But that's not the point. Rather, several small to mid-size companies have found a niche in the networking industry. Adtran (NASDAQ:ADTN), Digium (number two a list of 10 open source companies to watch), F5 Networks (NASDAQ:FFIV) (which is striving to become a $1 billion business) and ShoreTel (a recent VoIP partner with Microsoft) come to mind. Extreme seems to be clawing its way onto that niche list.
Betting On Partners
And Extreme is pretty darn committed to the channel partners -- the tech consultants that sell and support networking equipment. More than 90 percent of Extreme's worldwide business and 80 percent of North America sales flowing through partners.
The company has roughly 400 North American partners, and plans to meet with a few dozen of them in California later this month — as part of an effort to gain clear feedback from solutions providers, according to Christopher Rajiah, director of North American Channels for Extreme. (Rajiah succeeded Dan Sibille, who now works on channel development for TelePresence startup LifeSize Communications.)
Looking ahead, Extreme on April 1 plans to launch an enhanced Channel Program for its North American partners.
Apparently, CEO Canepa has stabilized the company. And by focusing on vertical markets like heath care, government and higher education, Extreme may be less susceptible to the economic turbulence ahead.
Disclosure: none