Operations at Eldorado Gold Corp.'s (NYSE:EGO) Kisladag mine in Turkey should be up and running shortly, after a temporary injunction shutting down the mine in July 2007 expired.
On Monday, Eldorado announced that the Turkish High Administrative Court could not come to a decision on an appeal of Kisladag's environmental permit, and was returning the case back to the lower courts.
The company said the temporary injunction which was placed by the High Administrative Court, and resulted in the temporary closure of the mine, automatically expires with the decision on the case.
The exact date for when the mine will re-start has still not been determined, however Eldorado said its expects further clarity from the Turkish Ministry of the Environment regarding this issue within the next couple of weeks.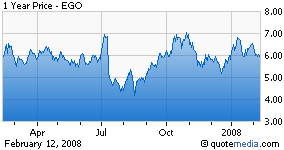 Analysts are busy rethinking their recommendations on the news, including Credit Suisse analyst Anita Soni. She moved her recommendation from "neutral" to "outperform," and raised her price target from $7.50 to $7.75.
In a note to clients Ms. Soni said:
While the decision is neither the best possible outcome (a definitive positive decision and a re-start of operations) nor the worst possible outcome (a negative decision with a permanent or indefinite shutdown of operations), we believe this decision is positive as it provides some degree of clarity moving forward.

The most likely outcome of the current scenario, in our opinion, is the re-start of operations, though whether this is a permanent re-start is as yet, uncertain.