Shares of dry bulk shipper Eagle Bulk Shipping Inc (NASDAQ:EGLE) are up sharply Thursday without any real news.
(click charts to enlarge)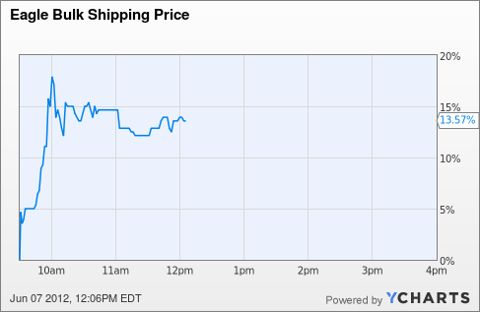 EGLE data by YCharts
Broad Market Rally
One factor likely driving EGLE higher today is the move higher in the broad indices. However, it should be noted that other dry bulk stocks are not moving higher today. Given the weakness of the sector, it is surprising to see EGLE moving sharply higher.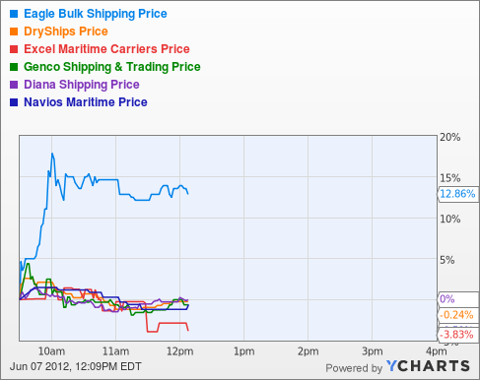 Short Covering
One possible explanation for the move in EGLE is short covering. Short interest currently stands at 9 million shares or 58.5% of the float. It is possible that some shorts have decided to lock in profits on their EGLE short as the stock is close to a 52-week low.
Debt
The reason why the short interest is so high in EGLE is because investors do not believe the company will be able to survive the current downtrend. EGLE has debt of $1.14 billion and equity of just $50 million. If dry bulk rates to not improve soon, I believe the company will be in a difficult situation.
My Take
I would use Thursday's rally in EGLE to sell. I agree with the negative thesis on EGLE outlined by a fellow SA contributor here.
Disclosure: I have no positions in any stocks mentioned, and no plans to initiate any positions within the next 72 hours.