ValueClick (VCLK) Wednesday afternoon announced that it has reached a settlement with the Federal Trade Commission regarding its lead generation practices. The company will pay $2.9 million to settle the charges, without any admission that it violated any law. The news lifts a cloud that has been hanging over the company (and the stock) for months.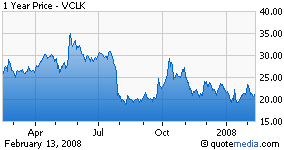 The company also announced fourth quarter results. For the quarter, the company had revenue of $183.1 million and earnings of 18 cents a share, versus Street expectations of $175.77 million and 18 cents.
For the first quarter, the company sees revenue of $166 million to $170 million, with EPS of 15-16 cents. The Street had been expecting $175.45 million and 18 cents.
For the full year, VCLK sees revenue of $730 million to $745 million, with EPS of 78-81 cents. The consensus has been $740.24 million and 82 cents.
The company also said that chief administrative officer Sam Paisely is resigning "to pursue another opportunity."
In after hours trading, VCLK is down 36 cents, or 1.7%, at $21.32. The stock was up 88 cents in the regular session.