In a couple of previous articles related to Fossil (NASDAQ:FOSL) posted on May 3, 2012 and May 21, 2012, a protected covered call was considered in the first article, as the company's earnings call was fast approaching, after which the bottom fell out for Fossil's stock price, primarily as a result of exposure to Europe.
An investor in the protected covered call position would have realized a -4.9% loss, however this was much better than the -49% loss for a long position in the stock. In the second article, a 2012 Jun 55/60 bull-put credit spread was proposed as a replacement for the protected covered call position, as a way to recover the -4.9% loss and potentially realize a profit as well.
Since entering the bull-put credit spread, Fossil's stock price has recovered some as shown below: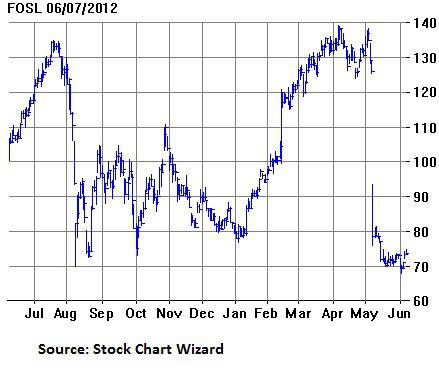 Most of the 9.9% potential profit for the bull-put credit has been realized at this point, and the position can be exited for a net debit of $0.05 as found by PowerOptions tools and as shown below: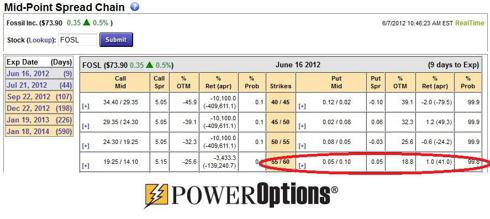 The $0.05 represents about 1% of remaining potential return, so about 8.9% of the potential return has been realized, which more than covers for the -4.9% loss of the protected covered call and leaves about 4% of aggregate net profit.
At this point, the position could be exited for a nice profit, but consideration should also be given for rolling the position. There hasn't been much news related to the company as of late, other than the introduction of a Cherokee language watch, so the outlook for the company's stock remains bullish.
With nine days left until expiration, there aren't any attractive positions for rolling to June, so rolling to July is examined. A number of potential positions (shown below), as found by PowerOptions tools, are available for July, but the 2012 Jul 55/60 bull-put credit offers a nice potential return of 8.5%, yet also provides sufficient margin (18.8%) between the strike price of the short put option and the stock price. The other positions either offer too little potential return or have too small a margin between the short strike price and the stock price.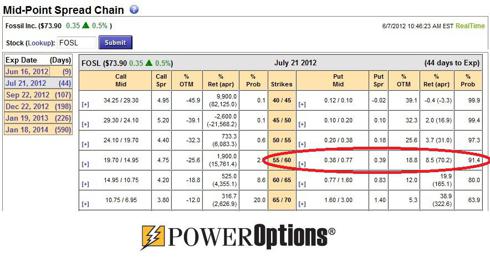 The new position can be rolled to for a net credit of $0.34 ($0.39-$0.05). Rolling to the 2012 Jul 55/60 bull-put credit spread increases the aggregate potential return across all positions (current and previous) to around 12.5% (61% annualized).
A new management point of $64 is set for the new position. For a stock price below $64, the position should be analyzed for an exit or a roll.
Disclosure: I have no positions in any stocks mentioned, and no plans to initiate any positions within the next 72 hours.