When Answers Corp. (NASDAQ:ANSW), the operator of information portal Answers.com, announced the $100 million acquisition of Lexico Publishing Group LLC in July, we thought it made a lot of sense. Lexico operates the Dictionary.com, Thesaurus.com and Reference.com Web sites, and gaining those properties would have helped Answers beef up to become more attractive to advertisers and reduce its reliance on Google Inc. (NASDAQ:GOOG), which drives traffic for Answers.com by linking to it with a "definition" link on its results page.
But the choppy markets seem to have derailed the deal. Answer said Wednesday that it has canceled a $100 million stock offering needed to fund the deal. It didn't specifically say that the Lexico deal was dead, though. Its press release just stated: "The agreement to acquire Lexico will expire on March 1, 2008."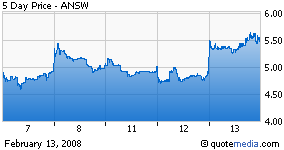 An e-mail to Answers' chief strategic officer Bruce Smith for clarification drew a quick phone call response from the executive. "You can read into it however you want, but it's a factual statement," Smith said. "The public offering is done. The deal expires on March 1. If no financing is obtained by then, the deal is off."
The news buoyed Answers' stock in morning trading Wednesday, pushing it up 9.4% to $5.38. This might represent a sigh of relief from investors who didn't like the potential dilution of a public offering. But it also might mean that Answer has reclaimed its status as takeover target. The company's shares experienced a strong run-up last June on acquisition speculation, which was quelled by the Lexico deal announcement in July. - Olaf de Senerpont Domis
See Feb. 13 press release from Answers Corp.
See July 2007 post from Tech Confidential
See June 2007 story from TheDeal.com
For more, see paidContent.org