On March 12 Todd Johnson published his most recent analysis of monthly paying dividend stocks. I took note thinking that if there were more than ten monthly paying equities they might make a suitable pack of dogs to inscribe on this Seeking Alpha (top dog) weblog collection. Typing in "monthly dividend stocks" as my first Google web surfing attempt on June 4 revealed a collection of sixteen monthly paying equities to kennel in this post.
Dogs of the Index Metrics Cull Out Current Bargains
For this article the June 4 list of 16 companies paying out monthly dividends was ranked using the two key dog performance metrics: (1) stock price; (2) annual dividend. Dividing the annual dividend by the price declared the percentage yield by which each dividend dog stock was ranked.
Historically dividend dog investors utilized this ranking system to select portfolios of five or ten stocks in any one index, sector, survey, or list to trade. They awaited the results from their investments in the lowest priced, highest yielding stocks and prayed that the price of every stock they now owned climbed higher (having locked in a high yield percentage at purchase).
Dogs of the index strategy, popularized by Michael B. O'Higgins in the book "Beating The Dow" (HarperCollins, 1991), revealed how high yielding stocks whose prices increase (and whose dividend yields therefore decrease) can be sold off once each year to sweep gains to reinvest the seed money into higher yielding stocks in the same index.
Introducing Top Monthly Pay Dividend Dogs
The sixteen monthly dividend paying (mo pay) stocks listed below were ranked by yields calculated as of June 4 to determine the Top Ten.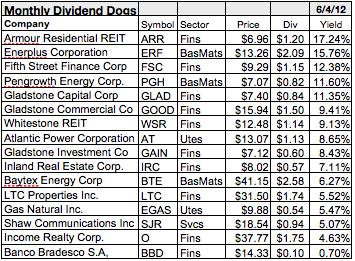 Ten monthly dividend stocks showing the biggest yields as of June 4 included equities representing three of nine market sectors. The top yielding stock as revealed by Yahoo Finance data, was one of seven in the financial sector, Armour Residential REIT (NYSE:ARR). The other six financial firms were: Fifth Street Finance Corp (NYSE:FSC), Gladstone Capital Corp (NASDAQ:GLAD), Gladstone Commercial Corp (NASDAQ:GOOD), Whitestone REIT (NYSEMKT:WSR), Gladstone Investment Co (NASDAQ:GAIN), and Inland Real Estate Corp. (NYSE:IRC). The balance of the top ten included: two basic materials firms, Enerplus Corporation (NYSE:ERF), and Pengrowth Energy Corp. (NYSE:PGH); one utility, Atlantic Power Corporation (NYSE:AT) representing the sectors.
Up and Down Moves for Top Ten Monthly Paying Dividend Dogs
One firm, Armour Residential REIT, stayed at the top of this list by yield for the six months surveyed.
Color code shows: (Yellow) firms listed in first position at least once between January and June; (Blue) firms listed in fifth position at least once between January and June; (Purple) firms listed in tenth position at least once between January and June; (Green) firms listed in fifteenth position at least once between January and June. Duplicates (if any)are depicted in color for highest ranking attained.
Bullish upward price moves since May 1 were made by only one of the top ten Mo Pay Dividend Dogs: Gladstone Commercial Corp ratcheted up its price .6313%. In a neutral mode fellow financial Gladstone Capital Corp stood pat at a $7.40 price point.
Bearish downward price moves for the same period hit the rest of the top ten Mo Pay Dividend Dogs: Armour Residential REIT price swooned .2865%; Enerplus Corporation was minus 3.91% in price; Fifth Street Finance Corp sank 2.313%; Pengrowth Energy Corp. discharged .282%; Whitestone REIT was in the red 2.5%; Atlantic Power Corporation shorted out 2.02%; Gladstone Investment Co divested 3.13% in price; Inland Real Estate Corp. nodded off 2.43%.
Dividend vs. Price Results
Below relative strengths for the top ten Mo Pay Dividend Dogs by yield was graphed as of June 4, 2012 and compared to those of the Dow. Six months of historic projected annual dividend history from $1000 invested in the ten highest yielding stocks and the total single share prices of those ten stocks created the data points for each month shown in green for price and blue for dividends.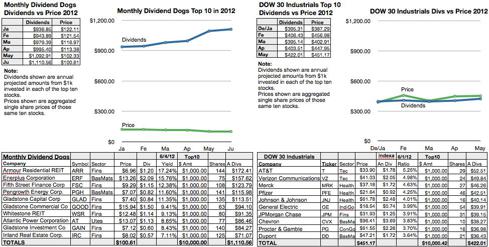 Conclusion: High Risk Mo Pay Dividend Dogs On Bear Path Compared to Overbought Dow Hounds
The top ten month pay dogs have been traveling a bear path all year as measured by dividend vs. price performance between January and June. Aggregate single share price for the top ten declined 17.6% while projected dividends from those ten invested at $1k each increased 18.54% for the period. This is an unhealthy sign as the gap between aggregate single share prices beneath rising projected dividends from $1k invested in those ten equities has widened.
Meanwhile, the Dow index moved back toward convergence as dividends from $1k invested in the top ten came to within $8 of their aggregate total single share prices in March. Since then however the Dow aggregate single share price for the top ten has rallied up 11.98% through May.
As of June 4 Mo Pay Dogs showed $688 or 163% more dividends (with equally bigger risk) at an $350 or 77.7% lower aggregate single share price than the Dow top ten.
A coming summary will soon compare results for these monthly pay dogs with top market cap dogs and two dog lists derived from Barron's survey of the top 500 firms by sales. Stay tuned.
Disclaimer: This article is for informational and educational purposes only and shall not be construed to constitute investment advice. Nothing contained herein shall constitute a solicitation, recommendation or endorsement to buy or sell any security. Prices and returns on equities in this article are listed without consideration of fees, commissions, taxes, penalties, or interest payable due to purchasing, holding, or selling same.