Exelon (NYSE:EXC) was formed from the October 2000 merger between Unicom and PECO Energy. This merger was interesting because it combined two utilities which despite have the benefit of operating in large metropolitan areas had a reputation as poor performers financially and for stockholders. After a few years of stagnant revenues and choppy profitability, Exelon recorded an impressive 21% revenue increase in 2007. EPS grew by 71% that year and was due to the revenue growth and ability to avoid goodwill impairments. Since 2007 EXC has resumed its tradition of mediocrity, which is why we like Wisconsin Energy (NYSE:WEC) better in the utility sector. In our professional opinion, we believe that Wisconsin Energy offers superior return prospects for investors, particularly due to the fact that WEC is a smaller company and has better management and a better macro-economic outlook. In our analysis report, we will compare, analyze and evaluate these companies.
Exelon Corporation : Exelon was formed from the merger between Unicom and PECO. It is a member of the Dow Jones Utilities Index and is the 3rd largest US based utility holding company as measured by market capitalization. It acquired Constellation Energy Group in March 2012. Exelon's subsidiaries are as follows:
Commonwealth Edison, which serves Chicago and Northern Illinois
PECO Energy, which serves Philadelphia and Southeastern Pennsylvania.
Baltimore Gas and Electric, which serves Baltimore and Central Maryland
Exelon Generation, which owns and manages electric generating facilities, wholesale energy marketing operations and its competitive retail supply
An investment in Exelon on October 31, 2000 (11 days after the formation of Exelon) would have generated a total return of 88% as of June 6th, 2012, easily outpacing the S&P 500 but would have underperformed the S&P 500 Utilities sector (NYSEARCA:XLU) and Wisconsin Energy during this time period. Exelon also recorded $3B in asset impairments on its Boston Generating LLC assets and its Unicom acquisition.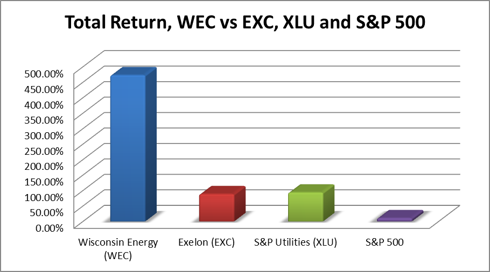 Source: Morningstar Direct (October 2000-June 6, 2012)
Wisconsin Energy Corporation : Wisconsin Energy Corporation traces its roots back to the Milwaukee Electric Railway and Light Company, which was formed in 1896 to provide electric, steam and interurban rail service. The company changed its name to Wisconsin Electric in 1938 and purchased Wisconsin Gas & Electric and Wisconsin Michigan Power Company from the North American Company. In 1987, Wisconsin Electric restructured by establishing Wisconsin Energy as a holding company for Wisconsin Electric, Wispark, Wisvest and Witech. In 2000, WEC acquired WICOR (Wisconsin Gas's holding company). This merger created the largest electric and natural gas utility in Wisconsin.
Wisconsin Energy's utility and non-utility business segments as follows:
We Energies, which is its electricity and natural gas utility energy segment serving customers in the Milwaukee Metropolitan area and the Upper Peninsula of Michigan
We Power, which designs, builds and owns electric generating facilities
Wispark LLC and Bostco LLC, which develops and owns Wisconsin area real estate properties. Wispark and Bostco currently own $85M in real estate holdings as of FY 2011.
"In 2003, Wisconsin Energy hired Gale Klappa and two other senior leaders away from Southern. Since hiring Klappa, Frederick Kuester and Allen Leverett from Southern, WEC's stock has outperformed Exelon, the S&P 500 and the S&P Utilities Sector.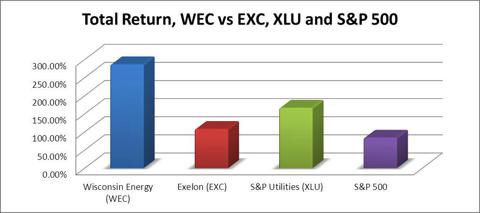 Source: Morningstar Direct (March 2003-June 6, 2012)
We can see that both WEC and EXC are large Great Lakes utilities with high-dividend yields. However, the similarities between the two companies end there. EXC generates 82% of its energy from nuclear power. WEC's two biggest sources of energy generation come from coal and purchased power. It can be noted that its purchased power comes from power plants that WEC used to own, but sold in order to fund its Power-The-Future Program last decade.
Our nine reasons why we prefer Wisconsin Energy versus Exelon:
We believe that Wisconsin (WEC's home area) handled its budget deficit more responsibly than Illinois (EXC's home area). Wisconsin passed a series of prudent budget reforms to cut the budget deficit without raising taxes. Illinois resorted to increasing tax rates by 46-67% and still projected multi-billion dollar deficits.
We mention this because we believe that Wisconsin's budget reform will make Wisconsin a more attractive destination for businesses and result in higher demand for Wisconsin Energy versus Exelon. The most notable instance of this was FatWallet, which relocated its entire company from Illinois to Wisconsin 29 days after the Illinois tax increases were passed.
We believe that Wisconsin will improve its population growth over the next 10 years. Wisconsin generated a 6.5% total population growth from 2000-2010 and we believe it will improve from 2010-2020, as the Wisconsin economy improves. This population growth slightly exceeds the growth of the Baltimore metro area (Baltimore Gas) and significantly exceeds the population growth of the Chicago (ComEd) and the Philadelphia (OTC:PECO) areas. We expect Wisconsin's 2010-2020 population growth to show greater growth rate variance versus Chicago, Baltimore and Philadephia.
Though Wisconsin Energy's dividend yield of 3.17% is lower than the 5.61% yield from Exelon, we like the fact that WEC has increased its dividend since 2004. Exelon has not increased its dividend since 2008.
We also like the fact that Wisconsin Energy is looking to increase its dividend payout ratio to 60%, which is still less than the 70% payout ratio of Exelon based on EXC's trailing 12 months EPS. Moreover, even though Exelon's dividend has been held constant since 2008, its payout ratio has increased from 50% to 70% due to its steady decline in EPS.
Even though EXC primarily produces its energy from ultra-low-cost nuclear fuel, its revenue growth since 2002 has not been significantly higher than WEC. WEC's EPS growth outpaced EXC's. Furthermore, EXC's TTM Profit Margin is less than WEC's.
Exelon's track record in acquisitions is poor. It already wrote off $3B from the Unicom acquisition and its Boston Generating assets from 2003-2006. Now it is spending $7.9B on Constellation Energy, which almost went bankrupt in 2008. Wisconsin Energy harvested $850M from the sale of WICOR's non-utility assets in 2004, which was 70% of WICOR's $1.2B acquisition cost, which was paid in cash instead of stock.
Exelon had to provide $1B in concessions to the Maryland regulators in order to gain approval to acquire Constellation Energy.
Wisconsin has a lower maximum requirement for "renewable energies". Wisconsin requires 10% of energy to be generated from "renewable energies", whereas Pennsylvania (18% for PECO Energy), Maryland (20% for BG&E) and Illinois (25% for ComEd) all require more.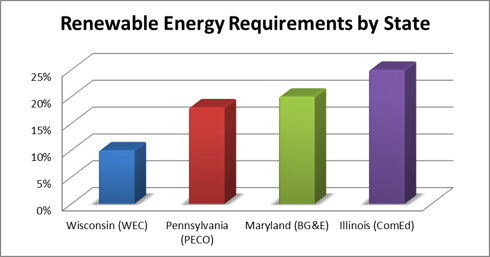 Source: DSIRE.org
In conclusion, we believe that if one is looking for a high-quality utility to invest in, we don't recommend investing in Exelon . We believe that EXC is an overhyped, overrated, lumbering, inconsistent performer known primarily for its political connections and rent-seeking activities. For those interested in investing in a high-quality, high dividend yielding Great Lakes utility, we recommend Wisconsin Energy. WEC was always a well-respected Midwest utility, but has made a great leap forward in improving its operating and financial performance under Gale Klappa and his management team. The nine factors we identified is why we hold Wisconsin Energy and why we'd recommend it to anyone interested in the utility sector, especially in lieu of Exelon.
Disclosure: I am long WEC.
Additional disclosure: Saibus Research has not received compensation directly or indirectly for expressing the recommendation in this report. Under no circumstances must this report be considered an offer to buy, sell, subscribe for or trade securities or other instruments.