Energy Services Acquisition Corp. (ESA) is a SPAC, which is another name for a "Blank Check" company. The company went public in September of 2006, raising 51.6 million dollars from investors who believe the management of this company will produce a winning company in the energy business. The company recently announced its first two acqusitions with about four other companies to be announced shortly.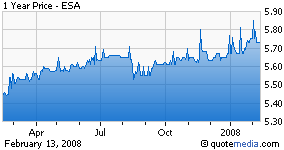 Here is why we at Dakota Securities believe this company now flying below the radar is a "Sleeping Giant":
First, one only has to Google the chairman of ESA, Marshall Reynolds of Huntington, West Virginia to see his track record for making investors in his prior business ventures extremely wealthy.
Secondly, the timing of ESA's business acquisition plan couldn't be more timely. ESA will become a vertically integrated energy business, including gas and oil production, gas pipeline companies and others located in the hot Appalachian area of this country (West Virginia, Ohio, and Pa.) The business plan is to put together a group of small, very profitable energy companies under the ESA umbrella and produce domestic energy solutions in the Appalachian area and transport them to the Northeast area of the country where the demand and need is very strong. Domestic energy solutions to wean our country off Mideast oil is going to be the business to be in for the next few years.
We believe we have found a small company with knowledgeable, successful management to be looked at for investment.
Disclosure: Author holds a long position in ESA