Enterprise Products Partners LP (NYSE:EPD) recently delivered its 10th consecutive positive earnings surprise after announcing its 31st consecutive quarterly distribution increase.
It is a Zacks #2 Rank (Buy) and yields a stellar 5.2%.
Company Description
Enterprise Products Partners is a Master Limited Partnership (MLP) operating in the natural gas and crude oil pipeline industry. With over 50,000 miles of pipelines and a market cap of $42.1 billion, it is the largest publicly traded energy partnership.
Because of its fee-based business model, Enterprise Products has been able to increase its distribution to shareholders at a steady pace - even during the Great Recession.
It is headquartered in Houston, Texas.
First Quarter Results
Enterprise Products Partners delivered another solid quarter on May 2. Earnings per unit came in at 62 cents, beating the Zacks Consensus Estimate by 3 cents. It was a 27% increase over the same quarter in 2011.
The gross operating margin rose 20% year-over-year to $1.053 billion. Operating income also increased 20% over the same period, to $749 million.
Distributable cash flow was strong once again, more than doubling to $1.629 billion. This provided an ample 3.0 times coverage of its cash distribution to unitholders.
Estimates Rising
As you can see in its Price & Consensus chart, consensus estimates have been soaring over the last several months: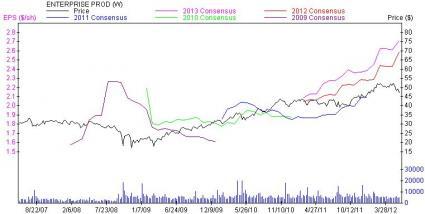 It is a #2 Rank (Buy) stock.
The Zacks Consensus Estimate for 2012 is now $2.59, representing 17% growth over 2011 EPU. The 2013 consensus estimate is currently $2.71, corresponding with 5% growth.
Distribution Rising
Enterprise Products raised its distribution yet again in late April, marking its 31st consecutive quarterly increase.
It currently yields an attractive 5.2%.
Valuation
Valuation looks reasonable for EPD with shares trading at 18x 12-month forward earnings, in-line with the industry and a discount to its 10-year median of 21x.
The Bottom Line
With strong earnings momentum, a steadily rising distribution with a 5.3% yield and reasonable valuation, Enterprise Products Partners continues to offer attractive total return potential.