In today's volatile and uncertain market, every investor needs a portion of their portfolio that they can feel good about. Investors need a source of income that they can depend on, even when the market looks to be taking a bearish turn. Bonds used to be one investment vehicle that investors could count on. With bond yields at extremely low levels, due to the low federal fund interest rates after the 2008 crisis, investors may want to switch their focus from bonds to high-yielding dividend stocks.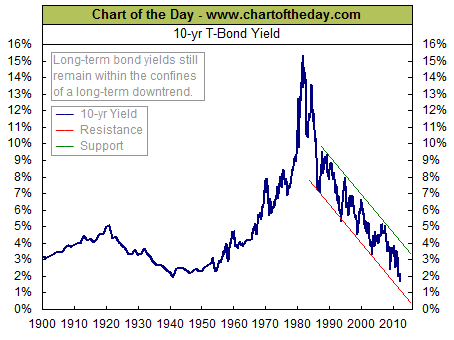 The low rates are supposed to continue until at least 2014 or 2015, so investors need a better way to accumulate interest on their money. Currently, the S&P 500 has over 260 companies that offer a higher yield than the 10-year Treasury note. Prior to the financial crisis, the number of stocks that yielded enough to be more attractive than the bond market was only a small fraction of what it is today. The following chart shows the number of companies with dividend yields higher than the U.S. 10-year government bond yield.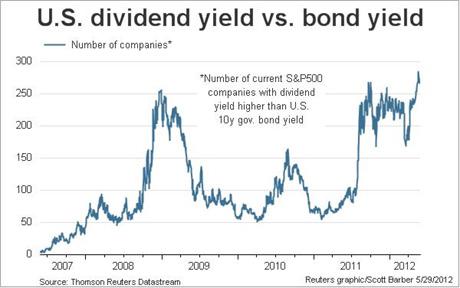 With so many stocks having high-yields on the S&P 500 relative to the bond market, it can be difficult to pick only a handful of stocks that offer an attractive dividend opportunity. The interest rates could remain low until 2015 or 2016 though, so finding conservative stocks to boost a portfolio with a consistent yield is important. The following stocks offer a safe dividend opportunity.
Abbott Laboratories (NYSE:ABT): Yields 3.33% at current levels and the company has increased its dividend for 40 straight years.
AT&T (NYSE:T): Yields 5.15% at current levels. The company has an attractive forward ratio of 12.8 and has a 2012 EPS increase estimate of 8.6%.
PepsiCo (NYSE:PEP): Yields 3.18% at current levels. PepsiCo is a food and beverage distribution company that isn't going away anytime soon. People still need to eat and drink even in the most bearish economies.
Bristol-Myers Squibb Co. (NYSE:BMY): Yields 3.97% at current levels. This global bio-pharmaceutical stock has paid out a dividend since 1988 and continues to provide stable growth, alongside an expanding drug portfolio.
The Southern Company (NYSE:SO): Yields 4.14% at current levels. The company has increased its dividend for 10 consecutive years. It is one of the largest producers of electricity in the U.S.
Disclosure: I am long PEP.