After the market closed Wednesday, a hedge fund controlled by Eddie Lambert filed a Form 13G/A with the SEC disclosing the purchase of an additional 1.3 million shares in the auto retailer AutoNation (NYSE:AN) at around $15.50 per share.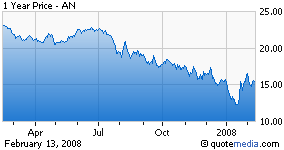 This raises the hedge fund's stake to about 60 million shares, or 33% of the company.
Lambert has been "averaging down" his investment since April 2006 when he purchased 40 million shares at around $22 per share.
Was this purchase a sign of Lambert's continuing view that AutoNation is undervalued?
Or, was it defensive move to keep a large block of stock from being dumped in the open market by a disillusioned institutional investor?
The hedge fund disclosed that the purchase took place on Monday and Tuesday.
At the same time, a usually large transaction occurred in out-of-the-money Feb 15 puts one week before expiration.
We believe that the institution selling the stock had to sweeten the deal by selling puts to Lambert as a reluctant "buyer of last resort".
Disclosure: Author has a short position in AN