Although it may seem nearly impossible, there are still a few stocks that may have the capacity to double dividend payouts within three years. These companies have boosted their dividends at exceptional rates in the past, and, assuming that favorable market conditions persist, they will be able to continue to hike their payouts at similarly lush rates in the future.
The contenders to the title of companies capable of doubling their dividends within three years include management consulting and outsourcing firm Accenture (ACN), gold miner IAMGold (IAG), and rail transportation firm Union Pacific Corporation (UNP). Stocks of these companies have a high likelihood to outperform their peers featuring low or no dividend growth.
Click to enlarge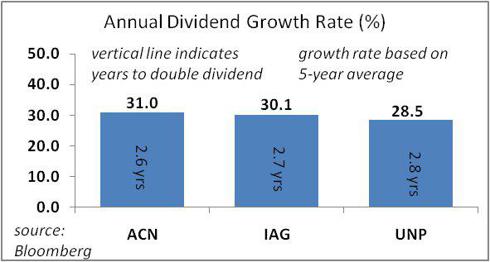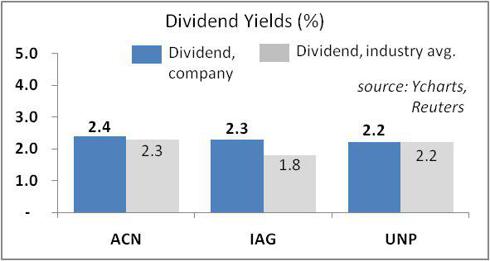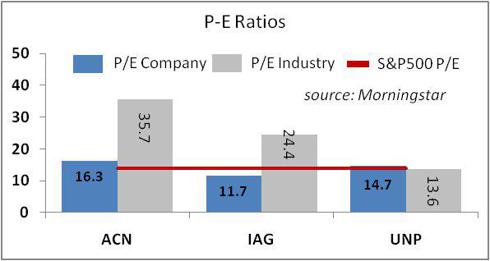 Accenture is a $36.6 billion global management consulting, technology services, and outsourcing firm headquartered in Europe. The company has increased dividends by four-and-half times since 2006. On average, the company's dividend has grown by 31% a year over the past five years.
The company is cash rich, as it boasts some $3.6 billion or almost $5 a share in free cash flow. Although the company's outlook has clouded somewhat because of a brewing recession in Europe, the company has the capacity to withstand any transitory weakness. Analysts forecast that the company will grow its EPS by 10% a year for the next five years.
With abundant free cash flow, the company is currently paying a dividend yield of 2.4% on a low payout of 36% of trailing-twelve-month earnings and an even lower 27% of free cash flow. Assuming that the company continues to boost its dividend at an average rate close to 31% in the future, it can double the payout ratio within three years.
For the reference, Accenture's peers McKinsey & Co., The Boston Consulting Group, and Deloitte, are privately held. Competitors International Business Machines (IBM) and Infosys Technologies (INFY) pay dividend yields of 1.8% and 1.3%, respectively. It should be noted that among fund managers, the company is popular with Whitney Tilson of T2 Partners and Wallace Weitz (check out T2 Partners' picks.)
The second contender is Canada-based gold miner IAMGold. The company has $4.6 billion in market capitalization and pays a dividend yield of 2.3% on a low payout ratio of 12% of earnings. This gold producer has increased dividends by 4.6 times since 2008. Over the past five years, its dividend payout has grown by an average of 30.1% a year. This rate of growth was almost in tandem with the company's EPS growth rate over the same period of an average 27% a year.
Assuming that the global macroeconomic and monetary environments will help sustain gold prices near or above current levels, the company is likely to continue to boost its earnings and its dividend payout. With the rate of dividend growth close to that realized over the past five years, the gold miner could be on track to double its payout within three years.
For the reference, IAMGold's peers Randgold Resources (GOLD) and Barrick Gold Corporation (ABX) pay dividend yields of 0.4% and 1.9%, respectively. Billionaire John Paulson has been increasing his 1% position in the company.
Union Pacific Corporation is another potential winner in a race to double dividend payouts within three years. This rail transportation company has a market capitalization of some $51.3 billion. It pays a 2.2% dividend yield on a small payout ratio of 33%. The company has increased its dividend payout four times since 2006. Over the past five years, the rail transportation company has boosted its payout at an average rate of 28.5% per year.
If the company continues to bolster its dividend at similar rates in the future, it stands on course to double its payout within three years. A forecast robust EPS growth of 15% a year for the next five years will support this dividend growth.
As regards the company's competition, peers Norfolk Southern Corporation (NSC), CSX Corporation (CSX), and Canadian National Railway Company (CNI) have dividend yields of 2.8%, 2.8%, and 1.8%, respectively. Among fund managers, Ray Dalio, John Burbank, and Ken Fisher are fans of the stock.
Disclosure: I have no positions in any stocks mentioned, and no plans to initiate any positions within the next 72 hours.