Smartphone Industry
The smartphone industry has expanded rapidly over the past decade. However, the companies that failed to identify changing industry dynamics like Nokia (NYSE:NOK) and RIM (RIMM) have been unable to sustain their competitive advantage. It is crucial for the ultimate success of firms in the tech industry to keep their products up to date with the latest technological innovations. Companies such as Apple (NASDAQ:AAPL) and Qualcomm (NASDAQ:QCOM) have continuously brought innovation in their products, thereby giving them a competitive advantage. It is anticipated that emerging markets will bring additional demand for smartphones in the future. Thinly penetrated Chinese markets can potentially expand the revenue base for Apple and Qualcomm as well as bring growth in their earnings; thus increasing their valuations. The investment thesis aims to highlight smartphone industry growth drivers and their impact on Apple, Qualcomm, RIM, and Nokia to help reach an actionable investment decision.
The current U.S. smartphone penetration will reach 50% of the total mobile phone market with a significant room for improvement in light of increasing demand and product innovations (Asymco June 2012).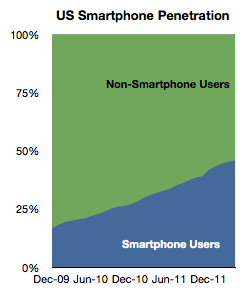 Smartphone industry profits are expected to surge in the coming years owing to a rise in worldwide demand. Smartphone sales volumes are expected to grow globally at a 26% CAGR from 2011 to 2015 to reach 1.18bn units. Smartphones are an increasingly important part of consumers' daily lives. Low-end smartphones with an ASP of $200 are expected to hold a dominant 44% share by 2015, according to Credit Suisse.

Source: Aymco June 2012
Key drivers for the smartphone industry future growth are demand for low-end smartphones, the development of high-speed telecom networks in emerging markets and robust growth in Chinese smartphone markets. Additional growth drivers for the smartphone industry are an improvement in the mobile operating systems coupled with enhancement in processing abilities. Also, value added services such as application stores having thousands of mobile applications and the cloud mobile services are playing an important role in the current demand for smartphones.
Future demand in emerging markets is expected to be largely driven by:
• Low-end smartphones mainly in emerging markets. A large number of devices with an ASP of $150 have already been introduced in the market. Further, by 2015, ASPs are expected to decline by $40 because of improved chip efficiency and a decline in component pricing according to Credit Suisse. Moreover, an increased push from the new low-cost telecom vendors such as Huawei and ZTE proves that there is a meaningful desire to produce low-end smartphones. The increased availability of low-end smartphones will increase the total number of people who can afford to buy a smartphone.
• Development of high-speed telecom networks. The introduction of 4G/3G telecom technologies in the emerging markets will create demand for smartphones in these economies. It is worth mentioning here that LTE (High Speed Data on GSM Networks based on UMTS/HSPA Technology) roll outs could be a game changer. LTE networks have the potential to meet subscriber needs of multimedia streaming services with promising speeds of up to 326 Mbps.
• Robust growth for smartphone market in China. Credit Suisse estimates that 22% of the growth in global smartphone units produced will be driven directly by China. This is mainly due to improved availability of 3G services coupled with an increased demand arising from low-end smartphones.
In developed markets, future growth in smartphones is expected to come from innovation in mobile technologies both in terms of software and hardware improvements. Leading players in the smartphone industry are Apple, Samsung, Nokia, RIM, and HTC. Apple is the current U.S. market leader with an estimated 24.1% smartphone market share. Nokia and RIM market shares have been falling over the years as a result of a lack of product innovation. Market share for Nokia stands at 8.2% (Thomson Reuters).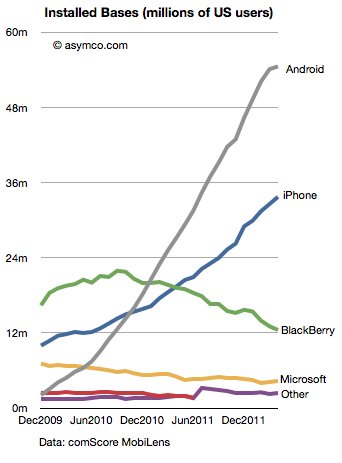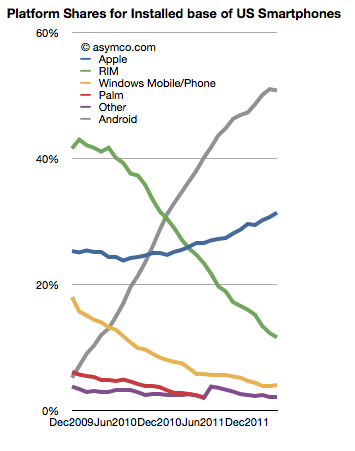 Source: Aymco June 2012
EPS Growth

(5 YR)

Gross Margin

(5 YR Avg)

Pre Tax Margins

(5 Yr Avg.)

Cash & Short Term Inv. / Share

ROE (5 YR Avg)

D/E

P/E TTM

Nokia

-73%

32.53%

6.61%

3.07

18.68%

45.18x

N.M.

Apple

64.96%

38.81%

28.29%

28.08

36.21%

0.00x

13.68x

Qualcomm

13.38%

69.30%

35.56%

7.03

17.18%

3.26x

16.83x

RIM

14.99%

42.87%

14.52%

3.38

31.31%

0.00x

4.62x

Telecom Equipment Industry

12.34%

17.20%

7.10%

-

15.91%

64.11x

12.87x
Source: Thomson Reuters
Apple
Apple should continue to perform well in the future as a result of an expansion in the distribution network, primarily in mainland China. Moreover, continual innovation in iPhone, iPad, and Mac computers will help the company to maintain and further improve its market share. The new iPhone 5 is expected to debut by the end of 2012 with an expectation of a major design overhaul (MacRumors). In addition, the Mac line of computers has posted impressive growth. Apple is materially advantaged because the company's vertically integrated structure allows it to address all three markets i.e. PCs, tablets, and smartphones. Moreover, much of the innovation comes in software. The company allows consumers to seamlessly access content across multiple devices. Apple is the current U.S. market leader with an estimated 29% smartphone market share. Apple is a cash-rich company and has recently announced a $10 Billion share repurchase, which will further boost the share price. High cash on hand will help the company in continuously making significant R&D investments, thus increasing the probability of a continual deliverance of highly innovative products.
Apple has shown an exceptional five-year bottom line growth with earnings growing at a rate of approximately 65% (Industry EPS Growth 12.34%). Gross margins for Apple also outperformed the industry. Technological communication industry's gross margin stood at 17.2% while Apple was able to maintain a 38.81% average gross margin. Apple has shown a high historical earnings growth over the last five years, which is expected to continue in the future and further drive its share price up.
Qualcomm
Qualcomm designs, manufactures and markets chipsets, and other telecommunication-based products to renowned smartphone manufacturers like LG (NYSE:LPL), Nokia, Apple and Samsung. Any growth in smartphone sales, particularly in these smartphone manufacturers, will drive growth in Qualcomm products. Qualcomm also stands to be the only main supplier of LTE chips that are the future of communication. Around 60% of Android devices including smartphones and tablets are already using Qualcomm's manufactured semiconductor chips. Apple, last year announced a switchover to Qualcomm, which is now followed by RIM as well. Another driver for Qualcomm's stock prices is its possibility of providing processing chips for Windows 8 laptops and tablets. Qualcomm posted a profit of $4.94bn in second fiscal quarter of 2012, beating Wall Street estimates of $4.84 Billion due to strong demand in its cell phone chips particularly for Apple's iPads and iPhones. We see a strong demand for smartphones in the near future coupled with strong demand for tablet computers resulting in improved margins for Qualcomm.
Qualcomm's stock is trading at a P/E of around 16.8x; its historical range has been between 10x-20x. Qualcomm continues to have a liquid and strong balance sheet. Owing to high expected sales in smartphone market, we expect Qualcomm's revenues to surge upward in the near future.
RIM
RIM's announcement of a potential operating loss last week has resulted in a bearish sentiment among investors. The next quarterly report is expected to be released on June 28. RIM has also posted a first-quarter operating loss. Telecom carriers now hold about six to eight weeks of BlackBerry excess inventory, which translates into roughly three-to-four times the normal levels. The stock is trading at its lowest since 2003 and has fallen nearly 15 percent in the past week alone. The struggling company also announced it would cut a significant number of jobs, adding to a string of senior executives who have resigned in recent weeks. A job cut of approximately 6,000 employees is expected. (Reuters).
Decline in earnings, market share and an uncertain future regarding RIM's strategy has left investors pessimistic about RIM with the stock declining by 50% in the past six months. The consistent failure to bring innovations in the BlackBerry platform coupled with a failure to anticipate changing industry dynamics has brought RIM shares to trade at less than book value. The stock is trading at P/B of 0.52x compared with an industry average of 1.10x. The smartphone subscriber share of RIM has fallen by 3.6 percentage points in the last 3 months (15.2% Apr-12, 11.2% Jun-12). As a result, earnings are expected to decline further for the year 2012. BlackBerry is expected to announce the BlackBerry 10 operating system in the fall of 2012. (Engadget). RIM is not expected to make any major overhauls in a new operating system and upcoming smartphones because of its rigid corporate culture. Thus, we expect RIM's stock to further decline in the future.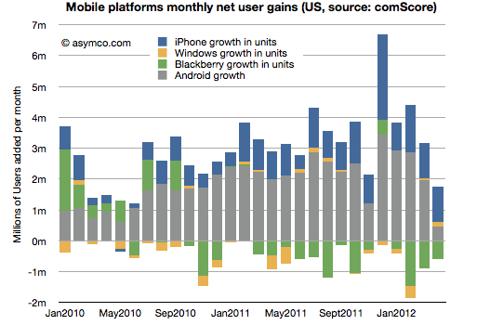 Source: Aymco June 2012
Nokia
A $2.7 billion of cash burn in last 5 quarters along with deteriorating operations, falling market share, unsuccessful product launches and an uncertain future outlook has left Nokia shares dwindling in the market (Reuters). Sales have decreased by 8.92% year over year. Its sales are expected to decline further in the future as the company is expected to lose its market share to key players like Apple and Samsung. Microsoft has partnered to have Windows Phone operating system in Nokia handsets and is expected to announce windows phone 8 by the end of 2012 (Engadget). We believe that a successful launch of Windows Phone 8 will take 1 - 2 years to capture a significant market share. Before that happens, the stock is dead money. In the short term we have a bearish outlook on Nokia with a possible hold for the long term.
Based on our analysis, we suggest a long short strategy for potential investors interested in the discussed technology stocks. In our opinion, investors can profit by taking long positions in Apple and Qualcomm. The development of high-speed data networks based on latest the LTE GSM technologies in emerging markets will further enhance consumer demand for smartphones (LTE). Therefore, Apple's earnings are expected to surge as the company exploits the thinly penetrated Chinese smartphone markets. In addition, Qualcomm, being the leading supplier of smartphone internal components, is expected to outperform its peer group, based on an expected increase in smartphone demand in emerging economies. We recommend investors to take short positions in RIM and Nokia because of grim future prospects for both of these companies.
Disclosure: I have no positions in any stocks mentioned, and no plans to initiate any positions within the next 72 hours.