Given the strong Seeking Alpha readership dedicated to "Investing for Income," investors examining high dividend yielding stocks should understand that empirically the highest yielding stocks have underperformed more moderate yielding stocks (defined as 3% to 6%) over long time intervals. In a September 2011 research piece by Morgan Stanley (NYSE:MS) entitled: "Dividend Yield Will Rise: One Way or Another" (MS log-in required), the firm demonstrated that companies that pay dividend yields ranging from 3% to 6% have generated higher excess returns and produced higher information ratios (expected active return divided by deviation from the benchmark) over very lengthy periods. The article stated that: "Once yields exceed 6%, the market is right to trim the price of a stock, as doubts about sustainability are on average proved to be prudent. Stocks in the 3-6% dividend yield bucket have outperformed their peers - both those with higher and lower dividend yields."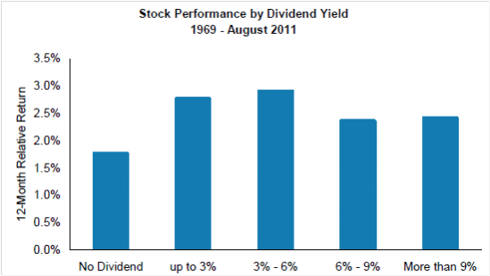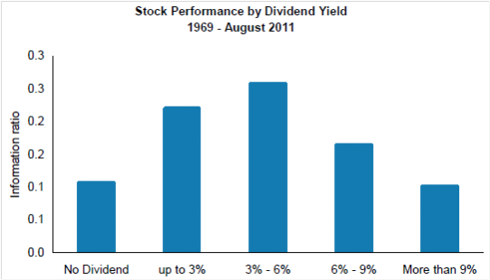 Source: Morgan Stanley, Factset
Dividends have historically contributed to roughly 40% of equity returns, so it is no surprise that dividend payers outperform non-dividend payers. It is notable though that relative performance begins to decline after the dividend yield reaches 6%, and Seeking Alpha investors should understand this fact when constructing their portfolios. These high dividend yields are either deemed unsustainable by the market, or the market is reflecting the deterioration of the company's business profile via a lower stock price before the company adjusts its dividend yield lower.
Examining the year-to-date total returns (including both price return and dividends), the six S&P 500 (SPY, IVV) constituents currently trading with dividend yields of over 6% have dramatically underperformed the market. The six companies in this cohort are Frontier Communications (NYSE:FTR) 11.98% dividend yield, Windstream Corporation (NASDAQ:WIN) 10.85%, Pitney Bowes (NYSE:PBI) 10.67%, R.R. Donnelley (NASDAQ:RRD) 9.53%, CenturyLink (NYSE:CTL) 7.77%, and Gannett (NYSE:GCI) 6.22%. The four highest yielding stocks are in the bottom 30 performers in the S&P year-to-date. On average, the six highest yielding stocks have returned an equal-weighted -15.4% total return this year in spite of their high dividend yields. In a previous article, I discussed five of these credits in detail (excluding GCI), mentioning concerns about the secular declines in wireline telecommunications, commercial printing, and mailing solutions.
Below is a list of S&P 500 constituents with dividend yields in Morgan Stanley's purported sweet spot of 3-6% which trade at P/E multiples lower than the market average (13.29x trailing twelve months), and have dividend payout ratios of less than fifty percent, which suggests sustainability.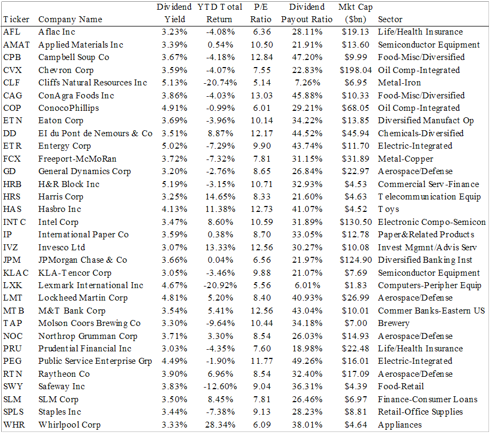 Source: Bloomberg (6/7/12)
There are a number of industry leaders on this list with sustainable competitive advantages. Historical performance of dividend strategies suggests that Seeking Alpha investors would be better served building their portfolios around the companies on this list rather than reaching for the aforementioned six highest yielding companies.
Disclosure: I am long SPY.