Master limited partnership Plains All American Pipeline L.P. (NYSE:PAA) continues to position the company assets to generate the revenue required to maintain the company's history of steadily increasing quarterly distributions. For investors who like the idea of a higher dividend every quarter, Plains All American Pipeline deserves a closer look.
Quick note: MLPs pay distributions, not true dividends, but the terms may be used interchangeably in this article.
As its name implies, Plains All American Pipeline is in the energy pipeline business. The company divides its business into four sectors: crude oil transportation storage and logistics, refined energy products transportation storage and logistics, natural gas liquids and LPG storage and transportation and natural gas storage. The final section - natural gas storage - is handled by the publicly traded partnership, PAA Natural Gas Storage (NYSE:PNG) of which Plains All American owns the general partner and incentive distribution rights plus 2% if the limited partner units. Currently the company owns 18,700 miles of pipelines, 120 million barrels of liquids storage, 84 billion cubic feet of gas storage, 4,200 rail cars, 2,500 trucks and trailers, 83 barges and 46 tugboats. Plains All American Pipeline handles 3 million barrels of energy products per day.
At a recent - May 2012 - analyst day presentation, senior management gave the following forecasts for segment operating profits in 2012:
Transportation: +29%
Facilities: +25%
Supply and Logistics: -10%, but up 102% over 2010 after a 121% increase in 2011
Total EBITDA earnings are fairly evenly divided between these three segments.
The Plains All American pipeline assets are very well positioned to serve and profit from the major energy finds in North America which are rapidly ramping up production. These plays include the Bakken, Mid-Continent, Permian Basin and Eagle Ford growth areas. The company's growth and investment plans focus on improving and increasing the capacities of the assets currently serving these areas. In April, PAA closed the deal on its $1.67 billion purchase of the (NYSE:BP) North American natural gas liquids - NGL - processing assets. Full integration of these assets is expected to be completed by the end of 2012.
Plains All American has completed over 70 acquisitions over the last 11 years and expects to spend $500 to $750 million on average each year on acquisitions. At the company's current value, this equates to 5% to 6% growth just from acquisitions. The privately held PAA general partner has been willing to modify incentive distribution rights to ensure that acquisitions are accretive to the distributions paid to L.P. unit holders.
The bottom line for investors is that Plains All American Pipeline is a company which has generated steady distribution growth for investors - increasing 32 out of the last 34 quarters. Over the last 10 years, distributions have increased by an average of 7.5% per year. The company has targeted 9% distribution growth from 2012 and the projected distributions are covered 1.3 times by the projected distributable cash flow. The current dividend yield for PAA is 5.3%.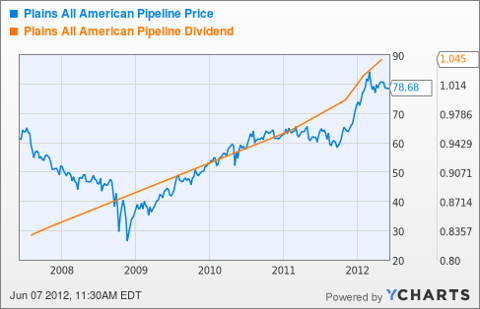 Disclosure: I have no positions in any stocks mentioned, and no plans to initiate any positions within the next 72 hours.