On Sept. 30, 2011, we published a white paper titled "The Rising Risk of Recession - Are We Prepared For A Bear Market And $70.00 Per Barrel Oil (Or Less)?" and distributed it to clients who requested it. In that report, we noted the following:
The Treasury yield curve was inconclusive, but compared to the year-ago and 2006 periods, rates had clearly come down.
The Economic Cycle Research Institute's (ECRI) Weekly Leading Index for Growth indicator had fallen into negative territory and was weakening, indicating a recession beginning in six to nine months.
The S&P 500 had fallen below its 360-day moving average (MAVG), which traditionally has been a signal of a bear market.
Crude oil prices had become more positively correlated with the S&P 500, meaning that changes the direction of the equity markets would most likely also lead to similar changes in oil prices.
Both OPEC and the International Energy Agency forecasted reduced demand for crude oil in 2012.
Given these data points, we assessed that the potential for another recession, and bear market, had risen to the point to where management teams of E&P and oil service companies should begin thinking about how to position firms before it became apparent to the markets that the forecast global slowdown would likely lead to a drop in the price of crude oil. Our recommendations included getting capital raises done, putting hedges into place, complete strategic M&A transactions, shore-up relationships with lenders and shareholders, and proactively communicate to the market your company's competitive strengths and cyclical durability.
Equity Markets Defy Recession Predictions
A funny thing happened on the road to recession. After fluctuating at or below its 360-day MAVG for months after we published our report, the S&P 500 and other markets rallied beginning in mid-December through most of April. Investors seemed to believe that continued growth and sunnier times were ahead. As we watched the market rise while the leading indicators continued to show uncertainty, we admit the rally had us scratching our heads.
Click to enlarge images.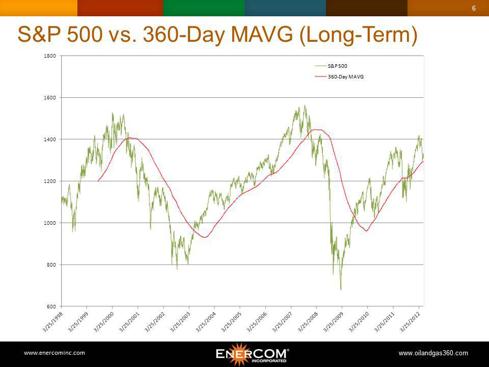 We noted as much in our March 9, 2012, letter to subscribers of our Energy Industry Data and Trends report for March 2012. In that report, we aired our opinion in the report's theme -- "The Fed's Magic Anti-Gravity Machine" -- and attributed the rally primarily to the Federal Reserve's continued efforts to keep short-term interest rates at or near zero, acknowledging that the stock market can often disconnect from the "real" economy.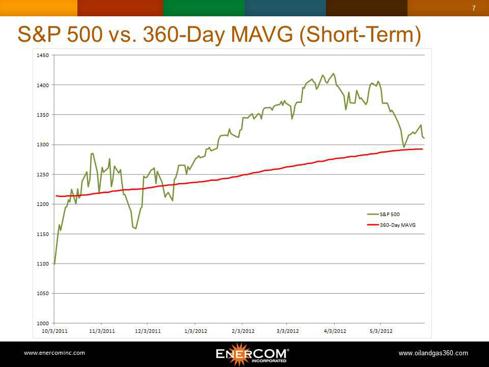 The Fed keeps rates low by flooding the market with cash by buying Treasury bonds from member banks (the so-called "printing" of money). In the case of currencies like the dollar that float freely on world markets, more dollars equals more supply, which lowers interest rates on dollar-denominated assets (e.g., U.S. Treasury debt). The Fed's expansionary monetary policy flooded bank balance sheets with cash, although that money wasn't making it back into the real economy.
Demand for loans by both consumers and businesses remains low, as both have developed an aversion to debt in the wake of the most recent recession. Also, in a nod to the dangers of E-Z credit, banks have raised lending standards. The St. Louis Fed published data showing that monetary policy in the post-recession environment was essentially pushing on a string. We noted this trend in our March 2012 report when we wrote: "Based on quarterly data from the St. Louis Federal Reserve bank, the velocity of money fell to 1.597 in Q4 2011, which is the lowest reading since the Fed has kept the statistic beginning in 1959." Despite the increase in money supply, that cash was largely sitting on the sidelines.
Banks are in the business of earning a return on their capital, and with the Fed pinning interest rates at historical lows, low-risk Treasuries and other bonds apparently don't give the banks enough of a return to satisfy their shareholders. All that cash had to go somewhere and it went into riskier assets, like stocks. As the retail investor was getting out of the market, the institutions were getting in beginning in mid-December last year. As we noted in our March 2012 letter: "The pace of institutional investments increased since mid-December with money inflows averaging a positive $150 million per day between Dec. 9, 2011, and the end of February, as compared to an average of $107 million per day for the period starting Aug. 2, 2011, and ending Dec. 8, 2011, reflecting a whopping 40% increase in institutional money inflows."
Then Along Came May
The S&P 500 dropped 6.3% in May, the biggest decline since September 2011. On June 1, 2011, the S&P 500 fell by a stunning 2.3%, and by the middle of that month the index has dropped 5.9%. By then, it became apparent that the world economy was indeed slowing. Many European countries slipped back into, or continued to be, in recession. The resulting Greek debt crisis threatened the euro currency and the confidence in the European market. We can't ignore the sense of frustration resulting from the U.S. Congress' inability to act on the Federal budget deficit and national debt, which has run up to nearly 100% of Gross National Product, and resulted in the first-ever downgrade in the U.S. government's credit rating. Adding to the market doldrums, China's economy is slowing. Once the coincident indicators began to show what the leading indicators had predicted quarters earlier, the rally was over.
May 2012 was the worst month for stocks in nearly five months.
Against the macro backdrop of a slowing global economy and the potential for reduced oil consumption from all the major economies, oil traders appeared to shrug-off the Iranian risk premium, largely attributed to keeping crude prices at or above $100 per barrel. The near-term futures price for crude oil (WTI) dropped 18% in May, which made the month especially painful for energy stocks. The XOI and OSX dropped 12.5% and 14.9%, respectively. Ironically, the near-term futures price for natural gas rose by 7%.
Where Do We Stand Today?
If the market had a Fed-induced run-up from December through April, then did it overreact in May? An update on the leading indicators and other key macro metrics is in order.
U.S. Treasury Yield Curve. As compared to our Sept. 30, 2011, report, the U.S. yield curve has dropped. The entire term structure of interest rates has fallen, although the curve has nominally maintained its normal shape. We noted this phenomenon in our reports over the past 18 months, that the yield curve could not possibly invert, a classic sign of a bear market, because of Fed policy pinning short-term rates at historic lows. Consequently, we do not believe the yield curve is as accurate of a predictor of the direction of the market or the economy as it has been in the past.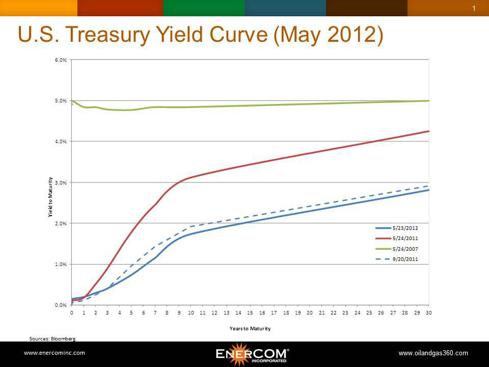 Not only has the yield curve declined, but in a flight to the quality of U.S. Treasuries, the yield to maturity on the 10-year note closed at an all-time low of 1.47% on June 1, 2012. Although the reduction in yields can be seen as confidence in the liquidity of the U.S. Treasury market and the dollar, it can be interpreted as more of a case that the U.S. economy is the "least bad" at this stage of the global slowdown.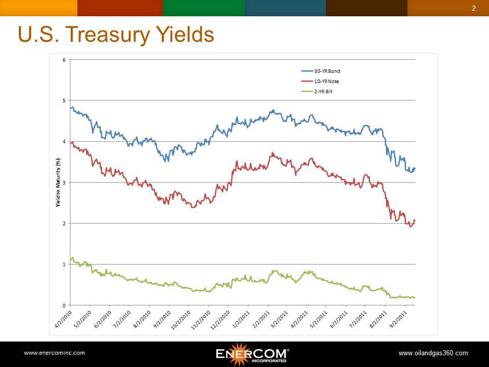 ECRI Weekly Leading Index. After our Sept. 30, 2011, report, the ECRI WLI Growth index continued to decline from -9.2 on Sept. 30, 2011, to -10.6 on Oct. 14, 2011, indicating a high probability of impending recession in the next six to nine months. Since then the WLI Growth Index improved and rose to +1.8 on April 6, 2012, but subsequently declined to -0.6 on May 25, 2012. At this time, the WLI Growth Index has failed to establish a trend, one way or the other, but ECRI continues to maintain that the U.S. will enter a recession within the next quarter or two.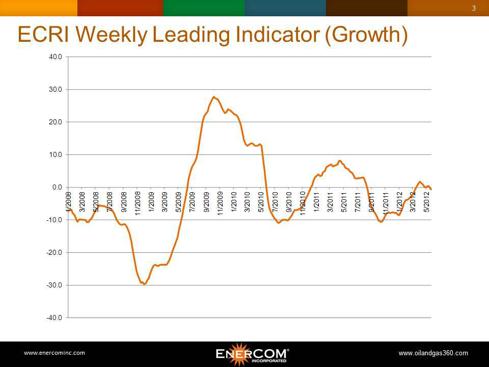 Velocity of Money. As compared to our Sept. 30, 2011, report, the velocity of M2 Money Stock in Q1 2012 dropped to 1.582, falling below the previous all-time low of 1.597 set in the previous quarter. Although the velocity of money is not really a leading indicator, it does tell us that the economy has been slowing down, and the money supply has been rising faster than the economy has been growing -- decidedly negative for the real economy.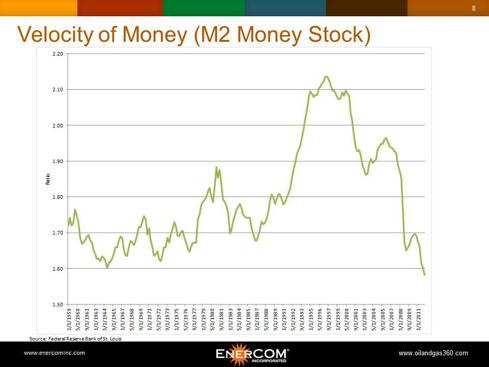 Deteriorating Outlook -- Implications for Oil Prices
The primary leading indicators and other key macroeconomic data points continue to weaken. Even if we see the equity markets bounce back after the sell-off earlier this week, we would expect the outlook for future corporate earnings to dim. And, as if to rub salt in the wounds still healing from the last recession, companies are beginning a new round of layoffs.
The consulting firm Challenger, Gray & Christmas reported on May 31, 2012, that companies were accelerating job cuts. Employers announced plans to cut 61,887 staff from their payrolls in May, 67% more than in the same month of last year. The figure represents the most job cuts since last September. John A. Challenger, CEO of Challenger, Gray & Christmas, said in a statement, "While consumers and businesses are spending more on technology, the spending appears to favor a handful of companies. Those that are struggling to keep up with the rapidly changing trends and consumer tastes are shuffling workers to new projects or laying them off, altogether."
Against this backdrop and in the absence of geopolitical events (namely, war with Iran), we anticipate crude oil prices to trade in a range lower than they have. The larger risk is if the global economy is perceived to be slowing faster, dragging the U.S. back into recession, then given the strong correlation between oil and the markets, we could see crude oil prices fall quickly. Is the worst over and/or where is the bottom? Our models suggested that a decline in industrial production of 11% to $4.4 trillion could result in oil prices as low as $70.00 per barrel and knowing the market's propensity to both over-buy and over-sell, we could see it fall below that mark, absent a shooting war in the Middle East.
And there's something different to today's oil and equity markets. Prices for equities and crude oil are more correlated than ever. In our Sept. 30, 2011, report, we noted that the correlation (180-day correlation coefficient) between the equity markets (S&P 500) and crude oil prices were at or near historical highs. Since then, the stock market and crude prices have moved largely in concert with the 180-day correlation coefficient between the two averaging a positive 0.83 year to date through May 31, 2012.
In fact, since Nov. 13, 2008, when the 180-day correlation coefficient first exceeded 0.80 for the first time since Sept. 13, 1999 (although it came awfully close on May 5, 2004 at 0.79), it has experienced its longest period above 0.60 since 1991.
The implication, as we noted in September 2011, is that oil prices were, and still are, highly correlated to the broad market. We believe that makes sense with oil being a global commodity, and it is a rational expectation that a global economic slowdown will reduce overall oil demand. If you expect continued weakness in the S&P 500, then it is likely that crude prices will suffer similarly.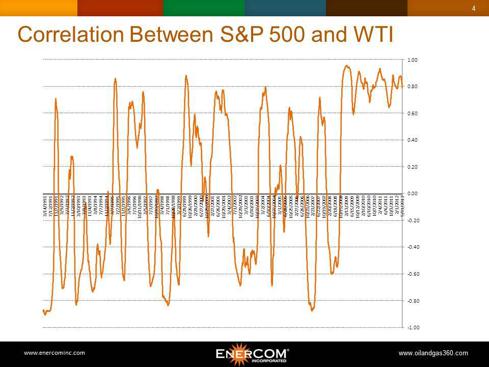 A market correction or bear market would imply crude prices even lower than they are now (WTI closed at $84.15 per barrel on June 4, 2012). Based on our linear regression analysis covering the high correlation period between Nov. 3, 2008, and May 31, 2012, we found an r-squared value of 0.91, meaning that 91% of the time, the price of WTI and the S&P 500 moved together and in the same direction.
Assuming a 10% decline in the S&P 500 (the typical "correction") to 1150.36 from its June 4, 2012, close of 1278.18, the implied WTI price is $81.74 with a 95% confidence interval ranging from $86.67 to $76.80. If we assume a bear market and factor in a decline of 20% from the June 4, 2012, close to 1022.54, then the implied WTI price is $68.77 with a 95% confidence interval ranging from $64.11 to $73.43.
In our Sept. 30, 2011, report, we hypothesized that WTI would move in the same direction and at the same pace of a change in the S&P 500, and our assumption has not changed. Also, we anticipate that WTI could hit $70.00 per barrel or less, in response to additional market weakness, which now appears increasingly likely.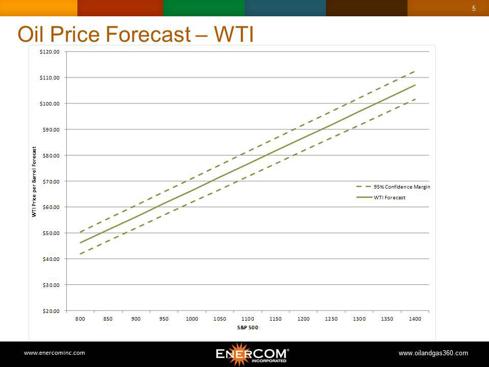 Another Recession -- What Went Wrong?
Assuming that we are indeed headed into another recession, we ask ourselves what went wrong? If we take the long-term view, nothing went awry. In a free market economy there is a business cycle and recessions are nothing new to America. Since 1790, the United States has endured 47 recessions through multiple economic changes, wars, geopolitical situations, election cycles and technological innovations. If the nation falls into its 48th downturn, then it will be an indication that the business cycle is alive and well. The problem, for energy company management teams, investors, workers and policymakers is that a new recession now would occur at a time when we have yet to fully recover from the last downturn, which would make this next one especially painful.
Stay Frosty
However, within each downturn are the seeds of a new cycle. If the market sell-off continues, then we can't help but think that investors are offering us a rare opportunity to buy some of our favorite names on the cheap. Given the fact that the global population continues to grow, we have to believe that the world's fundamental need for oil and natural gas will continue to grow over the long term. The market may decide to test a lower support level, pushing equity and commodity prices lower, but at some point the long-term fundamentals will take hold and overcome the technical factors.
We plan on maintaining our focus and sharpening our ability to adapt. In other words, we'll "stay frosty" and maintain our cool during this volatility, as the next cycle will present the industry with new opportunities for growth and value creation.
Disclosure: I have no positions in any stocks mentioned, and no plans to initiate any positions within the next 72 hours.