While the volatility of trading illustrates the risk of biotech investing, Zalicus (ZLCS) is at a point where I wouldn't want to be "out" going into the weekend. There's just too much news on the horizon. In that regard, my attention was drawn to Synavive.
This morning an important piece of the Zalicus puzzle came together for me. With the stock on a very bullish run, investors should be interested in knowing how what I'm discerning relates to Synavive's 'Synergy' phase 2B trial.
The original phase 2B trial began on 7 June 2011. But a follow on safety study phase 2B trial was launched on 22 February 2012. Why does this seem so bullish? Here's my read:
The follow on study is "By Invitation Only". You can read that yourself by following the link. There you will discover that those in the original trial may continue on "By Invitation Only".
This implies to me that the placebo group matched against Synavive did not do well. I would not be surprised if that were also true for the dipyridamole group. Plus, Synavive's patient may want to remain on the drug.
Now behind my thinking is wondering, Why would Zalicus, so tightly managing its financial assets, launch an extended safety trial that matches Synavive against 2 dosages of Prednisone unless Zalicus management is very bullish about the outcome? This implies to me that Zalicus has put more of its card on the table than I first imagined.
Yes, these studies are blinded, but it's hard not to think that this second extended study is a bullish signal. That is my interpretation. Others may disagree. Biotech investing is always risky, but the rewards can also be great.
A Quick Glance at the Charts
Meanwhile Zalicus continues to trade on heavy volume suggesting it is going to test even higher levels.
Click to enlarge.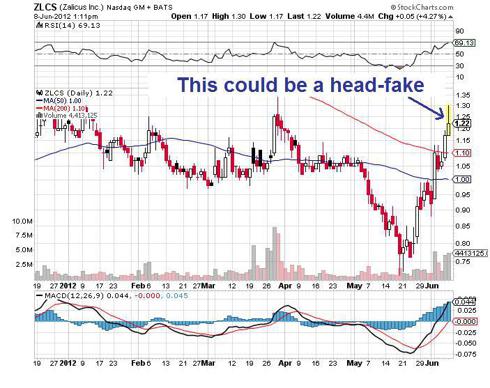 Because I am very optimistic about the upcoming Z944 report, I remain very bullish on the stock. At the time of writing nearly 4M shares have traded, significantly over the stock's normal volume. The market may try to scare retailers out of their shares by orchestrating a quick dip, but I think things have turned very positive for the firm. This may be the time to turn off your computer and walk away.
Disclosure: I am long ZLCS. I declare that I may day-trade Zalicus stock at any time. For me "long" is until I sell. I do not short stocks.
DIsclaimer: Investors buy and/or sell at their own risk.