Banks in the United States received billions of government-sponsored investment dollars to cover monstrous mortgage debt losses. Similarly, banks in Europe are looking for a similar lifeline to shore up balance sheets plagued with toxic Spanish and Italian country bonds.
On Friday, June 8, investors are inclined to believe that the Eurozone will come to the rescue. By Monday, June 11 ... who knows?
Granted, an exchange-traded fund enthusiast needs to stay atop of changing market conditions. That said, it is often instructive to step back and take a longer-term view.
For example, many regard the SPDR Select Energy Fund (NYSEARCA:XLE) as a proxy for global growth expectations. In particular, the price of XLE as well as the near-term 50-day moving average are both below a long term trendline (200-day MA). It follows that investors currently expect demand for oil/natural gas to remain weak.
Click to enlarge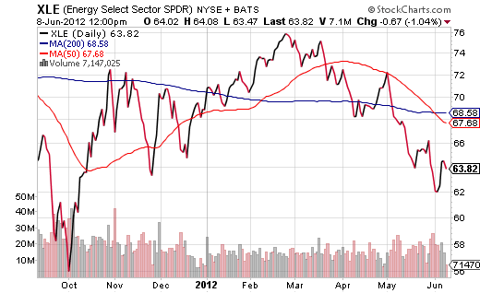 By the same token, the lower energy costs may help shippers and railways as they continue to deliver unfinished goods to industrial companies. The iShares DJ Transportation Fund (NYSEARCA:IYT) has found price support near its 200-day moving average.
Click to enlarge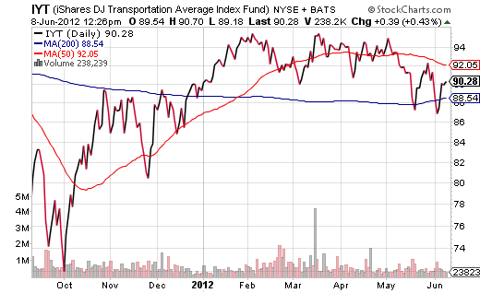 The price of the SPDR Select Consumer Staples Fund (NYSEARCA:XLP) is back above its short- and long-term trendline. Apparently, we still have to eat and we still need to clean our backsides.
Click to enlarge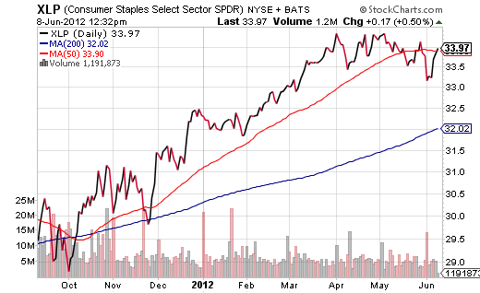 Who says you can't make money in stocks? Believers in SPDR Select Sector Utilities (NYSEARCA:XLU) are seeing their shares hit new 52-week highs. Whether this is attributable to a rotation to defensive equities or a recognition of an attractive yield relative to the 10-year treasury matters little if you're earning a profit.
Click to enlarge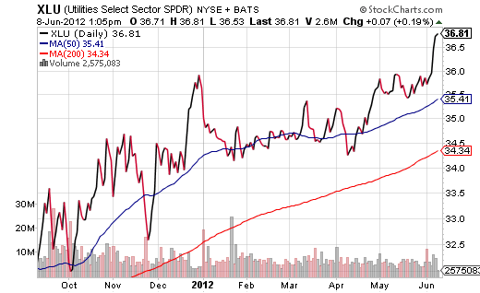 I find it fascinating that some are suggesting yield-oriented investments, particularly dividend stocks in the utilities and consumer staples area, are beginning to "bubble." The first rule of dividends is - can the company or fund pay them? The second rule is - what is the spread between comparable treasuries?
Conservative dividend funds/dividend-oriented funds like SPDR Select Utilities (XLU) and iShares High Dividend Equity (NYSEARCA:HDV) can certainly pay yields that are nowhere near record highs. Equally worthy of note, XLU and HDV have yields that not only surpass the 10-year note, they're more attractive than 30-year U.S. Treasuries.
In essence, dividend-oriented ETFs are still the place to create consistent gains. That won't change unless world government entities, safe-haven seekers and the U.S. Federal Reserve dump their treasury bond holdings. And that's not going to happen soon.
Granted, the U.S. may have an unsustainable debt-to-GDP ratio like troubled European nations, Nevertheless, like all bubbles that came before this one (e..g, dot-com tech, real estate, commodities, etc.) the bubble in treasuries could expand for many years to come.
Still, some trends can change very quickly. Perhaps the treasury bond bubble won't burst until the 30-year treasury yield hits 2%. Or maybe the bubble will burst on an unanticipated event like China selling a large stake, where the 30-year yield rockets from 2.75% to 4.5%.
The fact is anything is possible (if not probable). Therefore, make sure that you have a concrete plan of action to minimize the risk of a -14%, -18%, -25% hit to your overall account value.

Disclosure: Gary Gordon, MS, CFP is the president of Pacific Park Financial, Inc., a Registered Investment Adviser with the SEC. Gary Gordon, Pacific Park Financial, Inc, and/or its clients may hold positions in the ETFs, mutual funds, and/or any investment asset mentioned above. The commentary does not constitute individualized investment advice. The opinions offered herein are not personalized recommendations to buy, sell or hold securities. At times, issuers of exchange-traded products compensate Pacific Park Financial, Inc. or its subsidiaries for advertising at the ETF Expert web site. ETF Expert content is created independently of any advertising relationships.