Home Depot (NYSE:HD) is very similar to Disney (NYSE:DIS) inasmuch as it is not a fast mover. Nevertheless it is very consistent and has been rallying since hitting its 52-week low of $28.13 on August 9, 2011. Home Depot recently reached its 52-week high of $52.88 on May 3, 2012. This is an advance of $24.75 and represents a percentage increase of 88% in 10 months.
Unlike Disney, Home Depot has not traded any blocks in excess of 6.5 million shares since 2007. This certainly drives the point that in order to know what constitutes a big block in any issue you must monitor that issue over time. An advance of this magnitude for Disney requires several blocks in excess of 20,000,000 shares whereas for Home Depot it requires substantially less. This seems a bit perplexing considering they both are relatively equal with regard to issues outstanding, average daily volume, capitalization and float.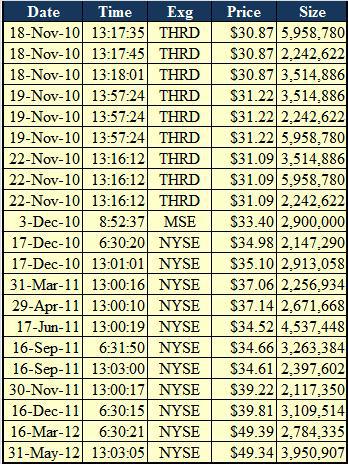 As was the case with Disney, I believe Home Depot is being used to advance and or stabilize the Dow. While other Dow components were declining both of these two issues were advancing in unison. This is in tune with what I write in my book "The Stock Market Insiders Manifesto" about a stocks' biorhythm (for lack of a better term). There are many stocks that historically have their lows in April and their highs in October and others that have their lows in October and their highs in April. I call it opposite polarity. To effectively implement a market-neutral strategy investors must establish positions in issues with opposite polarity and move from one into the other at the appropriate time. Once the momentum of one stock has burned itself out, the other will be catching fire. This is why I am long on certain issues and short on other issues.
As you can see from the block data and chart I have provided Home Depot does not trade many really large blocks compared with other issues. The filter for the blocks has been set at 2 million shares. The Designated Market Maker for Home Depot has a different behavioral pattern. He trades many more 500K share blocks. Maybe it is a simple matter of temperament. Some guys drive Ferraris and other guys drive Bentleys. The only reason it matters to me is for the purposes of pattern recognition.
That said in this case the pattern suggests that Home Depot was extensively distributed albeit in smaller blocks over the past several months. The block on March 16, was extraordinarily important. Not because the trade was in and of itself significant but that was the actual turning point in the market where multiple Designated Market Makers were distributing and selling short. Read my article Market Set To Head Lower. It was published on May 8, on Seeking Alpha. The denotation specifies with particularity my reasons for believing that we had reached the terminal phase of the rally.
I want to comment on the two last blocks in the matrix. Please note where they occur on the chart. The first is a clear indicator that a very important merchandising play is being initiated by the Designated Market Maker in this issue. The second is like the last act of the play. It is important to understand that the insiders on this type of trade liquidate out of positions within the early stages of the broadening top formation. They do not want to tie up their capital for any longer than necessary, particularly if the issue is going absolutely nowhere. They want to put their money to work elsewhere. I suspect this is what happened with Home Depot and that the second block on May 31, was a distribution and or short sale.
If I were to project beyond what is immediately foreseeable I would say that Home Depot and Disney will continue to move in unison. That said I expect them both to decline from these levels and commence an advance beginning around September and continuing into the end of the year.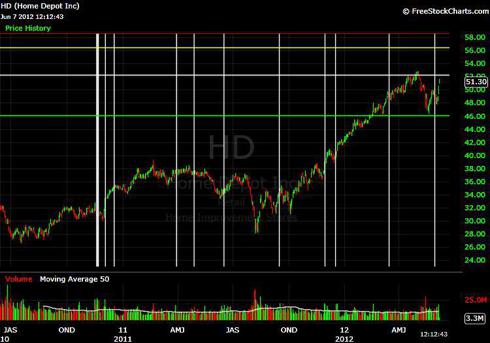 On the Basis of the foregoing these are my views and observations:
The Trade
I recommend establishing a short position in Home Depot. Open your position with only 1/4 of whatever capital you intend to commit to Home Depot at $52.24. Purchase the remaining 3/4 of the position at $56.42 and stop out at $58.63. Do not post your stop out. I have said it before but it is so important that at the risk of being redundant and in an abundance of caution I will say it again. It is too easy for the Designated Market Maker to cash investors out by moving the price above or below your stop out and move the price right back down or up again. In addition, when a stop out is triggered it converts into a market order and that could be disastrous if the Designated Market Maker decides to really take advantage. Remember the "Flash Crash"? I would be looking to exit the trade at a downside price target of $46.10. Do not allow this position to exceed 5% of your overall portfolio.
There is always the possibility that the trade may not work out.
There Is Never A Sure Thing (particularly on a short)
Investors must realize and recognize that there is never a sure thing. Sometimes events that have a low probability of occurring bring forth very serious consequences should they come into being. Investors must judiciously consider what the inherent practical limits are and how much they stand to gain in relation to the risks involved in establishing any position.
In addition, persistence can become desperate folly by allowing a losing position to become a viable argument for deciding on a new position. Rather, such decisions should be based on the current and soon-to-be circumstances.
Any position in which one unexpected factor has a significant impact on your portfolio is the result of poor planning. It is a fault most commonly associated with people who want to explain away their losses. SUN TZU -Art of War "Use an attack to exploit a victory, never use an attack to rescue a defeat."
If you follow the process recommended and the trade does not work, the overall loss in this model is $3,000.00. That amounts to .003 of the overall portfolio (theoretically valued at $1,000,000).
And finally, never be a brave and brainless investor because a fool and his money are soon parted.
A portfolio of $1,000,000 should position size in the following manner.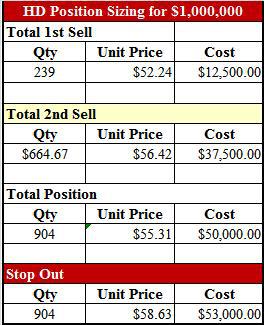 This is a trade, not an investment. Be ever vigilant.
Disclosure: I have no positions in any stocks mentioned, but may initiate a short position in HD over the next 72 hours.