Late last month, Pep Boys (NYSE:PBY) called off its planned $791 million acquisition by investment firm The Gores Group. The company said it will receive a $50 million settlement from Gores and be reimbursed for certain acquisition-related expenses. The company has said it wishes to remain "independent" and turn the company around itself. It also noted that demand trends have improved since the buyout offer was withdrawn. I think an acquisition still makes logical sense and has a good chance of happening in the near future for myriad reasons.
Key assets/valuation for Pep Boys:
The company has an iconic brand, "Manny, Moe & Jack."
It has a market value of under $500 million ($650 million if you include debt) and would be a bite-sized acquisition that valued Pep Boys at less than $1 million per store.
It sells for just 22% of annual revenues. By contrast, its biggest competitors, Autozone (NYSE:AZO) and Advanced Auto Parts (NYSE:AAP), sell at 172% and 86% of sales, respectively.
Given that its margins are significantly below its core competitors, it seems to have plenty of opportunities for restructuring improvements.
Why an acquisition makes sense: The company has the stable customer base, revenue and cash flow that make it a good candidate for an acquisition or even an LBO. A PE firm could easily pay a 25% to 50% premium, restructure operations enough to get a price-to-sales ratio of just half its major competitors, and get a valuation that would provide a rich reward.
Four reasons Pep Boys has value, even without a buyout, at under $9:
The stock is selling at/near the bottom of its five-year valuation range based on P/E, P/B, and P/CF.
The company is selling at 90% of book value and has a reasonable five-year projected PEG (0.98)
The stock is priced at less than 12 times forward earnings, a steep discount to its five-year average (32.1).
The stock has solid long-term technical support in the $8 to $9 range (see chart below).
Click to enlarge image.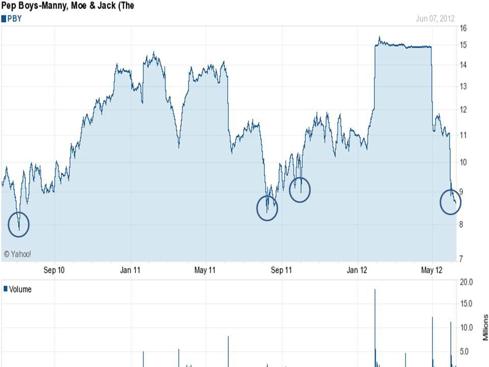 Disclosure: I have no positions in any stocks mentioned, but may initiate a long position in PBY over the next 72 hours.