Someone asked me to render an opinion regarding Hess Corporation (NYSE:HES) vs. Exxon Mobil (NYSE:XOM), as to which is the better holding. I recently wrote an article recommending Exxon Mobil (as a long), so my sentiments are fairly obvious regarding Exxon Mobil.
Relative to capitalization, there is an enormous difference between the two. Hess Corporation has a market capitalization of $15 billion and Exxon Mobil has a capitalization of $377 billion. Exxon Mobil has a beta of .73 and Hess Corporation has a beta of 1.58. Naturally this information would seem to imply that the high beta fast mover would be better suited for a trader and a stable consistent issue would be better suited for an investor.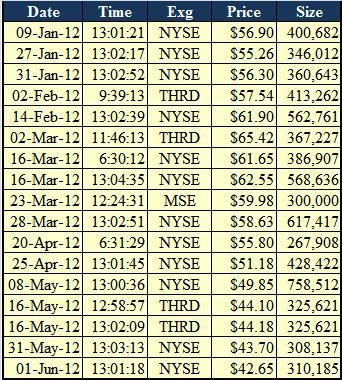 I believe that either of these issues are outstanding opportunities for traders or investors depending of course on where in the price structure they are bought and sold. The real issue is knowing when to buy and when to sell.
When evaluating Hess Corporation it was fairly obvious that it is trading much closer to its 52 week low of $41.85 which it hit on June 4, 2012, than its 52 week high of $77.12 which it hit on July 5, 2011. This is a 54% decline in 11 months.
This is an extreme decline for any issue. Since it is so much closer to the 52 week low and this extensive decline has occurred to the accompaniment of block activity and heavy aggregate volume, I suspect that it is evidence of accumulation by the Designated Market Maker in this issue. Since it has been trading at or near its long term lows then an advance is most likely.
The Art of War - Sun Tzu states: "Never use an attack to rescue a defeat use it to exploit a victory." If one is to interpret and implement the meaning of that concept, then it could easily be translated into trade when you see an advantage.
As it stands both Hess Corporation and Exxon Mobil are in the sweet spot for adding to your portfolio. However, I believe that Hess Corporation is at an earlier stage of its advance. In addition, the expectation for percentage returns should be quite substantial for Hess Corporation probably in the vicinity of 20%; whereas Exxon Mobil should provide a nice return albeit more conservative at around 7 % - 10%.
As I stated previously, I believe that Hess Corporation is being accumulated by insiders. I further believe that the Designated Market Maker in this issue has established some long term capital gains positions and will probably supply the current demand by shorting his issue rather than by supplying the demand from his market account.
Obviously his segregated investment account will remain intact. So in essence I expect a short term dip which will facilitate the Designated Market Makers short covering. Hess will be advanced to at least $55.15 which is the last set point for the biggest block traded in Hess Corporation since before 2008. I would expect to see a pullback at that point to probably $44.50 at which point he will reverse the direction in order to resume the advance into the end of the year.
This is how I see it playing out, notwithstanding a major merchandising event initiated by the Designated Market Maker in this issue.
Although I am only providing a daily chart, if you take it upon yourselves to review a weekly chart, you will see that Hess Corporation is trading at the low of the price structure and why this trade or investment is so compelling.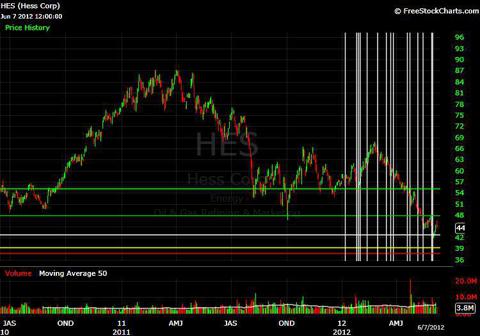 On the Basis of the foregoing these are my views and observations:
The Trade:
I recommend establishing a long position in Hess Corporation. Open your position with only 1/4 of whatever capital you intend to commit to Hess Corporation at $42.65. Purchase the remaining 3/4 of the position at $39.24 and stop out at $37.64. Do not post your stop out. I have said it before but it is so important that at the risk of being redundant and in an abundance of caution I will say it again. It is too easy for the Designated Market Maker to cash investors out by moving the price above or below your stop out and move the price right back down or up again. In addition, when a stop out is triggered it converts into a market order and that could be disastrous if the Designated Market Maker decides to really take advantage. Remember the "Flash Crash"? I would be looking to exit the trade at an upside price target of $47.87. Do not allow this position to exceed 5% of your overall portfolio. I would try to reengage the trade at $45.00 and maintain the position until either the end of the year or until I witnessed something compelling enough to liquidate.
A portfolio of $1,000,000 should position size in the following manner.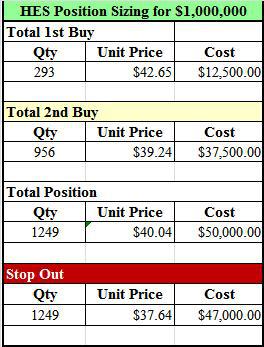 This is a trade, not an investment. Be ever vigilant.
That's it for now…. Have a nice day.
Disclosure: I have no positions in any stocks mentioned, but may initiate a long position in HES over the next 72 hours.