Like most investors I have avoided two tech behemoths going through tough times right now, Hewlett-Packard (NYSE:HPQ) and Dell (DELL), as they seemed like value traps with no compelling reason to buy either. However, recently insiders have bought hundreds of millions of dollars of new shares over at HPQ, which is enough activity to make any investor sit up and notice. The stock also seems at near-term technical support. Given this and rock bottom valuations, I think it worth a hard look by value investors.
"Hewlett-Packard Company provide products, technologies, software, solutions, and services to individual consumers and small- and medium-sized businesses (SMBs), as well as to the government, health, and education sectors worldwide." (Business description from Yahoo Finance)
7 Reasons there is huge value in HPQ at $22 a share:
Directors have bought over $400mm in new shares over the last few months.
The stock is selling at the very bottom of its five year valuation range based on P/E, P/B, P/S and P/CF.
The stock is selling for five times forward earnings, a sharp discount to its five year average (10.1)
Hewlett-Packard is dirt cheap at under four times operating cash flow and just 6% over book value.
The stock has beat earnings estimates for the last three quarters and analysts expect EPS to rise 8% from FY2012 to FY2013.
The 22 analysts that cover the stock have a median price target of $27 a share on HPQ
The stock has bounced from these levels previously (see chart)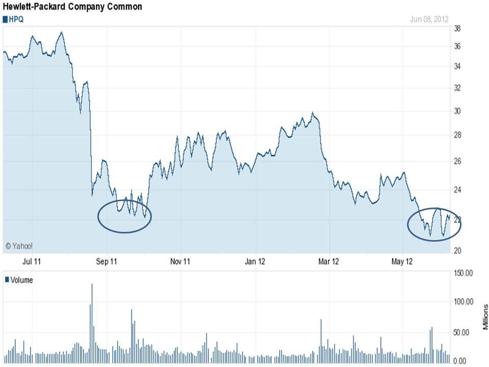 Disclosure: I have no positions in any stocks mentioned, but may initiate a long position in HPQ over the next 72 hours.