I recently put on a bearish position on Baker Hughes, BHI, this week. I looked at the chart and it showed weak relative strengthen when compared to both the general market (NYSEARCA:SPY) and energy sector (NYSEARCA:XLE).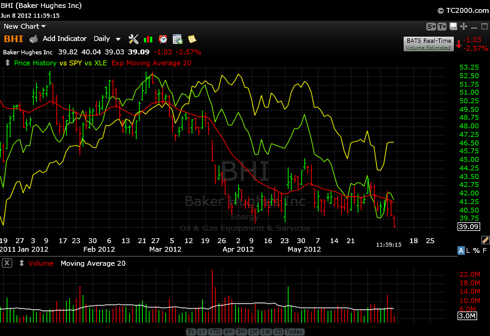 I checked the P/E ratio of BHI and saw it around 10. That seemed like it might be becoming a "value" stock. It's book value is $36.92 and that is not very far away from $40 or $39.
However, I kept on digging further. I found that last quarter BHI reported lower net income of $380mm vs $384mm a year ago. More importantly I noticed that cash from operations (NASDAQ:CFO) had flipped from +$76mm a year ago to a loss of -$76mm last quarter.
I also added up CFO over the 4 quarters and it came out to $2,510mm. But this figure is dwarfed by the $5,806mm BHI spent on capital expenditures. It paid for some of this by selling off assets, $103mm, short term investments $750mm, and finding $696mm in the "other investing changes".
BHI issued $445 mm in stock during this period while also paying out $651 mm in dividends. It repaid $1,876mm in debt by issuing $1,484mm in new debt and also receiving $480mm from other financing.
Over the last 4 quarters BHI had the following figures on its cash flow statement:
| | |
| --- | --- |
| Cash from operations | + $2,510 mm |
| Cash from Investing | - $4,272 mm |
| Cash from Financing | - $ 118 mm |
| Net Cash | - $1,880 mm |
This occurred at the same time BHI reported $4,267mm in net income.
I also checked the tangible book value of BHI and it is much lower than $37 at $20.80. BHI has $1,110mm of intangibles and $5,958mm of goodwill on its balance sheet.
Sales over last year increased 18.3%. At the same time cost of goods sold rose 22.6% before depreciation. SG&A also rose 20.2%. This contributed to a decline in EBIT to $627mm from $640mm a year ago.
I would also point out that BHI's margins were helped by growing its inventory 29.8% over the previous year. This is because the equation to determine cost of goods sold is:
COGS= Beginning Inventory + Purchases - Ending Inventory
Having a higher ending inventory automatically lowers the cost of goods sold, which is fine as long as future sales come to fruition. However, building inventory greater than 10% above sales increases does seem like a stretch.
Finally, we come to the fall in the price of energy over the last month, which is obviously not bullish for an energy services company.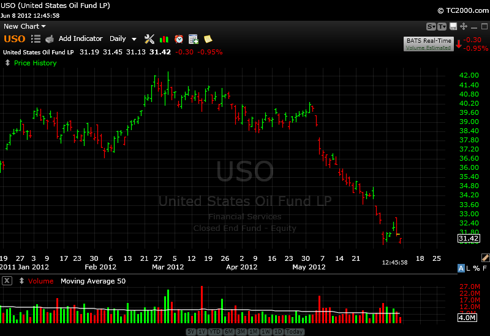 Data from ADVFN.COM
Disclosure: I am short BHI.