"The least movement is of importance to all nature. The entire ocean is affected by a pebble." - Blaise Pascal
I've written about the role of Financials in the broader reflation theme I've been addressing here on SeekingAlpha and on a number of other sites I write on, and after last week's big move higher in broader stocks, I thought it might be worth revisiting the sector. I believe the mini-correction I began arguing would occur in early April is now over, with stocks having proven their resiliency (believe it or not, the S&P 500 is still up over 6% year to date). If the corrective period is indeed over, then reflation likely reasserts itself, which as I have argued since the beginning of the year could result in a significant move higher for stocks. If you step back for a moment, the idea of a big move coming should not be that far-fetched in a world of negative bond yields, central bank paranoia, and continued dividend increases by companies which are in fundamentally better shape than most governments.
Financials took quite a hit in May, particularly following JP Morgan's (NYSE:JPM) billion dollar trading loss, and as the yield curve because to flatten aggressively. Markets began acting internally as if a Lehman-like event had already occurred (check this Bloomberg segment.) I would argue that a turn is now coming, with Financials potentially leading the markets higher once again just like they did in the first quarter.
Take a look below at the price ratio of the Financials Select Sector SPDR ETF (NYSEARCA:XLF) relative to the S&P 500 (NYSEARCA:IVV). As a reminder, a rising price ratio means the numerator/XLF is outperforming (up more/down less) the denominator/IVV.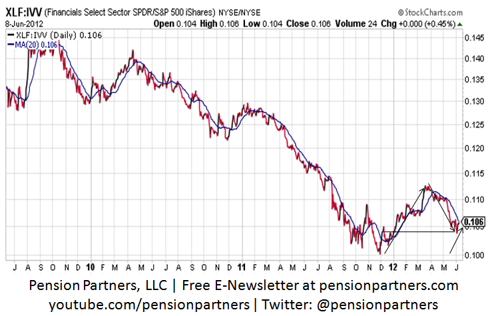 I've annotated the main trendlines for this year, with a support line that I believe is likely to hold as money gets comfortable with risk-taking out of bonds once again. Outperformance by Financials tends to coincide with credit spreads narrowing (which is happening after the blowout from over 2 weeks ago), and with the yield curve steepening (which happens under reflationary environments). As such, this ratio is an important one to watch for confirmation.
As far as our ATAC (Accelerated Time And Capital) models used for managing client accounts, we remain largely in bonds but are transitioning into what could be a full on stock allocation some time by the end of next week. The Spring Switch/Great Re-Allocation" may get flipped after all…
Disclosure: I have no positions in any stocks mentioned, and no plans to initiate any positions within the next 72 hours. Pension Partners, LLC, and/or its clients may hold positions in securities mentioned in this article at time of writing.