Cal-Maine Foods (NASDAQ:CALM) is the largest producer and marketer of shell eggs in the United States, providing over 15% of the total U.S. consumption of eggs. The company also produces specialty egg products such as cholesterol free, free range chicken, and organic eggs. This faster growing segment represents 15% of the company's sales. In the specialty egg category, Cal-Maine has exclusive rights to use the Egg-Land's Best and Farmhouse brands. They sell products in 29 states, particularly the southwest, southeast, mid-Atlantic, and midwest markets.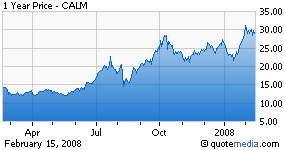 The egg consumption market is obviously not a growth market, with about 1% long term growth. So Cal-Maine has relied on acquisitions to expand market share and move into new markets. Additionally, the company has been using technology to improve efficiency, lower operational costs, and produce more higher grade eggs which sell for higher prices. Finally, the company is focused on expanding it's specialty egg category, which is faster growing and has less volatile pricing.
In the U.S., the egg market is extremely fragmented, with over 60 major players. One plus for Cal-Maine is that they are easily the largest company in the industry. Scale advantages allow them to market more effectively and remain price competitive over smaller players. CALM's financial strength also affords them the opportunity to acquire struggling competitors when the opportunity presents itself, which they have a history of doing.
With a smallcap, management is important. Cal-Maine passes this test easily. Its founder, 75 year old Fred Adams, has been CEO since 1969 and controls over 90% of the voting power in the company (36% of common stock and 90% of super voting shares). His son in law, 50 year old Adolphus Baker, is the heir apparent and controls the remainder of the super voting shares.
Financially, Cal-Maine is relatively strong. Trailing twelve month coverage ratio is over 20, and debt-to-equity is about 0.5 - not great but not bad either. The company sports a 56% trailing return on tangible capital. Free cash flow is about 13% of revenues (ttm).
On the surface, the valuation looks like an absolute steal for a company that is best-in-class in a reliable industry. Trailing 12 month figures are 7.71 P/E, 7.45 P/FCF, and a ridiculous 17.50% earnings yield!
So why is CALM not a Top Buy? There is one thing to be careful of when following our Magic Formula is commodity stocks. Commodities have very volatile price swings and are heavily cyclical, in general. Unfortunately, the Magic Formula tends to turn these stocks up at the peak of the cycle, and throw them out at the bottom. This is the exact OPPOSITE of how to play a cyclical industry!
Eggs are an extremely cyclical commodity, and Cal-Maine's revenues are almost totally dependent on the wholesale egg price. Egg prices are currently at historical highs as rational pricing rules the day right now. But Cal-Maine is only 2 years removed from 2 straight years of net losses as egg prices were almost half of what they are today. Also, it's 56% trailing return on tangible capital is pretty good, but it's not spectacular, and that's with a sky high commodity price. Coverage ratio is even worse, at only about 5, in a normal year. At median egg price of about 0.750 / dozen, Cal-Maine only sports about a 20% return on tangible capital, which won't get it anywhere near the Magic Formula screen.
Cal-Maine notes in their 10-K that lower feed prices tend to lead to depressed wholesale egg prices because competitors flood the market with product. It's more likely than not that egg prices are going to go down from here rather than up, and CALM is not a noteworthy company at median commodity prices.
Disclosure: none