I have been following Las Vegas-based Shuffle Master (NASDAQ:SHFL) closely for a little over a year. I am somewhat surprised that I haven't yet written about the company at all, as it was in my Top 20 Model Portfolio for most of Q4 last year and remains on my watchlist. The stock pulled back sharply early last week following what I thought was a decent earnings report, though it rebounded nicely over the next few days. If you like to invest in companies with recurring revenue, good balance sheets, established franchises, strong management and solid growth and are willing to pay a fair price, read on, as this pullback is likely a great entry for a company that isn't widely followed.
What Shuffle Master Does
SHFL helps their casino customers in two key ways: Efficiency and Content. Here's a picture of what the company does: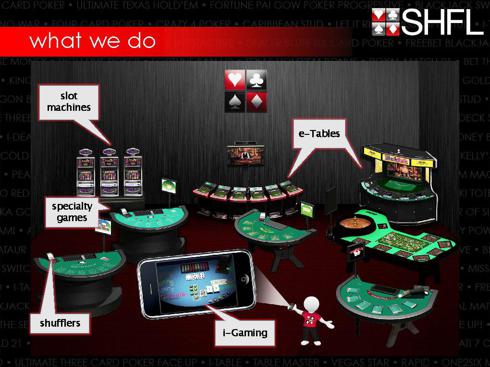 The bottom left corner has been a key area: Shufflers. These devices are the main part of what the company calls Utility Products and speed up the game, allow fewer employees per patron and provide security measures. The company is near the beginning of a new product cycle. Proprietary Table Games consists of over 30 different brands, with patents on some and trademarks that provide value. You have probably heard of some, like Ultimate Texas Hold'em or Let It Ride. Many of the games are linked to progressives too. E-tables have suffered from underinvestment and the company is reinvesting. These devices improve productivity and security. The company is a niche player in slots, with its Equinox cabinet very popular in Australia.
The future of the company is likely linked to its newest division, i-gaming. The company's strategy is to be a B2B provider, and it has a pending acquisition of Ongame, which is a platform owned by a B2C provider active in Europe, where internet gaming is legal. The company is licensing its own content to existing operators and will be delivering its own games.
There's a lot to like about the core business: It's highly international (>50%, with about 40% in Australia, 10% in Asia, including Macau, and small amounts in Latin America, Canada and Europe), recurring revenue is almost 50% (lots of lease rather than sales), it has tremendous intellectual property, there is substantial diversification in its products and it has leading positions in shufflers and proprietary table games.
Management
It was CEO Gavin Isaac's hire that first drew me to the company. He was the COO at Bally Technologies (NYSE:BYI). He actually took a cut in pay to take the lead job at the smaller company. I have spoken to him twice, once right when he started and once earlier this year after they announced the acquisition of Ongame. He has tremendous industry experience, working at Aristocrat (Australia) before moving to BYI. He did a good job of helping turn around Aristocrat's U.S. division and then BYI. He is very focused on operational improvements at SHFL, and I have seen early signs of success. One of the reasons the stock may have been pressured before the Q2 earnings report was that long-time COO and director David Lopez quit on Memorial Day (announced 6/1 after the close). It turns out that he took a job as COO of another gambling-related company, Global Cash Access (GCA) for a big hike in pay. He did an excellent job, and I was glad to see him stay on for a year after being passed up for the CEO spot and aid in the transition. CFO Lin Fox has been with the company a few years now. Another key player is recently hired Lou Castle, who joined from Zynga as Chief Strategy Officer and is helping lead the way in interactive gaming. Pay here is very flat, with a structure that seems to promote team work. Gavin hasn't really made any changes beyond hiring Castle and losing Lopez, and I was rather impressed when I listened to their recent analyst conference in NYC last week to a long-time employee, EVP Roger Snow.
Financials
The Ongame deal will push the company into a slight net debt position, but, at the end of Q2, the company's cash and investments was about equal to debt. Gross margin of 64% highlights the strong competitive position, and Capex is typically just a tiny fraction of D&A (FCF machine!) and runs at about 5% of sales. The company is consolidating four leased spaces in Las Vegas and will be building, so the CapEx will tick up. Top-line growth has been double-digit, and expanding margins have pushed EBITDA and EPS growth above 20%.
Valuation
SHFL has a market cap of about $800mm, leaving it much smaller than other gaming equipment suppliers:
Bally Technologies : $2 billion
International Gaming (NYSE:IGT): $4.1 billion
WMS (NYSE:WMS-OLD): $1.1 billion
SHFL has had the best top-line and EPS growth by far, with WMS declining, IGT slow and BYI reasonably strong. BYI and IGT have some debt, while WMS has a slightly stronger balance sheet than SHFL. In the past, SHFL has traded in line with these larger peers, but today, at 18PE and 10 EV/EBITDA, it is somewhat of a premium, though perhaps deserving so. The company's international exposure and highly recurring revenue along with strong organic growth certainly support it. The other names are trading well below their longer-term averages, while SHFL is actually about in line to slightly cheap. BYI, like SHFL, has FCF exceeding NI, while it's about equal for IGT and less than NI for WMS.
Analysts think growth will slow in the year ending October 2013 to 15%, but the estimates have increased a bit over the past year. As I think about a potential target, I struggle a bit because it's unclear of the likely progression of legalized online poker. I believe it will be a huge catalyst and am treating it as a call option. I would likely use a lower PE multiple than 20, but I am adding about 2PE for this potential. If I apply a 20PE to the .95 that they can likely earn two years from now (interpolating to June 2014), the stock could be worth 19 or so a year from now. I think 13-14 is an excellent price to own this stock should it dip a bit in the coming days.
Technicals
As you can see in the charts below, the recent pullback was extreme but in the context of a strong recovery: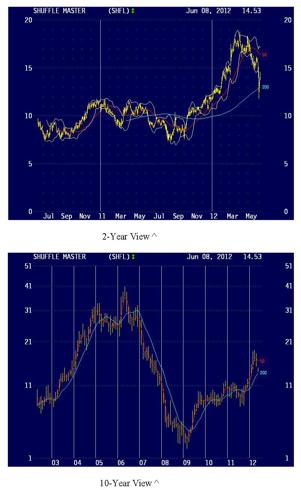 The stock has rallied from a low of about $2 in early 2009, so it's natural to expect some profit-taking after such a huge run. SHFL peaked at 18.77 in early April. At the lows of Tuesday (11.75), it had lost 37% of its value from the peak and had retraced 42% of the move from early 2009's lows. One of the catalysts for the drop was a cut in target from Roth from 17 to 15 (maintaining Neutral rating).
The stock had a clear breakout from the 12 area, so I was highly confident recommending a trade to my blog subscribers as the stock approached that level following earnings. It was a tough trade - we were stopped out twice that morning (my stops weren't wide enough), but we managed to ride it back, closing the trade at 14.40 on Friday.
Looking ahead, I think the stock technically holds the 13 area. This served as resistance in January as the stock was working the breakout. It also matches the 200dma.
Things to Watch
There are some potential risks to consider. I think Online is structured well - it internet poker fails in the U.S., it's still a likely decent business which could fit well with new owners offering a truly independent platform and willing to invest in it. Still, failure will likely hurt the stock a bit. Also, while the company's big drivers seem early, MD-3 shuffler upgrades or Equinox adoption could slow. Finally, I am not too concerned about the COO exit, but another key departure would be a yellow flag.
If you want to learn more about the company, they just hosted their first analyst day in five years. Here's a link to the slides. You can also listen to the webcast, which ran almost 85 minutes. I think that their investor relations website is an excellent resource, and Julia Boguslawski, who has been there since early 2008, has done an excellent job with new forms of communication, like Twitter.
Now, if you really want to have some fun doing your diligence and can't make it to a casino, I suggest that you visit their recently released demo website that allows you to play some of their proprietary games online. They give you $10K. I know that this must be easy odds, as I turned it into $40K playing Ultimate Texas Hold'em. Perhaps an investment in SHFL will lead to similar results in the years to come!
Disclosure: I have no positions in any stocks mentioned, and no plans to initiate any positions within the next 72 hours.