Actionable Items
Investment Landscape: Below is our graphic trend analysis of the investment landscape - sans any policy or political consideration designed to counter these trends.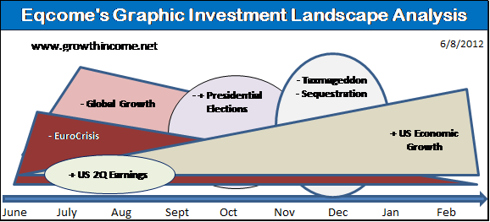 Crisis Management: Most of investors' hopes are being placed on crisis management and not economic fundamentals. This is the equivalent to the definition of a second marriage: "A triumph of hope over experience."
Both the ECB and the Fed have offered some comfort to investors with regards to pledges of constructive actions in the worst case scenario developing. The issue seems to revolve around how much more monetary policy can do when the issues are fiscal and structural in nature.
CEF Weekly Review: On average, the 13 closed-end fund (CEF) types registered a share price increase of 0.9% for the week ending 6/8/12. The high-low spread (average percentage price change difference between the highest and lowest fund types) registered this week was +3.1% versus +2.3% the previous week.
The PowerShares CEF Income Composite (NYSE:PCEF), an ETF that invests in taxable income CEFs, was up 1.5% for the week regaining all of last week's loss. PCEF is now up 2.8% YTD on price appreciation alone. Currently, PCEF's trailing twelve months' yield is 8.2%. The S&P 500 reclaimed last week's 3.0% loss-and more-by advancing 3.7% for the week. This comes on the heels of a dismal monthly performance for May when the index lost 6.3% of its value. The S&P 500 is now up 5.4% YTD.
CEF Weekly Fund Type Performance: The broad S&P 500 surged 3.7% for the week in what appeared to be a "hope rally" - hope that politicians and policymakers will act constructively to reverse the course of economic deterioration. Such weakness is taking on the aspects of a wildfire.
As would be anticipated, equity-oriented CEFs participated in this week's rally but not to the extent of the S&P 500's advance. WrldEqFnds advanced 2.4% followed by SpecEqFnds, up 2.3%, and GenEqFnds, up 1.9%.
WrldEqFnds represents the risk trade of the CEF market segment. This fund type suffered most recently in the May swoon; it was due for a rebound. The Aberdeen Chile Fund (NYSEMKT:CH) and Turkish Investment Fund (NYSE:TKF) CEFs experienced biggest share price increases of 7.6% and 6.0% this week, respectively. Real estate helped propel SpecEqFnds fund type, while large caps aided GenEqFnds.
LoanPartFnds and InvGrdBndFnds both posted average stock price declines respectively, 0.7% and 0.6%. In general, bond ETFs sagged.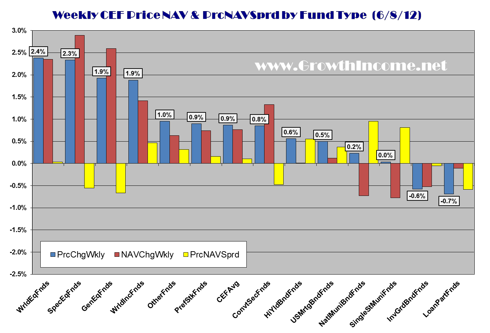 Weekly CEF Winners and Losers: One of the CEFs with the greatest positive PrcNAVSprd* for the week was ClearBridge Energy MLP Opportunity Fund . EMO's share price advanced 9.2% while its NAV per share increased 1.5% generating a positive PrcNAVSprd of 7.7%. EMO experienced heavy volume of 193,000 shares on Wednesday advancing the stock 4.5% and 132,000 shares on Friday that moved the price another 1.8%. EMO invests in energy MLPs and generates an annualized quarterly distribution of 6.8%. It trades at a discount of 5.1%.
ClearBridge advises another CEF MLP, ClearBridge Energy MLP (NYSE:CEM). CEM advanced 3.0% for the week while its respective NAV increased 2.1% generating a 0.9% positive PrcNAVSprd. CEM trades at an annualized quarterly yield of 6.7% and at a 4.4% premium. CEM's share volume was also elevated this week. CEM is much larger than EMO weighing in at $1.8 billion in net assets versus $500 million for EMO.
ClearBridge is expected to launch a new MLP this summer. ClearBridge is owned by the tattered money manager Legg Mason (NYSE:LM).
One of the CEF(s) with the greatest negative PrcNAVSprd for the week was Reaves Utility Income Fund. UTG's share price declined 0.1% while its NAV increased 3.6% generating a negative PrcNAVSprd of 3.6%. UTG trades at an annualized monthly yield of 5.8% and a premium of 5.5%. Since 2008, UTG has outperformed its peer group, but YTD it has lagged. Other utility CEFs didn't fare well this week in contrast to the SPDR Utility ETF (NYSEARCA:XLU) that advanced 3.1% this week.
Significant Events: The Pimco Dynamic Income Fund (PDI) raised $1 billion in an IPO of 40,600,000 shares of common priced at $25.00 per share on May 30th. PDI will invest at least 25% of its assets in non-agency-backed mortgages and will invest across multiple fixed-income asset classes, such as commercial-mortgage-backed securities and global high-yield bonds.
Most of Pimco's CEFs trade at a premium. PDI is no exception; it is currently trading at a 7% premium to its NAV per share-in large part due to the deduction of expense ratio on its NAV. PDI's NAV per share after expenses was $23.825 per share or an IPO expense ratio of 4.7%.
The main underwriters were Morgan Stanley, Citigroup, Merrill Lynch, UBS and Wells Fargo with a junior syndicate. The transaction generated close to $46 million in fees to the syndicate.
On Friday, Daniel J. Ivascyn, one of the CEF's portfolio managers, made a $3.12 million share purchase of PDI, purchasing 125,000 shares at a cost of $25 per share.
CEF Focus Stock(s) for the Week: The CEF utility stocks on average generated a negative PrcNAVSprd of 1.7% for the 6 CEFs we have coded as such. This indicates that share price lagged the change in NAV. Since utilities are considered defensive in nature it might not seem surprising that this would be the case in such a robust equity advance.
Nonetheless, given the "ying" and "yang" of the markets, one might want to consider looking at some of the utility CEFs. One such offer is Gabelli Global Utility & Income Trust . GLU trades at an annualized 6.1% monthly yield and at a 1.2% discount to NAV. It has recently announced the next three monthly distributions of $0.10 per share for the months of July, August and September. So, there is some certainty in the immediate cash flow to investors. We can only hope that GLU will eventually trade at the premium of 46.2% of its sister utility CEF Gabelli Utility Trust (NYSE:GUT). Would that be special?
Our contrarian call this week would be ASA Gold and Precious Metals. The metals trade has been under pressure due to an economic slowdown and gravitation toward U.S. Treasuries during the European fiscal crisis. ASA was down 2.0% for the week while its NAV was up 1.0%. ASA also pays a semi-annual distribution which should be forthcoming shortly.
The CEF focus stock section of this article is to "highlight" stocks of interest that may deserve further study.
Last Week's Focus Stock(s): Our focus stock last week was BlackRock Core Bond. BHK was up a penny this week in an environment that saw fixed-income under pricing pressure. Our contrarian play, Turkish Investment Fund was up 6.0% on the strength of the risk trade being "on".
---
[*] All things being equal, price and NAV should move in tandem. A price movement greater than the NAV generates a positive PrcNAVSprd and may be interpreted as negative on a near-term basis and indicate that the stock is overvalued relative to its NAV which in theory is the stock's intrinsic value. The opposite would be true for a negative PrcNAVSprd.
Disclosure: I am long PCEF, ASA, UTG. I own a diversified portfolio of CEFs and ETFs, and am long stocks in the CEFBig10™ and CEFMuni10™. The first is a balanced equity-income portfolio (CEFBig10™) and the second a tax-exempt income portfolio (CEFMuni10™).