YUM Brands (NYSE:YUM), best known for KFC, Taco Bell, and Pizza Hut, is down 13% from the peak. On Friday, the stock was down almost 6% intraday. The weakness on Friday occurred after McDonald's (NYSE:MCD) gave an earnings warning of declining China sales and missing Asian sales estimates. Yum has been a great proxy for China for a decade, so if China is in trouble, what should investors think of YUM?
Upside (mainly long term)
YUM is a China play that doesn't have the accounting and legal irregularities that affect Chinese stocks. YUM has more than 4600 restaurants in China and should add more than 400 more this year.
People in India also love YUM. India had 471 restaurants in Q1 2012 where revenue grew 34%. YUM will add another 100 restaurants this year.
In the long run despite the slowdowns in both economies, the fundamentals look good. According to Goldman Sachs BRIC analysis for the next decade, there will be 400 million more Chinese and 300 million more Indians making over $6000 a year in 2020. Given that most YUM customers are middle class, more emerging middle class means more profits for YUM.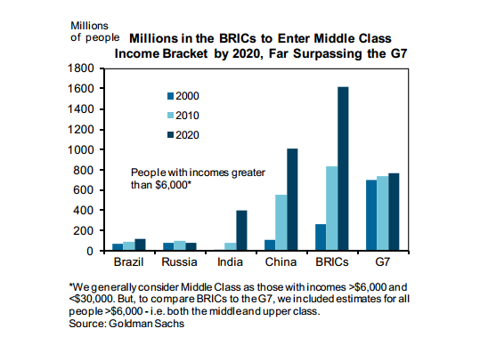 In the long run, YUM is still expected to have almost 13% EPS growth over the next 5 years.
Downside Risks
In the short term, China is slowing a lot. This will most likely cause earnings and revenue deceleration as well as a couple bad quarterly earnings reports.
The market is on shaky ground, and could take YUM with it.
In the long run, oil and food inflation might hurt YUM's margins. YUM's profit margins are historically high and might undergo some mean reversion.
Fat tail risks include a 'fat tax' similar to what the cigarette industry had to undergo beginning in the late 90s.
Fundamentals
At closing market price of $64.59, Yum has:
EPS: $3.15.
Book value is $4.65.
P/E: 20.50.
Forward P/E: 17.
Past 5 year Earnings Growth: 13%.
Dividend Yield: 1.76%.
Technicals
In the short term, the sentiment for YUM is very negative. YUM has seen both the 20 and 50 sma start to fall. A little afterwards, there was a big gap down on high volume. That is never a good sign. While there seems to be a short term floor at the 63-64 level, there isn't solid liquidity until the 200 day.
Conclusion
YUM is not a long candidate for the short term. There is too much negative sentiment and possible bad news waiting. It is my opinion that YUM will probably test the 200 day if not the $55 level.
In the long term, YUM is a quality growth stock with nearly a 2% yield. If you believe what is happening in China and India is just short term, YUM investors should do very well in the coming decade.
All chart and data from Finviz and YUM Q1 2012 Earnings Report.
Disclosure: I have no positions in any stocks mentioned, and no plans to initiate any positions within the next 72 hours.