Orbital Science Corporation (ORB) primarily produces rockets for space launch missions and target systems. They serve primarily the U.S Military and the National Aeronautics and Space Administration. Orbital Science Corp. recently produced record revenues of $ 1.346 Billion. The company is under contract with NASA to launch their new Antares vehicle to resupply the International Space station. NASA has also commissioned the Privately held company SpaceX to resupply the station.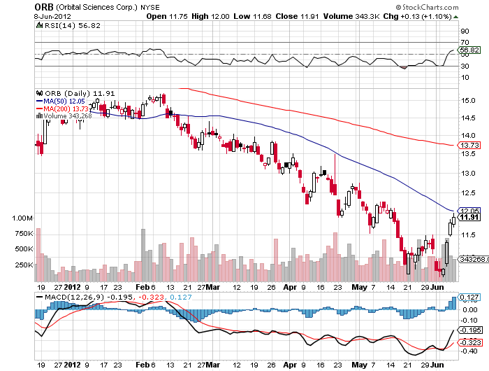 SpaceX recently became the first private company to dock a private supply ship at the international space station. The docking marked a milestone in privatized Aerospace, and may be the beginning of a much larger trend to follow. The Space X docking was a benefit to the stock price of Orbital Sciences Corporation; however, it shows the strength and commitment of SpaceX to the Aerospace industry. With rumors flying around that the government may make the bid for supplying the International Space Station non-competitive, Orbital Science Corp. needs to prove to everyone that they too can dock with the station. If they fail to do so, SpaceX may have just won the contract.
On the bright side, there is a ton of space for growth, literally and figuratively, in the Aerospace industry for companies with a specialty in rocketry. SpaceX's docking with the International Space Station has proved that private industry is not limited to ventures on the Earth. Asteroid mining is a very real, and very profitable venture which is not too far off in the horizon. Orbital Science Corp. is by no means a safe investment, but it does have potential to have a very high return for the investor with a sense of adventure and patience.
Disclosure: I have no positions in any stocks mentioned, and no plans to initiate any positions within the next 72 hours.