Annie's Inc (NYSE:BNNY) reported Q4 FY2012 earnings on June 6th, of $0.24 per share, beating estimates by $0.03. Annie's also beat on the top line by $15 million, reporting revenues up 17.5% year over year, to $43 million. Initially shares traded higher after hours Wednesday; however, they fell by as much as 6% in trading on Thursday. Thursday's move down comes on top of a week long slide from a high of $41.49 on May 30th. Annie's is now down almost 25% from an all-time high of $45 per share, which it hit on April 16th, but still well above its IPO price of $19 per share.
Annie's guided for net revenue to increase 16% to 19% in the current fiscal year, and adjusted net income to rise 20% to 25%. The company currently sells over 125 products in over 25,000 retail outlets, and in the 4th quarter, launched an entry into the frozen food market with frozen pizzas. In the 4th quarter, 45% of revenues came from meals, 39% from snacks and 16% from dressings and condiments. This represents a slight shift to meals, driven by strength in the mac & cheese line, and the start of the frozen foods line. One concern I have with the company is that while meals revenue was easily at an all time high, the snacks revenue was equal to a high of $16.3 million from the 2nd quarter, and dressings' revenues were unchanged year over year.
While strength in the core mac & cheese line is important, I would like to see more growth from all segments both year over year, and sequentially. However, I think new products in different segments could be causing some of this uneven growth. I will be watching closely for meals revenue growth to continue over the year, as pizza is rolled out into more retail channels. Also, strength in the core mac & cheese business will be important, as its placement in stores is improved.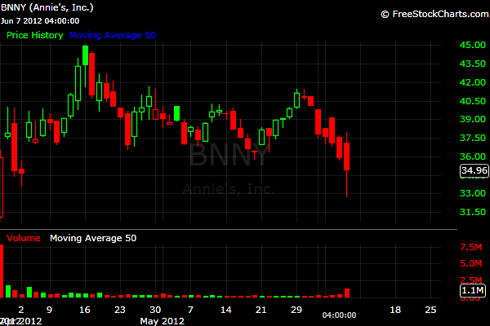 Annie's is currently trading at about 36 times forward earnings, and with a growth rate of 20% on those earnings, it would give the company a PEG of 1.8. I would watch this stock closely, as the price action on June 7th could be an attempt to put a bottom in. Annie's rallied at the end of the day, even as the market weekend, and I will be interested to see if it can find support around $35 per share. Overall, this is a good growth company in a growth industry, however I would hold off on an investment until the stock price finds support. I would also like to see more consistent growth across all product lines to justify Annie's high multiple.
Data sourced from: Yahoo!Finance, and company filings. Chart from: Freestockcharts.com
Disclosure: I have no positions in any stocks mentioned, and no plans to initiate any positions within the next 72 hours.