Barron's picks Wells Fargo & Company (NYSE:WFC) as the best bet U.S. bank amid the credit crisis of 2007-8. Wells wasn't taken in by risky debt-based assets like CDOs and SIVs that have wreaked havoc on its peers; doesn't carry a large subprime mortgage portfolio; and is the only AAA-rated bank by both major credit ratings agencies. Investing superstar Warren Buffett's Berkshire Hathaway (NYSE:BRK.A) recently raised its stake to 9.4% of the company. Based on recent prices, WFC's dividend yields 4.2%,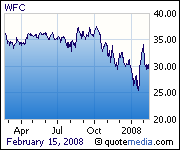 while its impressive 17.1% return-on-equity ranks first among major banks. Yet shares are down 22% from their highs, and trade for just 10x 2009 earnings. "The market has priced this stock down too far. It's a significant value right now," Bob Millen of Jensen Investment Management says.
Aside from impressive numbers, Wells Chairman Dick Kovacevich has done a stellar job of building a sense of community, achieving a rare blend of loyalty from both customers and staff. Moves such as giving local managers discretion to distribute corporate donations have helped to foster a sense of teamwork, as well as allowing branches to connect better with customers. "It's all about motivation," Kovacevich says. "It resonates with people." Wells leverages this platform to maximize sales: While other banks sell just 2.5 financial products/services per customer, Wells does more than five, and is targeting eight.
CEO John Stumpf has done a good job of acquiring small, regional operations that are easy to integrate. In the current environment of deflated bank shares, he's not ruling out going after a big fish (Barron's cites Washington Mutual (NYSE:WM) as one possibility). Analysts say shares have 15% upside over the coming year.