Now that the stock market seems set to continue next week's rally thanks to the multi-billion bailout of Spain's banks, it makes sense to consider (or review) hedges for the summer and beyond.
A friend recently made me aware of the Active Bear ETF (NYSEARCA:HDGE), an actively managed bearish ETF that shorts companies "…with low earnings quality or aggressive accounting which may be intended on the part of company management to mask operational deterioration and bolster the reported earnings per share over a short time period. In addition, the portfolio management team seeks to identify earnings driven events that may act as a catalyst to the price decline of a security, such as downwards earnings revisions or reduced forward guidance." The managers combine technicals and fundamentals (especially forensic accounting) and keep the fund 80-100% exposed to equities; the fund was 79% exposed at the October, 2011 lows. HDGE does not use leverage or derivatives.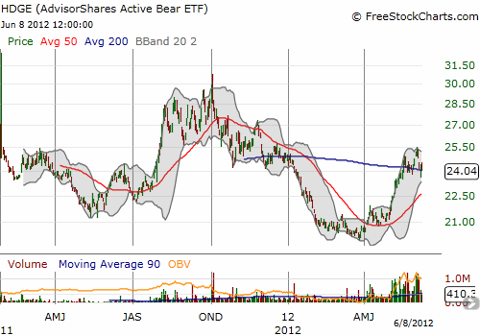 HDGE as experienced large swings since its inception alongside the general stock market
On the fundamental side, HDGE looks for companies that use aggressive revenue recognition by pulling revenue forward to meet earnings guidance. They claim that there are 12-15 ways companies can manipulate the top line. Other good targets include companies where the momentum is already broken, yet the stock remains too expensive for a value investor. On the technical side, HDGE managers note that most companies under-perform the market over the long-term. This reality creates a huge opportunity set of stocks for them to short.
HDGE went live in January, 2011 and is down 3.1% since inception while the S&P 500 (NYSEARCA:SPY) is up 2.0% over that same time. HDGE's low point was in March where its overall performance dipped to a loss of 18.5% while the S&P 500 was up 9%. HDGE's high point was in late September, 2011 with a gain of 18.1% since inception while the S&P 500 was down 13.1%. (These calculations do not include the dividend yield of the index.) So, if an investor was managing a balanced long/short portfolio, the performance would be essentially flat after seeing a substantial loss at the market's recent peak and a small gain at the market's recent lows. This highly asymmetric performance suggests that the managers are slow/reluctant to drop losers when the market is rallying strong and lifting even poor quality companies. This approach could still be a winning strategy over many more years, but that of course remains to be seen.
So how does HDGE stack up against a more aggressive approach to hedging a portfolio like using the ProShares UltraShort S&P500 (NYSEARCA:SDS)? SDS is a bear ETF that is not actively managed but uses derivatives to target TWICE the inverse (-2x) of the S&P 500′s daily performance. Interestingly, HDGE performs a lot like SDS, sometimes worse, in the short-term but out-performs over longer stretches of time as the daily performance targeting of SDS takes its toll on its value.
The following charts demonstrate these differences over multiple timeframes. The shaded area with the black border represents HDGE, and the blue line represents SDS.
First of all, HDGE has clearly out-performed SDS since inception.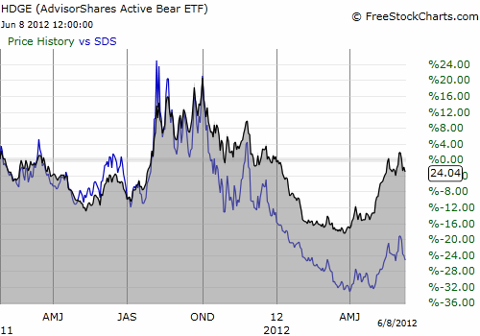 Since inception, HDGE out-performs SDS by a very wide margin
This out-performance is not surprising given funds that target daily performance are much better suited for short-term and swing trading. HDGE's advantage for this kind of trading disappears quickly on shorter timeframes at critical moments in the market. For example, HDGE actually under-performed SDS during most of this year's nearly non-stop rally through early March. It was only after the S&P 500 snapped back from a swift sell-off in early March did HDGE retake advantage. Of course, by then, time is taking its toll on SDS.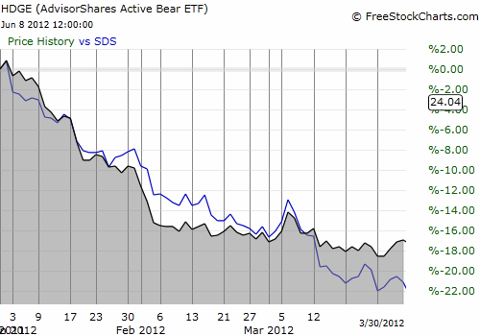 HDGE under-performed SDS for most of this year's non-stop rally
During most of the sell-off in May, HDGE maintained a small advantage that was surprisingly lost (marginally) at the very peak of the sell-off.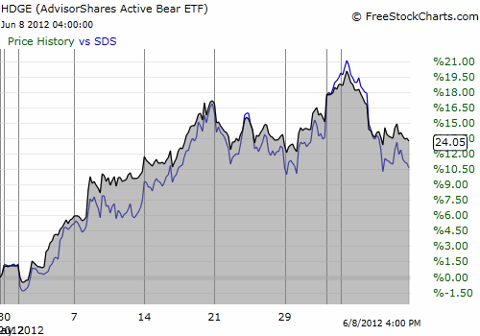 During May's sell-off, HDGE and SDS delivered very similar performance
Source for charts: FreeStockCharts.com
I was fascinated to discover that while HDGE does not use leverage or derivatives, it behaves as if it does when compared to a leveraged fund like SDS in the short-term. Overall, it appears HDGE is a no-brainer over the longer-term given the corrosive performance of leveraged ETFs over time. However, deciding on the proper exposure will be difficult. The asymmetric performance so far means it is best to only allocate a very small portion of the portfolio to HDGE. Once potential strategy may be to scale into HDGE every time the market rallies 8-10% and/or grinds down into an extended consolidation phase in a poor macro-economic environment.
For the short-term, SDS seems as good a bet, if not better at times, than HDGE. Moreover, over these shorter timeframes, using HDGE doubles the risks of active management (HDGE's AND yours!).
Be careful out there!
(Note that my friend was the source of most of the ideas for how to compare HDGE's performance).
Disclosure: I am long SDS.