When you invest in common stocks with the expectation of future gains, you need to have a lot of confidence in the company and your thesis for investing. When I say "invest", I mean holding for months and years at a time. The kind of investing that best suits this kind of long-term investing is focus investing. Focus investing, ideally, is operating within your own circle of competence on a few holdings. The returns one can get from it blow away returns from diversifying. I'll have more of my commentary on focus investing in an upcoming article.
So, what kinds of companies stocks would one feel confident holding for long periods of time?
The best ones!
Fortune Brands (FO) is a blue chip holding company that has brands people love and have purchased for decades. Master Lock locks, Jim Beam bourbon, Titleist golf are just a few of their top brands. Below are recent sales. You can see the reduction in home and hardware.

The housing turnaround play with FO is that when home and hardware picks up, or even before it does, investors will flood back to the stock and give it a PE multiple more deserving in the upper teens or low 20s. While you wait you get a dividend yield approaching 3% that has been growing at 10% a year. I believe the Wine and Spirits segment is a really attractive long-term growth driver for the company. They recently added brands to their Wine and Spirit's portfolio. It is one of the top 10 spirits companies in the world.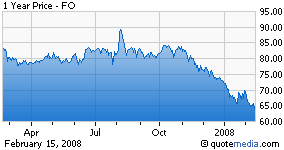 The company has a current PE of 13 and 9% plus earnings and dividend growth in the years going forward. Their exposure to housing is scaring away investors even though they have good growth going forward in spirits and golf. People aren't going to stop drinking alcohol; rather, they might drink more in a U.S recession.
Earnings are down this year but management is projecting free cash flow after paying dividends to come in between $500 million and $600 million next year. Cost cuts and earnings growth in coming years will eventually move the stock up. Before charges and gains, return on equity was 15% and return on invested capital 9%. Management has proven to be shareholder friendly and buys back shares when they are cheap and increases the dividend. This is comforting if you are looking to possibly hold the stock for many years. If management increases the dividend 9% every year for the next five years, there is over a 15% return just from the dividends. As the stock continues to fall, the patient contrarian will do well picking up some shares.
Disclosure: Author has a long position in FO