Grantham, Mayo, Van Otterloo & Co. [GMO] is a money management firm that focuses on asset allocation and has an enviable track record. In its latest 7-year asset class forecast (.pdf) (as of January 31, 2008), GMO made two remarkable predictions: 1) no stock sector would attain the 6.5 percent long-term historical U.S. equity return, and 2) only managed timber would reach 6.5 percent annual real return over the next 7 years.
Among the stock asset class, the U.S. high quality sector was forecast to attain a real return of 5.7 percent (of which 2.0 percent was the estimate of value expected to be added from active management). The next highest achiever was emerging market equities, with a forecast 7-year return of 5.6 percent (of which 3.8 percent was attributable to active management).
U.S.small caps are predicted to be among the worst performing sectors within the stock asset class. GMO forecast that the small caps would achieve a negative return of -0.7 percent over the next 7 years, and that the real return would be brought up to a positive, but still low, 1.3 percent only through the contribution of active management.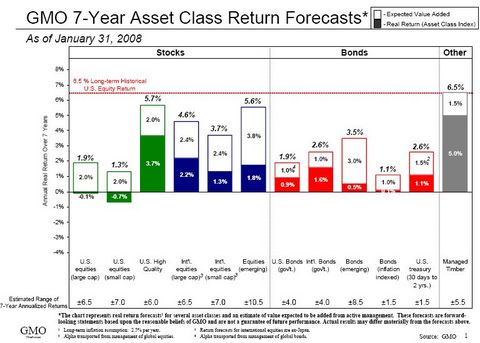 In its global outlook, GMO predicted that U.S. high quality stocks, with a 5.7 percent return, would outperform large international equities (excluding Japan), which will attain a 7-year return of 4.6 percent uniformly among the growth and value asset classes, and the EAFE index.