In our first analysis report on Sprint Nextel (NYSE:S) we were able to determine that despite Sprint's weakness in the post-paid contract segment, it was the unquestioned, undisputed market leader in the low-end prepaid and Mobile Virtual Network Operator wireless segments. While that may not necessarily enable Sprint to become profitable overnight, we believe it provides a floor for the price of Sprint's stock. This is important because the low-end prepaid and MVNO segment has shown faster growth than the industry at large, including at Sprint Nextel.
Click to enlarge: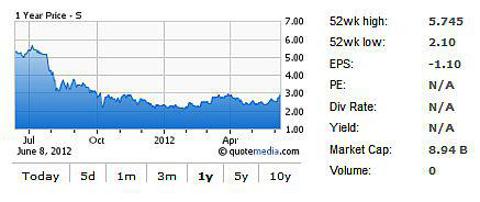 Because Apple's (NASDAQ:AAPL) highly popular, cutting edge smartphone has been available on Sprint's wireless network since October, we believe that Sprint will be able to survive as an independent company. In our comprehensive report about Sprint, we concluded that Sprint had no ability to survive as a going concern without the iPhone. Now that Sprint has the iPhone, not only will it be able to compete against the national wireless duopoly of AT&T (NYSE:T) and Verizon (NYSE:VZ) for highly lucrative postpaid customers, we believe that Sprint will maintain its competitive strength in the prepaid and MVNO segments, which would sap the growth potential of T-Mobile USA, MetroPCS (PCS) and Leap Wireless (LEAP) in the prepaid and MVNO segment.
In our opinion, we believe that the 4 year, $15.5B purchase contract that Sprint agreed to with Apple in order to earn the right to sell Apple's iPhone was steep. However we disagree with those who say that Sprint should have passed on it. We made note that Sprint was on track to meet 94% of the contract's commitment assuming Sprint maintains its sales volumes of iPhones. In our analysis of whether Sprint was on track to meet the purchase commitment, we had assumed that every iPhone sold by Sprint was the low-end iPhone 4 device, rather than higher-end iPhone 4S devices. We also assumed that Sprint paid $550 for each of its iPhones sold and that it had no excess inventory of iPhones on hand, which is an extremely conservative worst-case scenario for Sprint. We believe that with Sprint's recent promotion for $100 off a new iPhone 4S if you switch from another carrier and redeemed your old iPhone device for a new iPhone 4S couple with Virgin Mobile USA offering the iPhone will certainly ensure that Sprint meets its purchase commitment with Apple .
On May 31, 2012 Leap Wireless's Cricket Wireless business announced that it will start selling Apple's iPhone 4 and 4S devices on its network. This made Cricket the first prepaid wireless network to carry the Apple iPhone. We were concerned that this would be negative for Sprint, a company that we are recommending to investors and which we personally own shares of. However, our concerns have abated as Sprint announced one week later that its Virgin Mobile prepaid brand will also be offering the iPhone without a 2 year contract.
Leap Wireless has an easier contract commitment than Sprint. Leap has a 3 year, $900M purchase commitment. This represents an estimated 1.5M iPhones that Leap has to sell during this period (500,000 annually). In order to fulfill this contract, Leap needs to get 8% of its 6.25M customers to switch to Apple's iPhone annually. That should not be too difficult as 10% of Sprint's customers have already switched to the iPhone in the 6 months that Sprint has been selling the device.
The major risk to this initiative is the higher than average up-front cost associated with the iPhone. However, we also believe that it could be a potential game-changer for wireless customers, as educated customers will see a cheaper alternative to postpaid contract plans. If we were to compare the cost for unlimited talk, text and voice from each mobile platform, we see that Sprint Virgin Mobile and Leap's Cricket Wireless prepaid phones offer a lower total cost of ownership over a two year contract cycle.
Click to enlarge:

Based on these reasons, we not only reiterate our recommendation of a long position in Sprint Nextel, but also believe that carrying the iPhone will make the prepaid segment into a two-horse race between Virgin Mobile and Cricket Wireless. Sprint and Cricket had gained more branded prepaid customers in Q1 than the other carriers in Q1 2012 without the aid of a prepaid no-contract iPhone. We believe that carrying the iPhone will enable Sprint's Virgin Mobile USA subsidiary and Leap's Cricket Wireless business to accelerate each company's growth rates in the prepaid segment and in particular, potentially pick off customers from T-Mobile USA and MetroPCS.
Click to enlarge: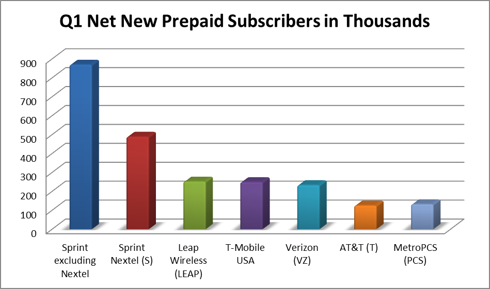 Source: Company Q1 Earnings Releases
We recommend investors who are interested in exposure to the prepaid wireless segment to consider Sprint over Leap Wireless for the following six reasons:
Sprint has 15.3M branded prepaid customers and 8M Wholesale MVNO customers whereas Leap Wireless only has 6.2 total customers.

Sprint gained nearly twice as many prepaid customers as Leap in Q1 2012 and nearly 3.5X as many if one excludes Nextel run-off.

Despite accruing losses since Q4 2007, Sprint has at least been free cash flow positive from 2007-present, even with the increased CapEx for Network Vision. Leap was only profitable in 2005 and has racked up net losses and free cash flow deficits since 2006.

Sprint has a lower debt/sales ratio than Leap Wireless

Leap Wireless's 4G LTE service is with Clearwire, which Sprint owns 54% of. Also Sprint will be rolling out 4G LTE before Leap Wireless.

Sprint's Network Vision is making great progress and Sprint will be shutting down Nextel on June 30th, 2013.

The Sprint Platform (excluding Nextel run-off) not only had lower Q1 2012 churn than Leap Wireless, but improved it by 50bp, whereas Leap suffered 20bp more churn.
Click to enlarge: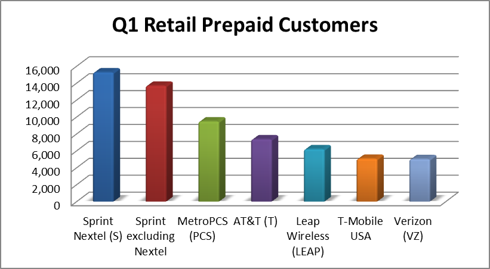 Source: Q1 Company Press Releases
Disclosure: I am long S, AAPL.
Disclaimer: Saibus Research has not received compensation directly or indirectly for expressing the recommendation in this report. Under no circumstances must this report be considered an offer to buy, sell, subscribe for or trade securities or other instruments.