On several occasions it has been pointed out that Domino's Pizza (NYSE:DPZ) has one of the largest global restaurant operations in India including this recent mention on Mad Money with Jim Cramer. As Cramer points out, Domino's might provide the investment option into India that Yum Brands (NYSE:YUM) provided with China.
With fast growth ahead for decades and limited investable stocks in the US, any stock with a large percentage of revenue from India could be very attractive to the markets. One thing to remember is that although India provides huge growth opportunities, the economic base is much smaller than China and especially the US. So could any large U.S.-based retailer actually derive enough sales from India to make a difference?
The preliminary results suggest not, at least for now. The company has 439 stores in India with a goal of 1,000. Considering a global store base of nearly 10,000 locations, the current 439 stores in India isn't even 5% of the global store base. Also, the goal of 1,000 stores won't even get the base total to 10% as the rest of the international operations continue growing as well. See Figure below: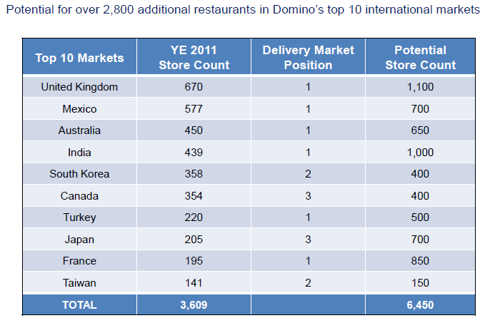 The potential for 1,000 stores in such a large country as India appears to be a very conservative goal - less than what the company has planned for the subcontinent.
Even more concerning is that revenue growth is meager for the sector as neither Domino's Pizza nor competitor Papa John's (NASDAQ:PZZA) has much revenue growth forecasted for the next couple of years. Earnings growth might jump if input costs such as cheese and energy costs continue to drop. Analysts forecast 12% long term earnings growth for both Domino's and Papa John's.
Though the access to India has mass appeal, Domino's already has such a large international base on top of a big domestic base that total growth above the 5-8% target will be difficult to achieve. India just doesn't move the needle for Domino's even with 20% comp sales.
Papa John's on the other hand only has 838 international stores as of March 25th, or about 20% of its total 3,900 store base. The development pipeline over the next six years includes 1,500 restaurants, with 1,200 of those units planned internationally. While not providing a much desired focused access to China or India, Papa John's appears to have better growth potential than Domino's, even with its booming business in India. Too bad the company can't just carve out the India or Emerging Market group as an independent company.
Keep an eye on the India growth, but don't buy Domino's stock for that opportunity alone. Besides, Papa John's has better international growth ahead if that is what an investor wants.
Disclosure: I have no positions in any stocks mentioned, and no plans to initiate any positions within the next 72 hours.
Additional disclosure: Please review the disclaimer page for more details.