Even as the U.S. markets are set to open early Monday, we find that some of our favorite biotechs continue to offer great opportunity.
Last week, I advised investors to "Look For These 5 Biotech Stocks Heading North":
Antares (AIS) (soon to be ATRS) rebounded from a $2.60s low to back over $3/share showing increased bullish strength.
Spectrum (NASDAQ:SPPI) churned near $12/share, but this is good because it means the stock is forming a solid base for its next run. Securing an entry point may be very savvy.
Pharmacyclics (NASDAQ:PCYC) in day-trading crossed the $40/share mark. Pharmacyclics is one stock to be as bullish on as they come.
Ariad (NASDAQ:ARIA) rebounded from last Monday and ended the week at $17.12/share and I expect even more to come in the week ahead.
Zalicus (ZLCS) has been on fire after the recent bullish conference led by its CEO confirmed a very strong upside and it looks to be heading back to its year-ago $3 plus/share high.
This week, I showcase the following six biotechs on my "hot" list. I'm dropping Spectrum for the week ahead, and am adding two new picks. In an overall market that is struggling, it's my opinion that money is pouring into these biotechs, and I simply want to highlight the current situation to you.
Here are my six hot biotechs:
1. Surging Pharmacyclics
I'm returning to Pharmacyclics because I think there's still more gas in the tank. Actually, I think the tank just got bigger. I'll explain: My original target was $40/share when the stock was in the $20s. Looking at its chart, this one has legs to go still higher. I'm setting a new target of $50/share over the summer. If the stock retraces on a miserable market day, buyers might be fortunate to grab shares at $35. I am not stating 'That will happen'; I am just stating 'Should it happen', Pharmacyclics looks like it could surge towards the $50/share target and I think the company is ripe for a buy-out.
Click to enlarge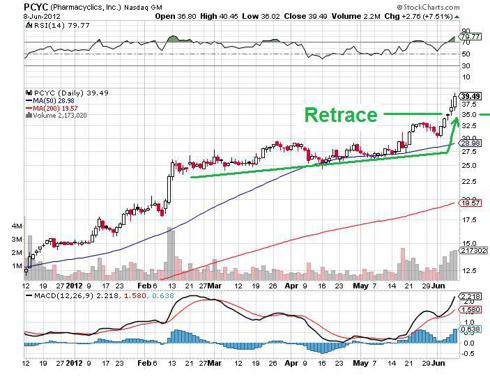 2. High-Risk Arena (NASDAQ:ARNA)
At Friday's $6.62/share close, going into its FDA decision for Lorcaserin on 27 June, short-term traders could jump in and jump out for a modest $7-8/share target. But this is a high-risk situation. If bad news comes (perish the thought!), the stock could plummet to $2 in a heart-beat. On great news, I perceive $10/share as the lowest minimum upside. Should it be approved as the first weight loss drug in a long time, it wouldn't surprise me to see market sentiment drive it to $30/share or higher. Valuation aside, market sentiment plays a big role here. Stocks rarely trade on the metrics of value alone; they also trade on market sentiment. If Lorcaserin is approved, look out.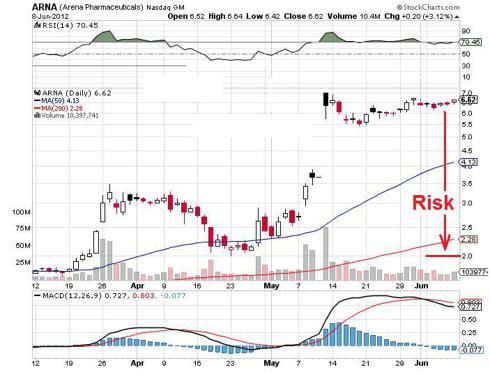 3. Contrarian Play Vivus (NASDAQ:VVUS)
I'm calling Vivus a great contrarian play going into 27 June because if Arena's drug is rejected or postponed for further studies, Vivus - which has been churning in the low- to mid-$20s may surge towards $30/share (25% gain) as sellers flee Arena and run to Vivus. Should Arena be granted FDA approval, I really don't see Vivus slumping anywhere near its base. Qnexa's efficacy clearly beats Lorcaserin's, but Lorcaserin's safety profile seems better than Qnexa's.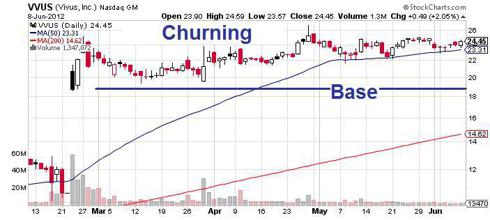 There is a lot of talk that Vivus is going to be bought out, should Qnexa be approved. The company is already holding one card: Avanafil, but the big score would be Qnexa with a 17 July FDA decision date. I have a $40 target as my minimum target on FDA approval; I think it will go much higher (> $60/share). With these decision dates drawing near for Arena and Vivus, should the general market hold its ground, this may be the week to secure a position in both or either stock. Finally, I interpret the REMS postponement as a positive and Qnexa's efficacy will not keep this drug from being approved. I, however, do not see a slam dunk for any biotech drug before the FDA.
4. Antares Powering Up
Moving Antares from the AMEX to the NASDAQ is very positive news for the stock. The recent retrace has prepared the stock for the climb to the next level.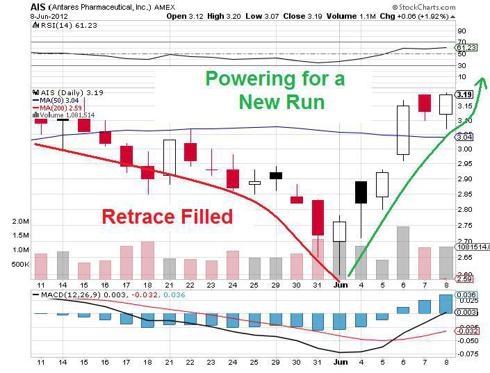 In fact, 2H 2012 looks very positive, as CEO Wotton recently noted that: (1) Vibex MTX is ahead of schedule, (2) a NestraGel deal should be announced no later than Q4 2012, and (3) Gelnique 3% is quickly gaining customers and Elestrin sales improved. Expect the share price to go over $4/share by Q3 2012 end. A $4-6/share price target by year-end seems very reasonable. I think Pfizer (NYSE:PFE) is going to have to offer a lot more than $1.3B to land Antares from Teva (NYSE:TEVA). Teva's not going to let Antares get away that easy. By 2015, if approved, Vibex MTX should drive the share price into double digits.
5. Steady Climber Ariad
Investors who have a lower toleration for risk should carefully consider Ariad. Any stock that has been going up like this one could easily power-up over $20/share in one day. Companies like this are also great take-out targets. While retracing may occur here and there, the best strategy may be to buy on any dips.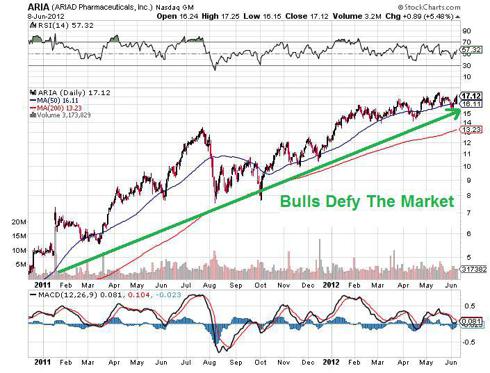 6. Volume Quadruples at Zalicus
The Zalicus bulls refused to give up much ground to an early Friday afternoon weak-hand sell. The general consensus is that Zalicus is just beginning its bullish run and those weak hands who are selling are about to miss an exponential jump in the share price. Why? For one, the daily volume is soaring. Two, market sentiment on Zalicus has turned profoundly bullish. Three, the company's pipeline is firing on all cylinders and the company's bargain basement price makes it as bullish as ever. CEO Dr. Mark H. N. Corrigan has transformed Zalicus into a short-term double going even higher.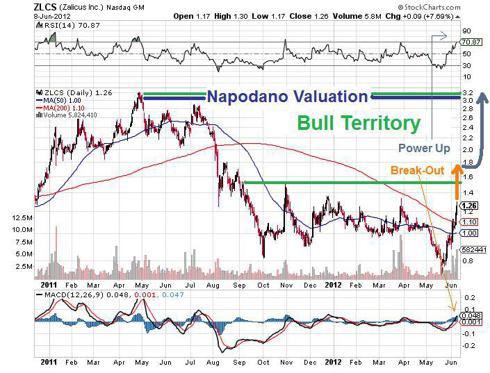 Surveying the chat rooms of the pain-inflicted users gaining relief thanks to controlled-release hydromorphone Exalgo, the cry for the 32 mg dose is hopefully on the near-term horizon. Patients want it. Doctors want it. Whether this is the near-term news or not, the market has turned very bullish on Zalicus because Exalgo sales are growing (33% Y/Y in Q1 2012).
Zacks analyst Jason Napodano has valued Zalicus at $3/share. Dr. Duncan at JMP Securities has a longer-term $5/share price target. Zalicus shareholders expect news on Z944 very soon. My early year call that Zalicus could be biotech's "Come Back Kid Biotech Stock" in 2012 looks to be accurate. Very soon, investors will be talking about how they wished that they had bought shares in the company when it was below $2/share.
My wrap-up
My goal is to represent high quality biotech stocks with the risk fully understood. Be it a higher priced Pharmacyclics or a lower priced highly under-valued Zalicus, investors should weigh their toleration of risk and plan accordingly. I personally think lower priced biotechs are not as risky as often portrayed, assuming they carry a manageable debt-load and are well-funded with positive pipeline advancements; to that point I'm thinking of Zalicus and Antares. The Arena-Vivus equation offers a creative opportunity to play one or both. Ariad looks to be a solid buy. For those who like to diversify their risk, going into this week, I cannot think of six better biotechs for the investor who can tolerate above-average risk.
Disclosure: I am long ZLCS.
Additional disclosure: Investors buy and/or sell at their own risk. I declare that may day-trade any stock at any time mentioned in this article. For me "Long" is until I sell. I do not "Short" stocks.