Are we in for a summer rally? I think so, based on Friday's action in the market. After flirting with 1300 early in session, the index staged an impressive 23 point rally and closed just off the high of the day. Therefore, strong follow-though Sunday night or early Monday could set the stage for a rally to at least 1360.
Once the index clears the double top from Thursday and Friday at 1323 and another double top at 1327.75 from May 29th and 30th, there is simply no major resistance in sight. Now that we are over 60 points from Monday's low, the "buy the dip" crowd will be much more aggressive on pullbacks while the shorts are wondering what happened to their nice profits.
You cannot blame AAPL (NASDAQ:AAPL) for not warning us to ignore the head-fake break below 1300 in the index. As mentioned last week, AAPL was trading over 30 points higher last Friday than it was when the index dipped under 1300 briefly in mid-May. Now the shorts are going to get squeezed as they confront the 100-200 shares offers all the way up to 600, while contending with the High Frequency Trading crowd that will prey on any large standing bids on any pullback. Hopefully, it will not be a gap and go on Monday and there will an opportunity to enter AAPL in the mid 570s.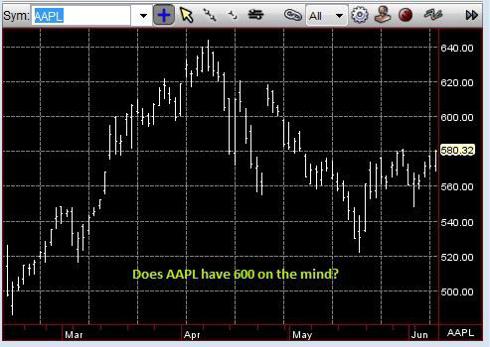 Exxon-Mobil (NYSE:XOM) managed to get back in the 80 handle this week. After trading in the low 77s on Monday and Tuesday, XOM gapped open higher on Wednesday above the top at 78.25-78.29 and never looked back. XOM finally hit resistance around 81 at the end of the week and closed just below that level at 80.84. Once XOM clears that hurdle, it will not find major resistance until 83.00. Expect buyers if XOM dips under 80 down to Friday's low of 79.46.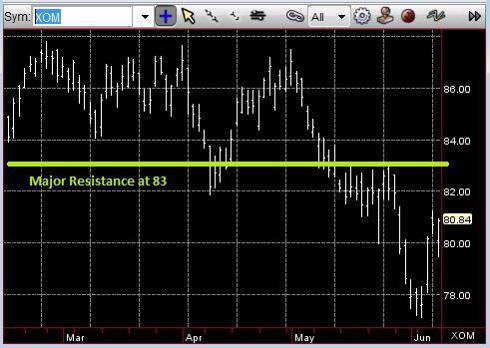 International Business Machines (NYSE:IBM) seems destined to trade back in the 200 handle. After trading in the 187s earlier in the week, IBM gapped up with the overall market on Wednesday and tacked on almost 5 points. IBM closed at the high of the day on Friday (195.14) and just below the weekly high of 195.83. Expect minor resistance at 198, on the way to 200. In the event of a pullback, 193 will be major support.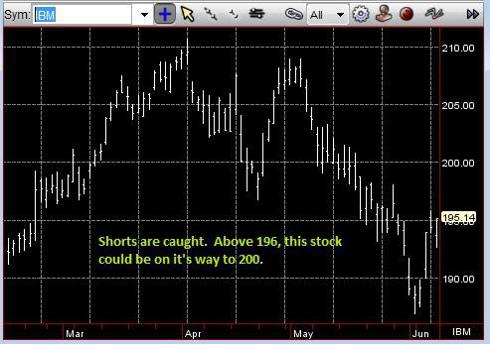 Similar to IBM, Microsoft (NASDAQ: MSFT) closed strong on Friday (29.65) and just below the weekly high of 29.70. Along with the rest of the Big 10, Wednesday was a break out day for MSFT. After opening above Monday's high (28.78) and Tuesday's high (28.75) on Wednesday, those traders waiting for the gap to be filled are still waiting. After MSFT clears the minor resistance at the psychological level of 30, expect minor resistance at 30.32 and major resistance at 31. On pullbacks, you might want to get your bid out ahead of Thursday's low (29.17) and Friday's low (29.05) since you will have plenty of competition.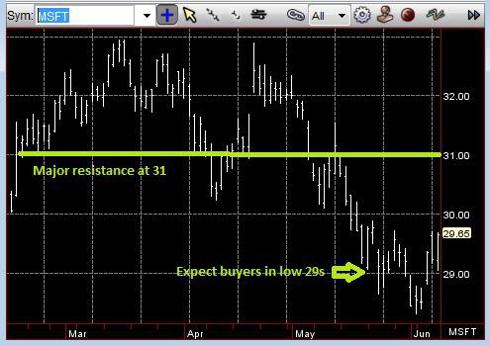 General Electric (NYSE:GE) did not need any company intervention this time when it traded down to 18.30 as it had on the last three occasions. Despite trading in the low 18s Monday and Tuesday, GE regained its footing and was able to close above 19 on Friday at 19.20. Above Friday's high of 19.25, look for minor resistance at the May 29th high of 19.43 and major resistance at the May 3rd high of 19.80. Expect large bids to start accumulating at 19 and the HFT crowd a few pennies in front of them.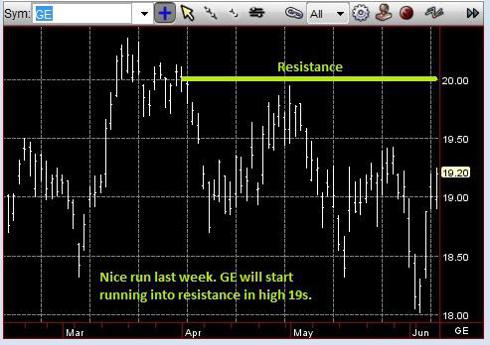 Chevron Corporation (NYSE:CVX) is a triple digit stock once again. After testing the late November lows under 96 earlier in the week, CVX caught on fire Wednesday. Another gap opening that caught the shorts off guard ignited over a 3 point rally. On Thursday, CVX traded up to 102, before experiencing some mild profit taking. The visit back under 100 was short-lived (Friday's low 99.89) and CVX closed just off its high of the day at 100.84. Expect 102 and 104 to be minor resistance and major resistance at 106.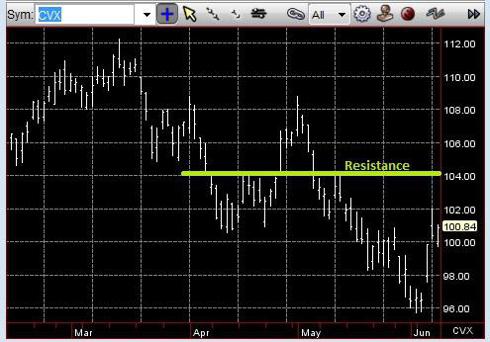 At&T (NYSE:T) just grinded to a new 52-week high on its own, topping at 34.74 on Thursday for a new 52-week and multi-year high (June 2008). Some profit-taking on Thursday sent AT&T to the low 34s before rebounding to close at 34.56. For the week, T was up .66, not bad for on an issue that is paying you 5% to own the stock. Certainly very high expectations for next quarter's results are built into the stock. Look for a battle at 35 between the HFT crowd and large institutional sellers, similarly to what we witnessed at 33 and 34. Major support can be found at Wednesday's low (34.05), Thursday's low (34.16) and Friday's low (34.11) forming a triple bottom.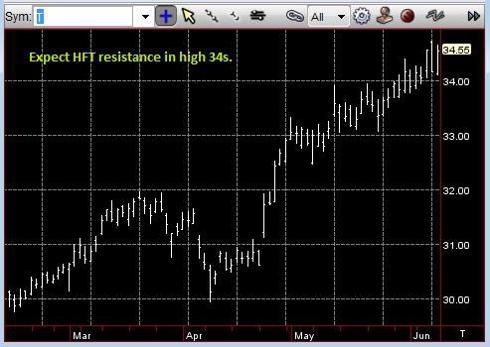 Procter&Gamble's (NYSE:PG) prolonged sell-off since its 52-week high at 67.95 back in March, came to a halt near the late November lows of 61. In fact, including the previous Friday, PG gave you four opportunities to purchase this issue between 61.02-61.20 before beginning it's ascent. After reaching 63.29 on Friday, PG pulled back to close at 62.75. Minor resistance can be found at 63.80 and major resistance at 64.50. Keep in mind, PG has a large gap to fill on the upside from 65.26-66.62. Major support has moved up from 61 to 62.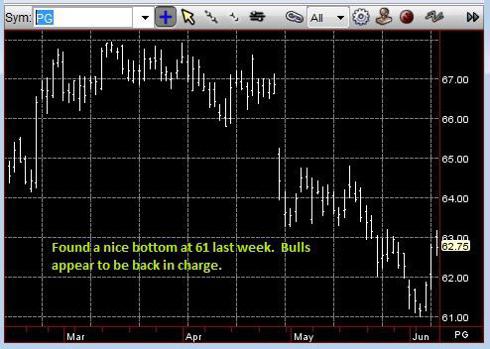 Has Johnson&Johnson (NYSE:JNJ) found a new trading range to labor in for the next few months? It certainly found major support just under 62 last week, now the question is, does JNJ have enough momentum to make it to the multiple highs around 64 from mid-May? After the weekly high of 63.20 expect JNJ to migrate towards 64, where it will run into institutional selling pressure. Expect the HFT crowd to be right in front of those institutional sellers. Major support is slowly creeping up from the high 61s to the mid 62s.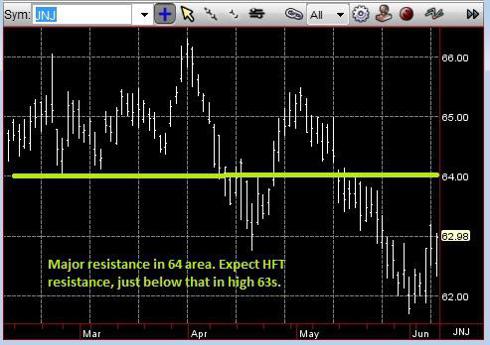 When a stock closes at the high of the day, it is trying to tell you something. Mainly, it wants to go higher. Which is exactly what Wells Fargo (NYSE:WFC) did on Friday. After briefly falling under 31 on Friday, WFC joined the rally and climbed to close on its high of the day at 31.43. Aside from the weekly high of 31.58, WFC has no major resistance until the May 31st high of 32.26. After putting the major support level of 30 to a solid test last week, buyers looking to purchase WFC on the cheap will be moving their bids up to 31.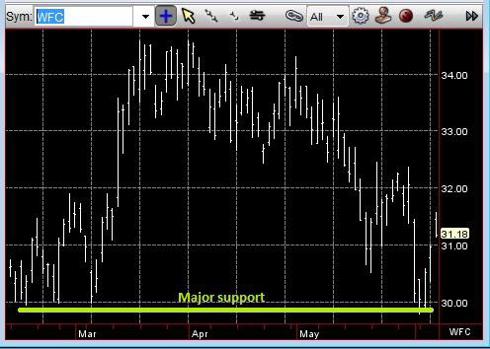 Sorry for you bears out there that enjoy my weekly bearish rants on the market, but this week's triple witch expiration has me leaning to the long side. Not so much based on any real fundamentals, but based more so on the technicals. Several of the components in the Big 10 tested major support levels last week (dating back several months), based, and then bounced. There seems to be a lack of sellers. Funds and investors that did not sell during the recent 150 point plunge in the index probably will never sell. It just seems to be too early in the rally for the bears to be reloading, especially with an often unpredictable triple witch expiration on the horizon. Of course, the European situation can always influence the markets, but I am expecting even more of a stand by the bulls if the index retreats to 1300.
Disclosure: I have no positions in any stocks mentioned, and no plans to initiate any positions within the next 72 hours.