Those of you who are already familiar with this series, probably understand by now that I'm chronicling my process for picking stocks to add to my portfolio, or to grow positions already in my portfolio, with the intent of generating stable, growing dividends that I can continue to reinvest until I hit retirement.
For those of you who are just joining us on this journey, I recommend that you take a moment to read the two-part introductory articles, "The Method to My Stock Picking Madness", Part 1 and Part 2. To summarize, My Mad Method, or MMM (but not 3M, the wonderful makers of Scotch Tape, Post-It Notes and other sticky and useful things) started off with 15 metrics that I capture and rank for all of the stocks on my watchlist, and then take the average of those 15 metrics and rank that number to come up with a final MMM Rank, where lower is better; in other words, we're looking for #1.
But that was just the starting point, and MMM is not a polished, finished thesis, but a journey towards assembling and being able to manage a portfolio that will provide a good portion of the income that my wife and I will need to live on by the time I decide to retire, and beyond. As such, it is and will continue to be an evolutionary process, one which will be refined through trial and error over the coming months and years, and these articles are my way of documenting what works, or appears to work, and what doesn't, or hasn't so far.
In my most recent article in this series, where I recap how I used MMM to make trades and write calls and puts throughout last month, I mentioned that I had sold several positions that were not living up to my expectations. Since then I've been considering how and where I should invest some or all of those funds, which led me to the subject of this two-part article: The next step in the evolution of MMM. As part of this latest development, I used the process of weighting one of the 15 MMM metrics, which I described in detail here.
One problem that I wrestled with early in this latest step was trying to decide whether to add new positions to my portfolio, or to add to existing positions with the funds that were now available to me. In order to resolve this conflict, I decided to combine the stocks that were on my watch list with the stocks that were in my portfolio and evaluate them all against each other as a single set using MMM. Since I had already been tracking the 15 MMM metrics for both groups, this was relatively easy to accomplish. After trimming the 5 worst ranked stocks off my watch list, and considering that I had included some of the stocks that were in my portfolio in my watch list after I purchased some of them, this resulted in a list of 40 stocks in my new, combined, super watch list (sorted by Ticker):
| | | | |
| --- | --- | --- | --- |
| MMM | | | Recent |
| Rank | Company | Ticker | Yield |
| 34 | Apple | (NASDAQ:AAPL) | 1.85% |
| 25 | Abbott Laboratories | (NYSE:ABT) | 3.14% |
| 11 | Arch Coal | (ACI) | 1.96% |
| 14 | Alamos Gold | (AGIGF.PK) | 1.04% |
| 4 | Alliance Resource Partners, L.P. | (NASDAQ:ARLP) | 7.03% |
| 40 | Central Fund of Canada | (NYSEMKT:CEF) | 0.05% |
| 30 | Clorox | (NYSE:CLX) | 3.36% |
| 16 | Compass Minerals Int'l, Inc. | (NYSE:CMP) | 2.76% |
| 33 | Cirrus Logic, Inc. | (NASDAQ:CRUS) | 0.00% |
| 31 | Crescent Point Energy Corp | (CSCTF.PK) | 6.98% |
| 12 | Chevron Corp | (NYSE:CVX) | 3.59% |
| 5 | Ebix, Inc. | (NASDAQ:EBIX) | 1.14% |
| 8 | Exelon Corp | (NYSE:EXC) | 3.90% |
| 37 | Endeavour Silver Corp | (NYSE:EXK) | 0.00% |
| 35 | Ford Motor Company | (NYSE:F) | 1.90% |
| 32 | Freehold Royalties, Ltd. | | 9.51% |
| 28 | France Telecom | (FTE) | 15.01% |
| 13 | General Electric Company | (NYSE:GE) | 3.58% |
| 1 | Corning, Inc. | (NYSE:GLW) | 2.33% |
| 17 | Google | (NASDAQ:GOOG) | 0.00% |
| 20 | Hasbro, Inc. | (NASDAQ:HAS) | 4.13% |
| 10 | Hatteras Financial | (NYSE:HTS) | 12.53% |
| 7 | Johnson & Johnson | (NYSE:JNJ) | 3.89% |
| 38 | Kimberly Clark Corp | (NYSE:KMB) | 3.47% |
| 29 | Lockheed Martin Corp | (NYSE:LMT) | 4.81% |
| 6 | Main Street Capital Corp | (NYSE:MAIN) | 7.27% |
| 18 | MAKO Surgical | (NASDAQ:MAKO) | 0.00% |
| 3 | Medtronic | (NYSE:MDT) | 2.62% |
| 2 | Microsoft | (NASDAQ:MSFT) | 2.74% |
| 21 | MV Oil Trust | (NYSE:MVO) | 11.83% |
| 23 | National Grid, plc. | (NYSE:NGG) | 7.88% |
| 19 | Annaly Capital Mgmt. | (NYSE:NLY) | 13.25% |
| 26 | Nokia | (NYSE:NOK) | 6.36% |
| 22 | National Presto Industries | (NYSE:NPK) | 8.40% |
| 27 | Proctor & Gamble | (NYSE:PG) | 3.59% |
| 24 | SeaDrill, Ltd. | (NYSE:SDRL) | 9.52% |
| 15 | StoneMor Partners, L.P. | (NYSE:STON) | 9.53% |
| 36 | AT&T | (NYSE:T) | 5.15% |
| 39 | United Parcel Service | (NYSE:UPS) | 3.02% |
| 9 | Wells Fargo & Co | (NYSE:WFC) | 2.82% |
The MMM Rank above is the ranking of these stocks prior to weighting the Yield metric, which I will discuss in more detail later in this article.
For the purposes of this article and the next, I've decided to "open my kimono" and reveal how much money I had to work with to make my next purchases: $8,100. This may seem a trifle to some of you, but for me it represents a significant portion of the funds available to me to invest in my IRA. If you're writing multiple covered calls against your Apple shares, then God bless you, but you're definitely out of my league. I'm trying to write for Joe and Jane Average Investor, whom I figure are probably in or near the same boat that I'm in, and don't want to end up living under a bridge in Phoenix eating cat food and Saltines in their Golden Years. I couldn't work out a way where I just displayed percentages and have the data and charts that I've included in this and the next article be meaningful, so you get to take a look at my books, so to speak.
My next step was to set up Rules for me to follow for using the results of the MMM rankings to select the next stocks to either add to, or plump up in, my portfolio:
Strict budget of $8,100.
Distribute this amount across at least 6 positions, so that the maximum amount that could be spent on any one position is $1,350. This is to help me maintain diversity and add some new blood to my portfolio, even if each purchase ends up being just a small allocation of my total holdings; I can add to them later with dividends collected in the future as well as premiums I manage to earn from selling covered calls and, hopefully, cash-secured puts.
Apply a 40% weight to the Yield ranking in My Mad Method. This is to give the overall average yield of my portfolio a boost above its current level of 4.7%.
Find stocks and the right number of shares in those positions that will yield at least 6% in dividends with the $1,350 per-position cost cap (in other words, produce at least $81.00 in dividends over the next 12 months).
Keep the number of possible shares in each position to multiples of 5.
Place Good-Till-Cancelled, or GTC, Limit orders for the final selections at ~95% of their recent prices after the close of the market Friday, June 8th.
I should point out that applying a 40% weight to the Yield metric's ranking in MMM (Rule #3) doesn't guarantee that the companies with the highest yields will be the only ones in the top echelon. The other 14 metrics still factor into the average number that's used to determine the overall MMM Ranking of each stock. Combined with Rule #4, that should give me the best bang for my buck for what I'm trying to accomplish here.
In order to make it easier for me to spot the potential candidates out of the pool of 40 stocks, I dipped into my bag of Microsoft Excel tricks and used Conditional Formatting on the columns that contained the companies' names and tickers. I first set up the spreadsheet so that I could manually adjust the number of possible shares that I might buy of each company and have that calculate the Projected Annual Dividend (in column BE in this case) and the Total Cost of purchasing those shares, including commissions (in column BH). I then entered $81.00 into the cell at the bottom of column BE, and $1,350.00 at the bottom of column BH, as these are the lower and upper limits for these values. Then came the tricky part: Getting the Conditional Formatting formula to work correctly. It took a little fidgeting around, but in the end wasn't too hard to get worked out:
=AND($BEn>=$BE$m, $BHn<=$BH$m)
That formula was applied to all of the rows in the columns that held the names of the companies on this super watch list and their ticker symbols, where "n" is the current row for any company and "m" is the row where the limit values were input. When this condition is true, those cells of that company result in being formatted to turn green, which worked out to be this:

I've included the original, unweighted MMM Rank so that you can see how the companies on the list shifted with the 40% weighting of the Yield metric. I've also included the MMM Average so you can see the spread between one rank and another, which can be very revealing in terms of how close or far one company came to the next in rank.
And finally there is the Delta Ratio Reading, which is a scaled reaction to the relative distance that each company's recent price is to its 52-week high and 52-week low. (I explained how this helpful visual is calculated and formatted in a previous article.) As a refresher, the scale runs from "Screaming!", which means the company's recent price is very close to its 52-week high, through "Stable", which is the mid-point, and down to "Buy!" and on to "Holy Cow!", which indicates that the recent price is very close to the 52-week low. (By the way, "Delta" in this situation refers to "difference", meaning the difference between the recent price and the 52-week high and low, and does not have anything to do with the Greek used for some other purpose in investing parlance.)
As you can see, after fiddling around with the number of possible shares to purchase for each of them, 11 companies out of the 40 in the uber-list qualified as possible buys according my Rules. For the sake of referencing them in the rest of these two articles, here are the top 17 companies sorted by their Weighted MMM Rank: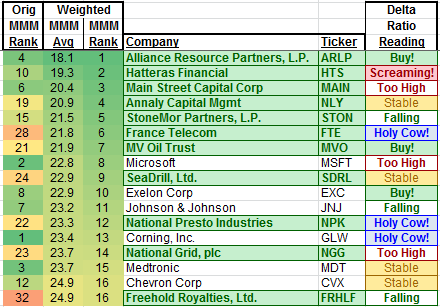 This may be the ultimate case of "the ends justifying the means" in terms of how I've manipulated the numbers to get to these results, but I've been hashing around for several weeks now trying to decide how to allocate my newly-liberated funds and needed to get to a point where I could: (1) take some action, and (2) really put my money where my mouth is in terms of acting on the results of My Mad Method. With only $8,100 to spread around, I won't be able to purchase all of the 11 that qualified according to my Rules.
In the second part of this two-part article, we'll walk through this list of contenders and I'll explain where I've placed orders, and why.
Disclosure: I am long AAPL, ABT, ACI, AGIGF.PK, ARLP, CEF, CRUS, CSCTF.PK, EXC, EXK, F, OTCPK:FRHLF, GLW, JNJ, KMB, MDT, MSFT, NLY, NOK, NPK, SDRL, STON, T, UPS.
Disclaimer: I am not a professional investment advisor or financial analyst; I just like to crunch numbers and can make an Excel spreadsheet do pretty much whatever I want it to do, and I'm doing my best to manage my own portfolio. This article is in no way an endorsement of any of the stocks discussed in it, and as always, you need to do your own research and due diligence before you decide to trade any securities or other products.