Well, the market isn't going straight down. While the S&P 500 and its tracking exchange traded fund SPDR S&P 500 Trust ETF (SPY) have fallen nearly 10% in the last month, and market leaders such as Citigroup (NYSE:C) and Apple (NASDAQ:AAPL) have fallen over 15% from their earlier year highs, most of the broader indexes managed to rally about 3% this week. Commodities such as oil have also rallied, with the West Texas Intermediate closing up about 2.5% for the week.
The reason for the market rally was generally reported as a leaked report that the Federal Reserve was considering more quantitative easing.

(www.thestreet.com)
While the market and most major commodities, such as oil, and its tracking exchange traded fund, the The United States Oil ETF, LP (NYSEARCA:USO), rallied on light volume and little news, the rally was still impressive, since equities and commodities had been in free-fall for nearly for nearly 6 consecutive weeks. I recently wrote that I thought the market would rally this week, but that most of the broader indexes are still likely to still sell-off more in the coming weeks and months.
The major reason I think that most equity markets major commodities, such as oil and copper, will continue to sell-off, is because of the strength of the dollar, and the economic weakness in China and Europe.
What is interesting to me about the nearly six-month rally from the summer of last year to mid-April, was that most major commodities, such as oil, as well as many of the broader indexes, such as the S&P 500, rallied - while the dollar remained strong. While the Euro bottomed in the summer of 2011 prior to the market rally, the euro moved up only modestly, while U.S. stocks and oil and rallied over 30%.
The thinking wasn't that complicated. With the dollar strong because of Europe's financial woes, the improving economic data in the U.S. meant the growth outlook as improving around world. Also, some specific issues, such as supply constraints from the conflicts in Libya, as well as tensions over Iran's threat to close the strait of Hormuz, also fueled the nearly six-month rally in energy.
What is interesting now is that it's clear the U.S. economy is much stronger than the eurozone economies, or China. While most traders and investors knew Europe would remain weak for some time, new reports out of China, the world's largest importer of oil, suggests that the Chinese economy is slowing dramatically. Leading indicators such as import data, electricity usage, and now, increasing reports of ships with large amounts of iron ore and other bulk metals that traders cannot find buyers for, suggest the growth outlook in China is much weaker than many thought.
With Iran recently showing a willingness to cooperate with the international community on its nuclear program and with China slowing dramatically, oil prices are only being held up by a weak dollar, with the dollar still trading at a nearly 30% discount to the Euro.
The dollar index bottomed at around 75 in the summer of last year, moved up to 80 in early October, and recently broke out of its trading range in Mid-April as the economic data began to deteriorate. Interestingly, while the dollar has failed to break above the 82-84 level on multiple occasions, I think it is now set to breakout to parity with the euro. The dollar, and one of its tracking exchange funds, PowerShares DB USD Bull ETF (NYSEARCA:UUP), also held its 20-day moving average on Friday, while oil closed near its weekly low.
Click to enlarge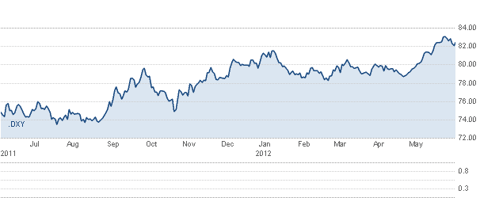 One story that has not gotten a lot of discussion during the recent market decline is U.S debt. While the U.S. economy continues to expand at a slow but steady 2-2.5%, debt to GDP ratios have dropped significantly for the first time in nearly 10 years. While both parties have obviously failed to control spending over the last ten years, with spending rising the most dramatically when Republicans controlled Congress and the White House, the political environment has changed today. While Obama proposed significant new spending initiatives when he was elected, the tea party's takeover of the House curtailed many of these plans.
Today, the federal government is likely to remain divided because the public lacks significant confidence in either party. Incumbent presidents are historically very hard to defeat, and if Obama is re-elected and Republican retain the House, major new spending initiatives are unlikely to pass. Divided government also produced the balanced budgets of the 1990s. Bernanke is also unlikely to initiate new monetary policies if Congress and the White House are committed to fiscal restraint.
While debt levels in the U.S. are dropping, the Federal Reserve continues to be unwilling to enact new monetary initiatives, China recently announced an emergency rate cut of a quarter basis point on lending and deposits. Brazil, a commodity-based economy that sell primarily to China, also recently cut rates to record lows just last week.
Finally, while Bush looked abroad to establish his legacy, Obama will likely want to focus on domestic reforms in his second term since the Wars in Afghanistan and Iraq will be over, and Bin Laden has been killed. Reform of Medicare and Social Security will only occur with both parties signing off on changes of these programs, and it is likely that a Democratic president will be best positioned to initiate these reforms since both programs were originally proposed by the democrats, and the democratic party traditionally has enjoyed wider trust amongst working class individuals.
To conclude, while the dollar has rallied hard in the last six weeks, fiscal and monetary policy in the U.S. has become more conservative. With the U.S. economy continuing to grow at 2.0%-2.5% while Europe and most leading emerging markets are slowing dramatically, the dollar could rise dramatically as U.S. debt levels continue to fall. With Japan's debt to GDP ratio worse than the U.S.'s, growth slowing dramatically in the eurozone and most emerging markets, and U.S. policy makers continuing to show fiscal and monetary restraint, the dollar could be ready to move.
Disclosure: I have no positions in any stocks mentioned, and no plans to initiate any positions within the next 72 hours.